What is the significance of Advanced Form Builder for Educational Organisations?
Traditionally educational organisations manage their application processes in offline mode. Candidates are manually evaluated against a blueprint expressed in terms of academic qualifications, personal characteristics, geographic and gender diversity. Handling large volume of student applications without any centralised system in place gave rise to choked bandwidth of admission officers, time and resource inefficiency that ultimately impacted the brand reputation, delayed turnarounds and led to lost opportunities.
Meritto (formerly NoPaperForms) Advanced Form builder is built for educational organisations from Higher Education to Online Degree Programmes, from Coaching Institutes to EdTech Businesses, and from K-12 to Playschools and Preschools. A powerful tool that empowers you and your teams to automate your application processes by integrating student forms across portals and consolidating their information in a unified platform. With features like drag and drop builder, custom templates, document manager and payment manager, you can process multiple applications within minutes, deliver a supreme candidate experience and drive quality enrolments.
Distribute Leads efficiently to
eliminate Lead Leakage
For a smooth nurturing process, having a single view of all the leads is not enough. Distribution of leads requires you to know your leads better, segment them based on numerous criteria, and then, allocate them to the right counsellor.
Make it Simple with Intuitive Form Builder
Simply drag, drop and design your own application forms, registration forms, recruitment forms, survey and feedback forms by intiutively dragging and dropping the form components! Ensure complete platform independency of the created forms and embed them easily across different data sources to reach your candidates at the right time!

Further, through built-in custom validation, eliminate field information discrepancies, ensure optimum data accuracy across all your forms and rightly engage with your prospects to elevate your institution's domain health and maximise winning opportunities.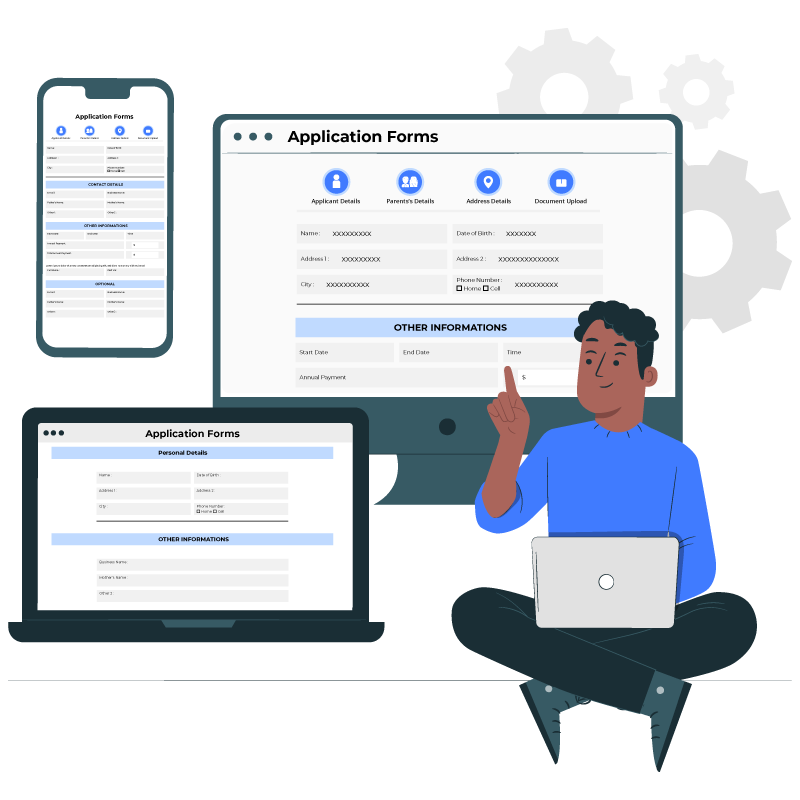 Ensure Consistency Across Portals with Scalable Custom templates
Meritto enables you to build and run your enrolment application forms autonomously, based on the type of course the prospect is interested in. Whether it is single page, multi-page, multi-step or conditional forms, your teams can now configure field based logic and select from a large library comprising 100+ efficient, scalable templates in a few clicks without getting into any technicalities!

Further, with the smart form creation feature, you can streamline your student application workflows from enquiry to enrolment, deliver personalised candidate experiences and plan your next strategy with utter ease and efficiency.
Organise Applications Seamlessly with Built-in Form Optimisation
With built-in form optimisation, customise your forms as per your candidate's requirements and inputs. With a robust and a secure architecture, flexibly add your own code snippets or configure multiple conditions based on candidate preferences for an enhanced form filling experience!

Moreover, gain the leverage to decide which fields, sections or pages will be visible to the candidate and which ones would be masked and which field would be mandatory or non mandatory to accommodate a wide candidate pool and maximise winning opportunities.
Amplify your Candidate Experience with Real-time Auto Save
Provide ultimate ease and comfort to your candidate by auto-saving their forms in real time and enabling them to fill, view, edit or modify them later whenever they return to their Student Enrolment Portal. Save the current changes or progress made by the candidates in their applications automatically, even before they click on the save button.
Bring in ease of administration with powerful Document Manager
Now your admission teams can accept documents (marksheets, photographs, signature) from candidates in almost 25 different formats! With Meritto' powerful document manager, build custom logics to allow document uploads based on the candidate's selection, thus reducing the overhead of your internal departments and saving their time and efforts!

Not only that, enable your candidates to directly fetch their documents through integration with Digilocker and attach them to their application in the Student Enrolment Portal anytime, anywhere!
Learn More about Meritto Document Verification
Streamline your Payments with Pre, Mid or Post Fee options
Facilitate multi-stage transactions based on different criteria like course offering, application stage etc. via custom preferred logics.

Whether you want to collect the application fee first and then allow the students to fill up the application form, or verify the eligibility criteria first and then let them proceed to payments. You can do it all by configuring your payment processes effortlessly in the Payment Manager Section.
Learn More about Meritto Payments Manager
Features

Meritto'

NPF

Advance Form Builder
Other Form Builders

Scalable Custom Templates

Yes

Limited

Drag and Drop Form Builder

Yes

Yes

Form Optimization

No

No

Real-time Auto Save

Yes

Limited

Document Manager

Yes

No

Pre,Mid or Post Payment

Yes

Limited