Deliver an Unforgettable Experience
Enhance Student Experiences with an Unified Student Admission Portal
In today's fast-paced digital era, convenience and intuitiveness reign supreme. From hailing a cab to ordering food or making payments, seamless experiences are the expected norm. Isn't it time we applied this same user-centric approach to the realm of student admissions? That's precisely where the Meritto Student Admission Portal (formerly known as NoPaperForms) comes in, designed to personalize and streamline the enrolment journey for each student.
Ditch the disarray of disconnected digital platforms that confuse students and burden your administration team. Meritto is here to transform that with its all-encompassing admission platform that serves an array of educational institutions — be it Higher Education, Online Degree Programs, Coaching Institutes, EdTech firms, K-12 schools, or Preschools. Our portal serves as a one-stop hub for the entire enrolment process, delivering a personalized experience that bolsters students' confidence to join your institution, simultaneously elevating your institution's brand reputation. With Meritto, you're not just modernizing admissions — you're shaping the future of educational experiences.
Dynamic Dashboard
Let your candidates take a guided tour and intuitively explore multiple programs to make the right decision. They can choose to start, pause, and resume their applications anytime with a clear visibility of their status and the next steps.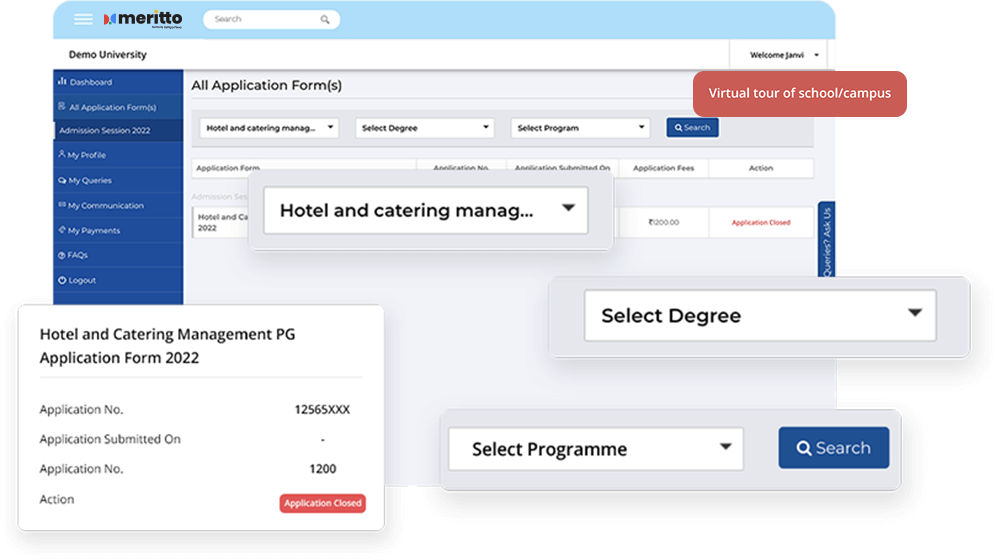 Query Management System
No second thoughts creep in when candidates can log a query, track its resolution, take action, and share feedback. Real time notifications keep them updated as to when you've replied to their queries.
Learn more about Query Management System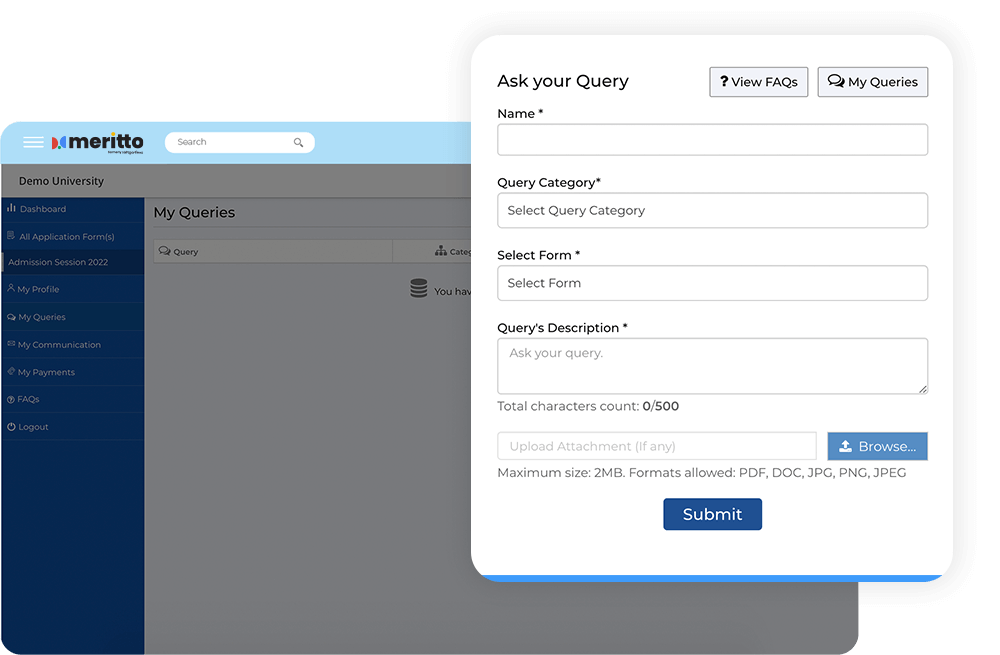 Post Application Process
Gone are the days when candidates had to go through a trial by ordeal involving different physical windows or multiple digital logins just to secure their enrolments.
Providing the flexibility to book exam slots instantly or choose interview timings. Candidates can download all their related acknowledgement/ call letters anytime and attend virtual GD/PI rounds with a single click. From application fee payment, slot booking, GD/ PI call letters, video interviews to result declaration, all your candidate's post application actions are present at one place in the portal.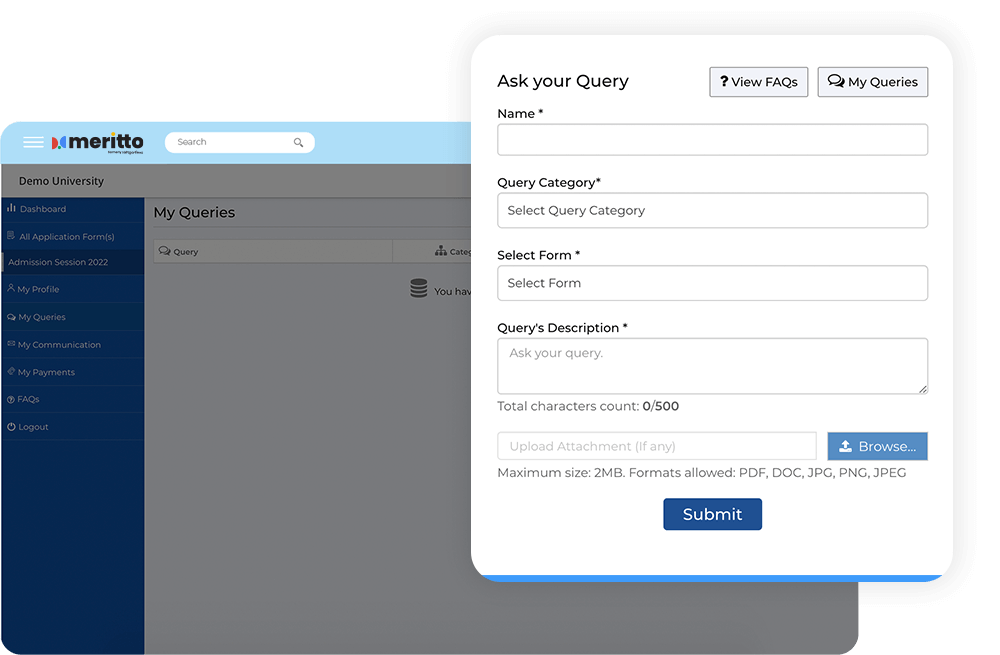 My Communication
Ensure no more missed communication when all your emails, SMSes, calls or WhatsApp texts are available on a single page. This negates any chances of information not reaching the candidate due to spam filters or mobile network availability. Also when they need them the most for reference, all your communications stay just a click away.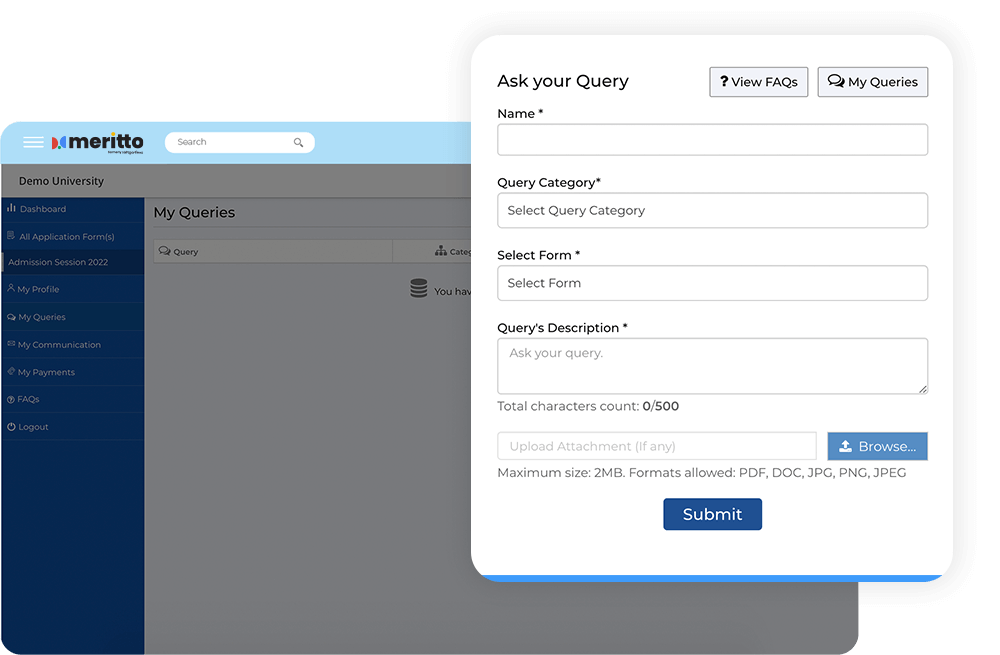 Ecommerce Platform
You don't need to create multiple logins to purchase more than one course. Now, purchase multiple courses from a single Id and access and download all the study materials from a single window.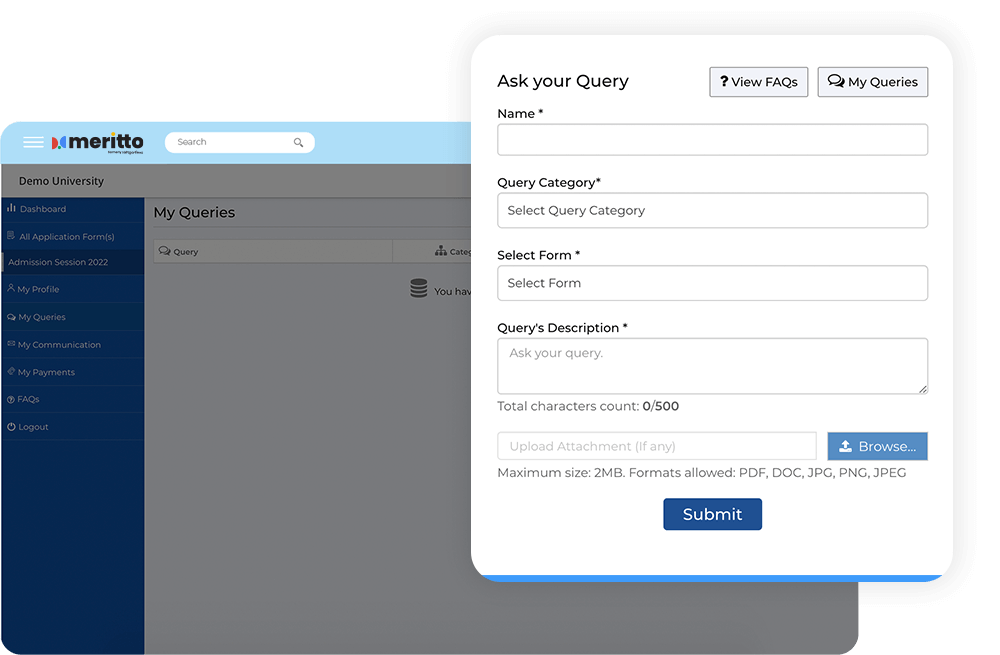 Features
Student Admission Portal
So-called Student Portals

Dynamic, Intuitive Dashboard

Yes

No

Application Dashboard

Yes

Yes

(Partial and non-intuitive)

My Payments

Yes

No

Query Management System

Yes

No

Virtual Post Application Process

Yes

Partial or broken

My Communication

Yes

No

My Notifications

Yes

No

Custom Themes

Yes

No

Branded URL

Yes

No