Welcome to the Meritto's (formerly NoPaperForms) blog, where our aim is to provide you with clarity on the key differences between an Admission CRM and a Traditional ERP. In this insightful piece, we will address the questions that often arise when comparing these two solutions. As every business is unique, it becomes crucial to identify the right approach to effectively scale your operations. While a traditional ERP focuses primarily on managing post-admission processes, an Admission CRM offers a purpose-built solution that caters to the intricate details of the entire admission process. Join us as we shed light on the distinctions between an Admission CRM and an ERP software, helping you make informed decisions for your business growth. Let's dive in and unravel the answers you've been seeking.
What is an ERP Software?
Enterprise Resource Planning or ERP software are legacy systems, primarily designed to stack the details of enrolled students and manage their post-admission lifecycle. Coming into action when the role of an Admission CRM ends, ERP software enables schools to update attendance, allocate timetables, release circulars, track homework submissions, and schedule PTMs. Limiting the school's capabilities to only perform the aforementioned functional activities, ERP software do not help educational organizations in scaling their business.
What is an Admission CRM?
An Admission CRM (Client Relationship Management) is a unified platform that works as a laser-focused solution for schools to manage and scale their admissions. Exclusively designed to streamline the complete pre and post-admission journey, right from the parent touch point to enrolment. Being a uniquely built Admission CRM for schools, it not just only helps schools maintain a healthy and long-term relationship with parents but also solves the bigger problem for K-12 schools – their teams working in silos with a major dependency on multiple systems leading to higher marketing cost, less visibility across the teams, poor parent experience, stagnant school-wise/group-level growth, etc.

Envisioned to unlock the true potential of schools, an Admission CRM empowers you to unify all your teams across the group of schools to centralize inquiries, nurture parents with personalized communication, generate in-depth marketing reports for higher ROI, collect fees via multiple payment options and grow your admissions by providing an exceptional parent experience that amplifies your brand.
Admission CRM vs ERP Software: Quick View
| Admission CRM for School | ERP Softwares |
| --- | --- |
| A laser-focused solution for schools to scale admissions | Legacy systems for schools to manage their operations |
| Designed to streamline and manage the entire enquiry to enrolment cycle | Designed to manage only post admission student lifecycle |
| Used by Admission and Marketing Teams | Used by Administrative Team |
| Works independently to automate the entire admission process | Majorly integrates with an Admission CRM to conduct only post enrolment activities |
| Enable schools to centralise parent enquiries, personalise nurturing, optimise marketing campaigns, generate in-depth performance reports, collect admission & tuition fee, and much more | Used for timetable allocation, bus tracking, attendance management, etc. |
| Offers schools and groups schools 100% performance visibility | Not built to support any such feature |
| Predominantly focused on boosting school's growth | Focused on managing day to day operations post admission |
How are CRM and ERP Similar?
An ERP is a traditional solution that merely assists one with managing the post-admission student's lifecycle and CRM is a comprehensive solution that enables you to manage the entire admission cycle, from inquiry to enrollment; thus, an ERP and CRM are not at all similar in their nature and their functionalities. With an ERP in hand, you will only be able to complete functional tasks like marking attendance, updating the timetable, etc., while a CRM empowers your admission, marketing, finance, and operations teams with a 360-degree control of admissions including lead tracking, lead nurturing, marketing campaign management, marketing automation, and collecting fee payments. Thus, one must essentially understand that both solutions are completely different in their nature of functionality.
Do I need CRM or ERP or both?
Educational organizations including schools definitely need a growth solution that brings along all the latest technology and enables them to tap into various industry trends. With traditional solutions like ERP, you will only be able to execute post-admission activities for your school. ERPs do not offer functionalities to cater to any activity that you want to do pre-admission. This means you have no control over your leads, their nurturing process, marketing activity, application management, and so on.
Switching to an industry-built solution like CRM solves your purpose like nothing else! CRMs that are exclusively meant for the schools, allow them to stay upbeat and at par with all their competitors. It enables them to manage the entire student lifecycle, till the moment they inquire to the point where they actually enroll. Thus, a CRM empowers you to take complete control of activities like lead management, lead nurturing, campaign management, application management, student admission portal, marketing automation, etc. Hence, the choice is quite clear when it comes to picking one between ERP and CRM.
Integration of ERP and CRM Systems
Now that we have clearly understood the functionality difference between CRM and ERP, it becomes evident that one needs a solution that allows them to do the most and comes with a wide range of functionalities. Thus, one must be skeptical while making the decision of integrating a CRM with an ERP.
Admission CRM vs ERP Software: Benefits
As we have discussed CRM in full form, what is CRM, and CRM vs ERP; mentioned below is a distinction between the benefits of Admission CRM vs ERP in the education industry-
Centralize all Your Enquiries from Multiple Sources
Meritto's (formerly NoPaperForms) Admission CRM for schools enables you to centralize all your parent inquiries from multiple sources- walk-ins, inbound calls, website, education fair, and social media campaigns, on a one-view powerful dashboard with 0% duplicity. Capture all your online inquiries by integrating Facebook and Google accounts with the built-in connectors and get a QR code scanned to capture all the offline ones. The built-in system captures primary, secondary, and tertiary sources of the inquiries, ensuring no missed opportunity. On the other hand, an ERP does not support schools in managing such a pre-admission activity.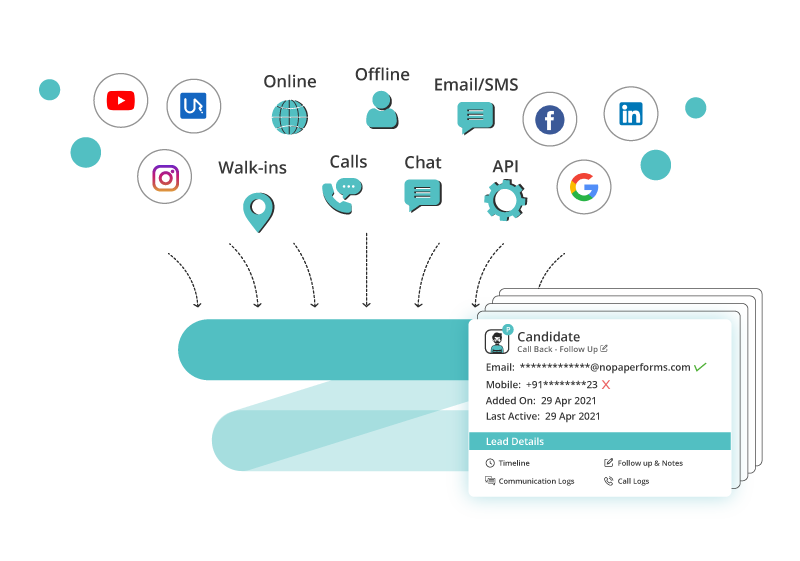 Dynamically Allocate Enquiries to and within Schools
Admission CRM makes inquiry allocation a piece of cake for you! With the exclusive dynamic lead allocator, assign the right students to the right admissions counselors based on signals and their interest area – dynamically in a round-robin manner or based on your preferred conditional logic. Dynamic inquiry allocation reduces response time and enhances productivity at the school level and centralized nurturing team.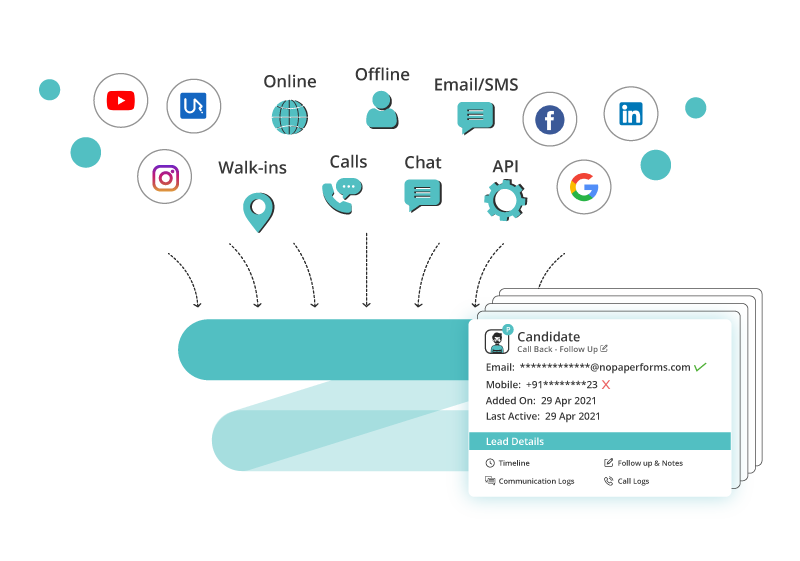 Create Powerful Marketing Automation Flows & run your Conversions on Auto-Pilot
Personalize your communication by analyzing parents' interests and tracking their decision-making power. Our Admission CRM for schools enables you to create powerful Marketing Automation workflows to nurture each parent based on their current stage in the admission journey. Create a variety of personalized communication templates for varied stages like the welcome message, application pending message, payment pending message, etc., and share them through SMS, emails, and WhatsApp. Simply get to accelerate your enrolments in a cycle by engaging with parents using WhatsApp Business API. Get real-time insights into all your active marketing workflows and track, measure, and optimize them to enhance your ROI. Contrary to this, ERP software does not empower schools to perform any marketing activities or management of the same.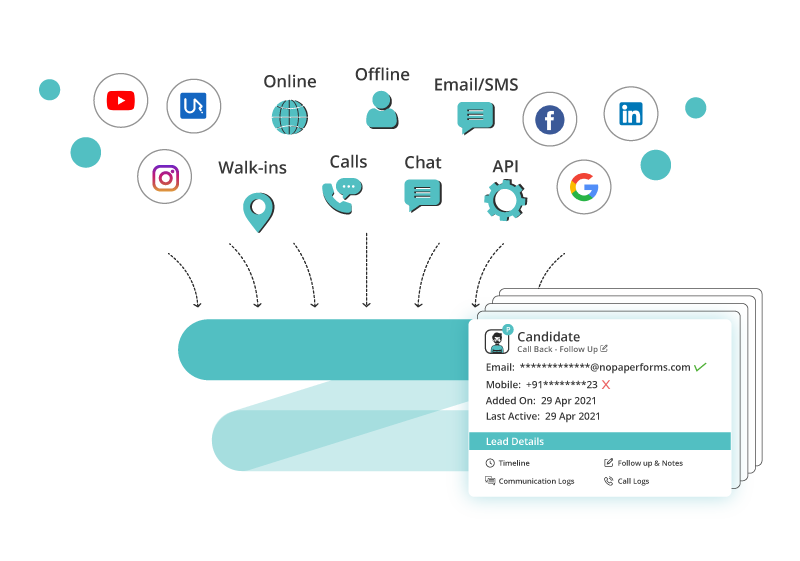 Unified Admission Portal for Parents
Switching to an Admission CRM for schools empowers you to provide parents with a highly configurable centralized dashboard to keep track of their end-to-end admission journey. The unified portal acts as a single point of contact for parents and allows them to have 24/7 control over application management, raise queries, fee payment management, track communication with the school, access important videos and documents, and much more, just at their fingertips! There is no such portal available with the ERPs for offering parents a delightful experience.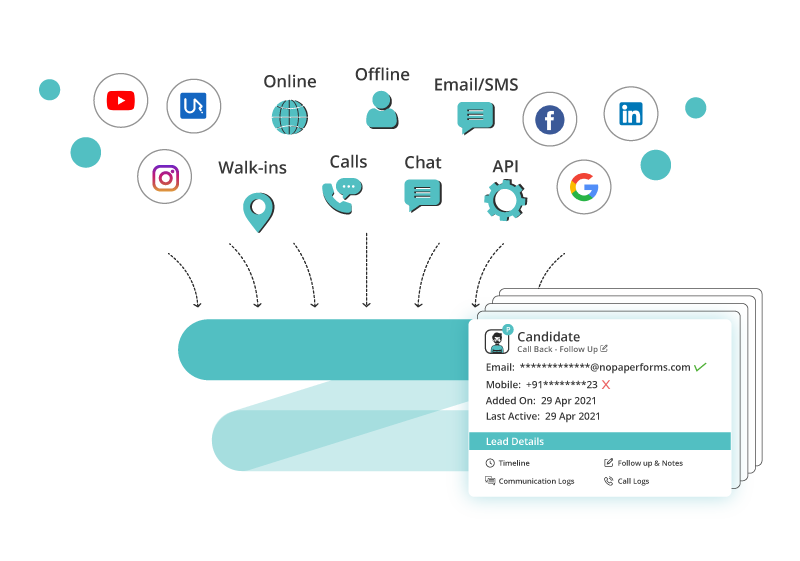 Unified Fee Payment Stack
Another major difference between Admission CRM vs Traditional ERP is that an Admission CRM for schools empowers you with a fee management software for all types of fee collection.  It enables you to create conditional payment workflows from the inbuilt payment manager and collect any type of fee within seconds. Configure discounts with customized simple payment plans in just a few clicks and allow your parents to submit all their fees hassle-free from the comfort of their homes. On the other hand, using an ERP for fee collection and management will not provide you with 100% transparency across all your branches and a seamless fee collection experience.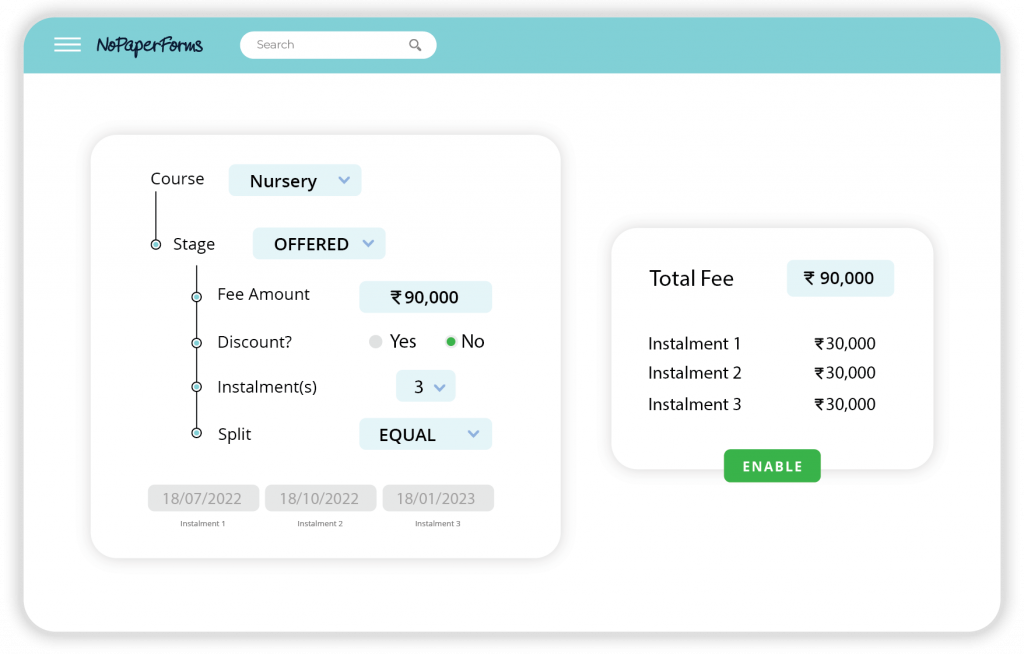 Unlock the Potential of Your Group of School
Meritto's Admission CRM enables a chain/ group of schools to combat the biggest challenge- limited to no visibility of the potential and brand equity of each school by providing a bird's eye view of all branches across-and-within cities. Through a single glance analyze trends and insights, and understand which school is performing well and which needs a boost. Get easy access to all the real-time insights and actionable reports at your fingertips and take strategic decisions to grow your enrolments and business. ERP software is insufficient to help schools track, manage and grow their business.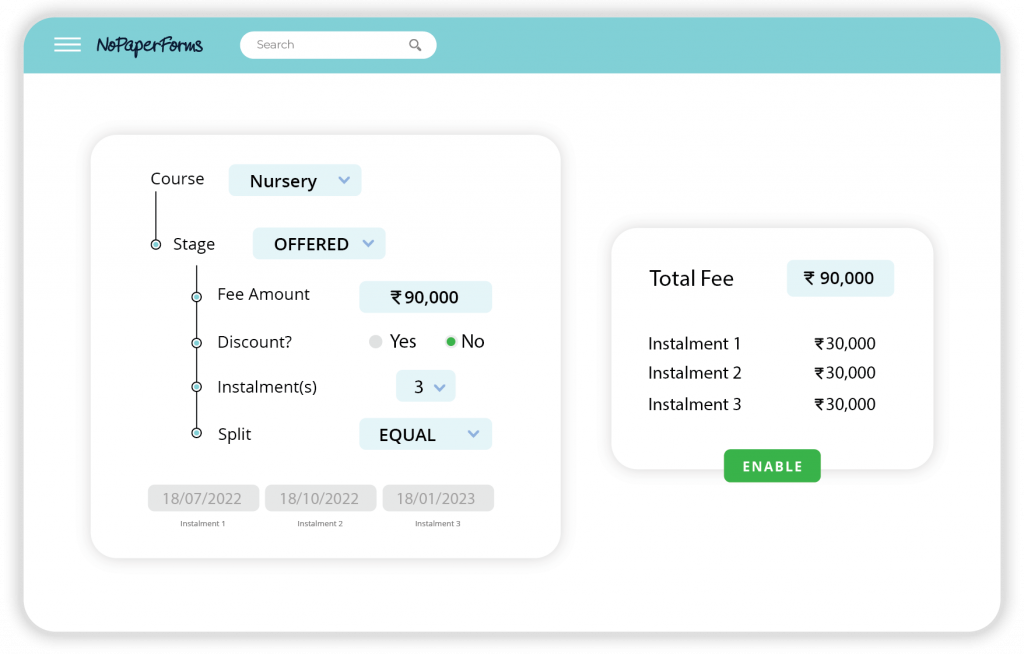 Generate in-depth Reports & get 360* visibility in Real Time
As you get a bird's eye view of your group schools/ standalone schools, 360-degree visibility comes along! Advanced insight-driven dashboards allow you to stay on top of your school/ branch-wise performance. With robust reports and analytics, you get to identify the best-performing channels, star performers in your team, and the bottlenecks, and take strategic calls in real-time. The Admission CRM for schools empowers you with 100+ Advanced Dashlets including Marketing ROI Optimisation Dashboard, Finance Dashboard, and Campaign Management Dashboard, among others.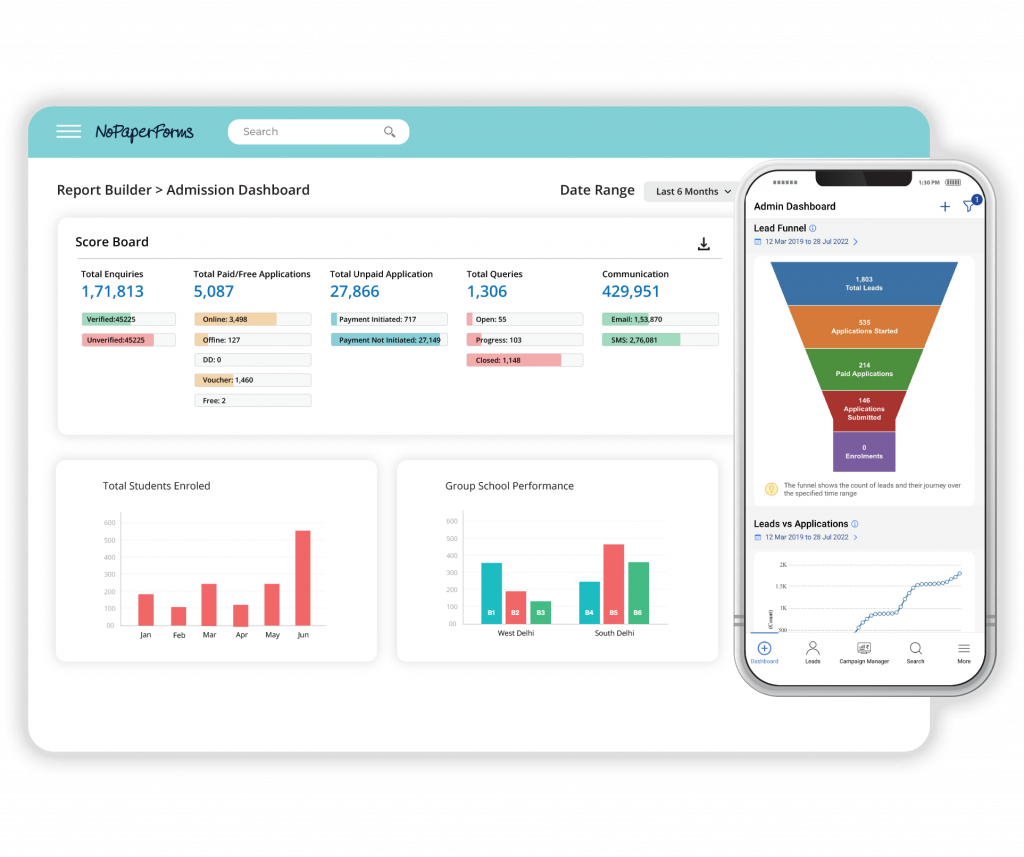 As mentioned above, every business is different and so is the solution required to scale it. Now is the time to make the right choice for your school's growth and switch to Meritto's Admission CRM for schools to unlock its true potential. Schedule a demo today! Hurry up!
Also Read: