Managing a preschool entails much more than simply supervising young children. It demands proactive measures and the use of appropriate tools to ensure no admissions opportunities are missed. Effective management of the entire operations of a preschool or childcare center is pivotal in driving higher enrollments and ultimately scaling the business.
However, the question arises: How does one effectively manage a preschool and enhance enrollment numbers? Relying on outdated methods like excel sheets is certainly not the solution. Traditional operational approaches, such as managing data through spreadsheets or relying on pen-and-paper methods, often lead to stagnant or minimal growth.
In this blog post, we will explore the essential aspects of managing a preschool and scaling enrollments. We will emphasize the importance of embracing modern management solutions tailored to the unique requirements of preschools and childcare centers. Discover how Meritto (formerly NoPaperForms) can empower you with advanced tools and features designed to streamline operations, enhance admissions processes, and drive sustainable growth for your preschool or childcare management center. Say goodbye to outdated practices and embark on a journey towards success and expansion in the early education industry.
In modern times, purpose-built solutions like CRM for Preschools or Childcare Management Centres is the answer to the above-mentioned question! Read on to learn how a Preschool CRM is your gateway to amplify growth!
What is a CRM?
Customer Relationship Management, commonly known as CRM, is a software that enables organisations to manage relationships and interactions with existing customers and potential clients. A CRM not only fosters your relationships with clients but also works as a key to unlocking greater business opportunities and streamlining the entire admission process. Improving profitability, productivity, and management, a CRM is a modern solution for growth, tailor-made for various educational industries like Preschools, K-12 Schools, Higher Education, EdTech Institutes, Coaching Centres, among others.
Why Switch to a CRM: A new age Paradigm Shift
There is no doubt that Preschools receive a very high inflow of parents enquiring about the school to kick-start their child's educational journey. Managing such a high inflow through antiquated methods like spreadsheets and excel sheets will only bring out limited results because of duplicate enquiries, non-personalised nurturing, generic communication and an overall broken experience.
In this fast-paced scenario, a CRM for Preschools is a pitch-perfect solution enabling users to be on top of all the pre and post admission activities. A CRM maximises business opportunities by allowing schools to manage all parent enquiries and enables admission counsellors to work on leads effectively. It is imperative for Preschools to build cordial relations with existing and prospective parents, thus, a CRM helps them personalise their communication and run targeted marketing campaigns. An Admission CRM not only supports you in the pre-admission activities but also allows you to conduct post admission ones like fee collection. Streamlining the complete admission process from initial enquiry of parents to providing them with a seamless fee submission experience, CRMs provide the right boost to your educational business.
What to Expect from a CRM for Preschools?
To streamline enrolments for Preschools or childcare centre, choosing a CRM that empowers you with the aforementioned is the need of the hour. Meritto's (formerly NoPaperForms) CRM for Preschools is a laser-focused solution designed to seamlessly manage the entire admission process pre and post-admission journey, right from the parent touch point to enrolment.
By helping Preschools combat the problem- their teams working in silos with a major dependency on multiple systems leading to higher marketing cost, less visibility across the teams, poor parent experience, stagnant school-wise/group-level growth, etc., Preschool CRM empowers you to unify all your teams across the group of schools to centralize enquiries, nurture parents with personalized communication, generate in-depth marketing reports for higher ROI, collect fees via multiple payment options and grow your admissions by providing an exceptional parent experience that amplifies your brand.
How to Choose the Right CRM for Preschools?
CRMs are exclusive softwares that are purpose-built solutions but people often confuse them with generic solutions meant for all industries. Identifying needs as an educational organization, it is vital to opt for a CRM exclusively meant for Preschools and not rely on sales CRM or ERP. Mentioned below are some pointers to consider while selecting the right CRM for Play School–
Features: A CRM should not only enable you with features to complete the basic day-to-day activities but also offer you a unique set of features that helps you stay a step ahead of others.
Affordability: It is important to note that pricing does not indicate quality. By helping you complete all your admission activities proactively, a CRM assists you in scaling your business in the long run. Thus, make sure you opt for a CRM that provides value for money.
Reports and Analytics: Analytics empowers you like nothing else! Having a data-based record of your activities will help you make real-time decisions .
Cross Platform Communication: Having omnichannel communication helps you dwell better relations with prospective parents and alongside develop greater brand recognition. Do not forget to explore CRMs that offer integration across multiple social media platforms.
Parent Support: With a support portal for parents or your future prospects, you will be able to offer them a quick to-and-fro for all their queries and concerns.
How Meritto' Preschools CRM will help you Supercharge your Admissions?
Whether you are exploring a CRM for Preschool or a CRM for Day Care, Meritto (formerly NoPaperForms) is a de-facto choice. Let us show you how-
Centralize All Your Parent Enquiries from Multiple Sources
Meritto's CRM for Preschools enables you to centralize all your parent enquiries from multiple sources– walk-ins, inbound calls, website, education fair, and social media campaigns, on a one-view powerful dashboard with 0% duplicity. Capture all your online enquiries by integrating Facebook and Google accounts with the built-in connectors and get a QR code scanned to capture all the offline ones. The built-in system captures primary, secondary, and tertiary source of the enquiries, ensuring no missed opportunity.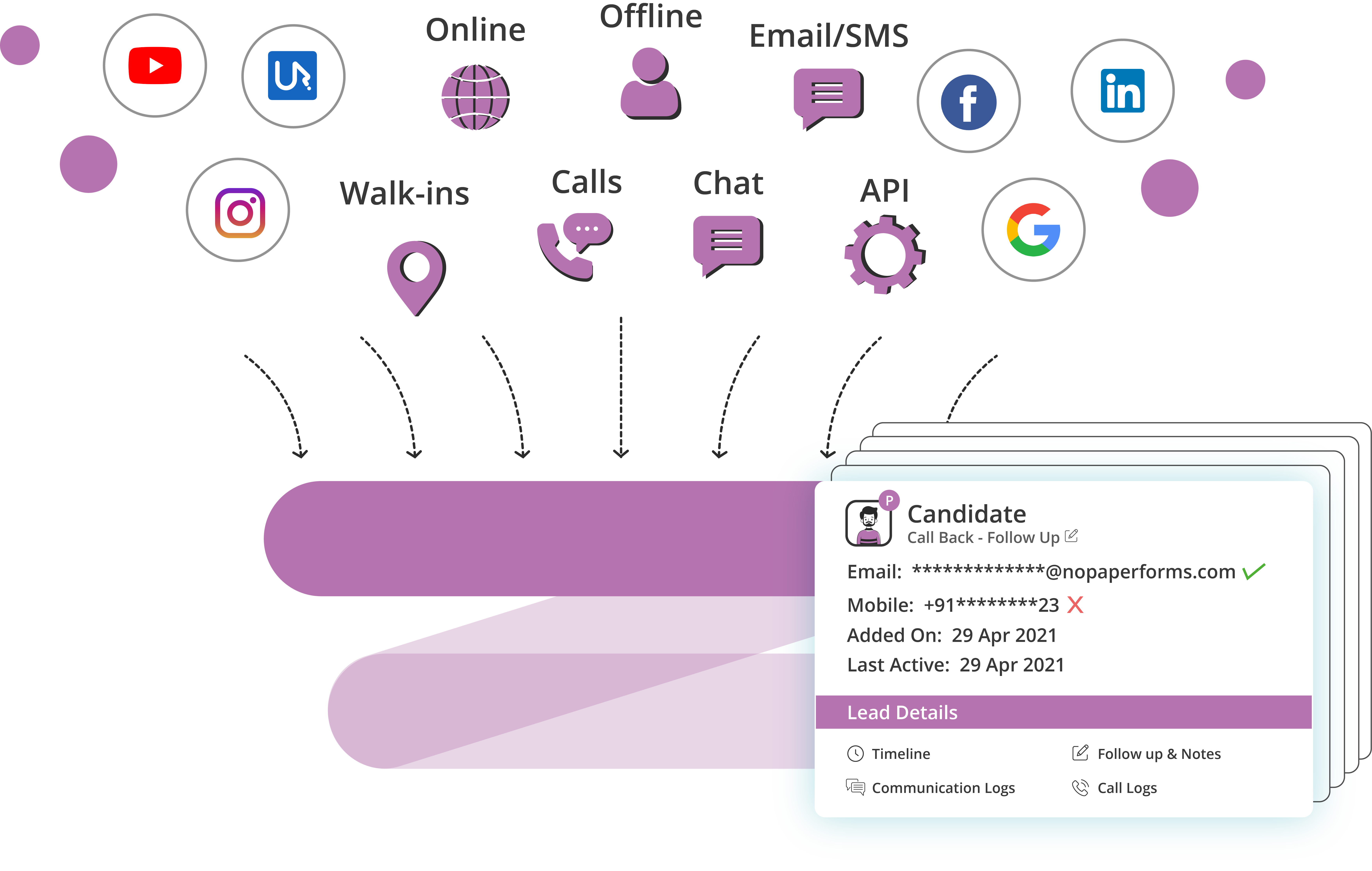 Dynamically Allocate Enquiries to and within Schools
Our CRM makes enquiry allocation a piece of cake for you! With the exclusive dynamic lead allocator, assign right students to the right admissions counsellors based on signals and their interest area – dynamically in a round-robin manner or based on your preferred conditional logic. Dynamic enquiry allocation reduces response time and enhances productivity at the school level and centralized nurturing team.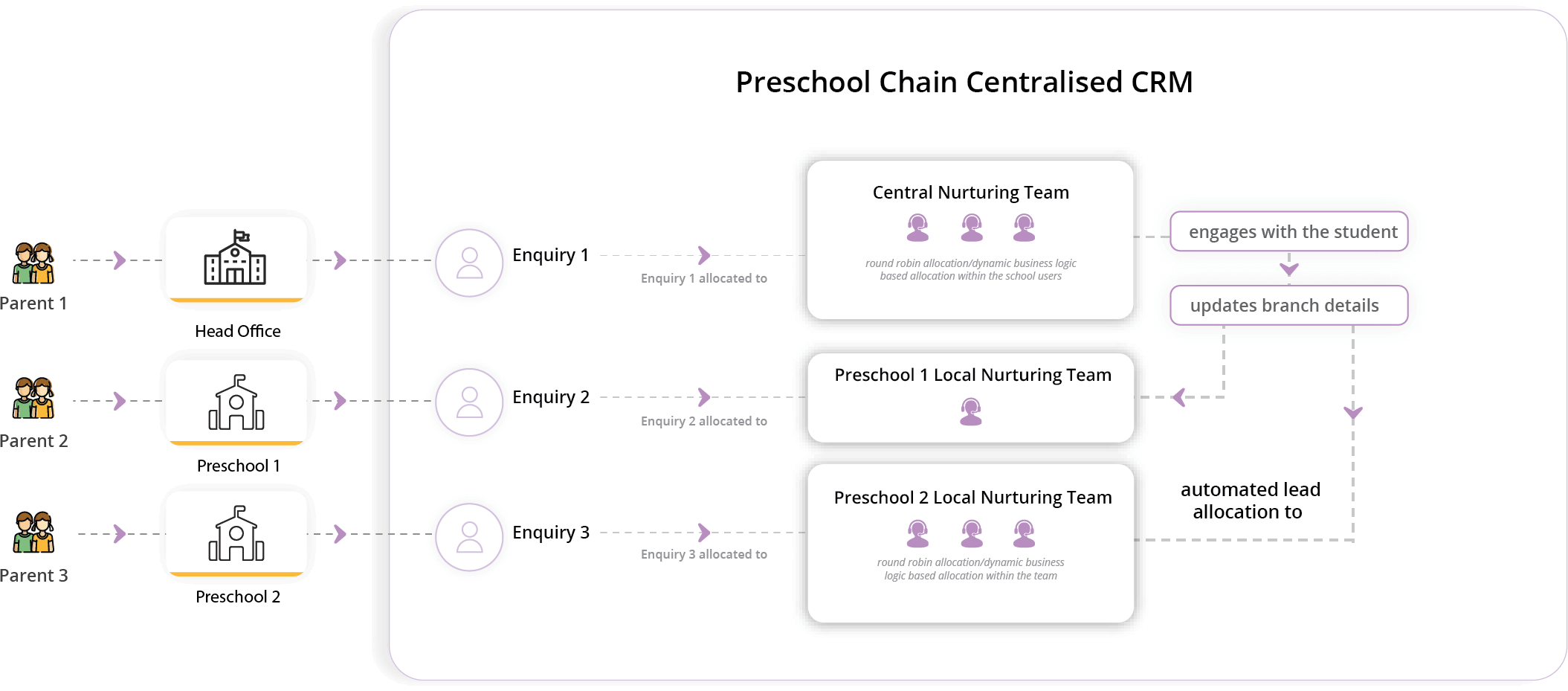 Deliver Personalised 360° Communication
Building a one-on-one personal connect with parents bolsters their decision of joining your schools. Personalize your communication by analyzing parent interests and tracking their decision-making power. Create a variety of personalized communication templates for varied stages like welcome message, application pending message, payment pending message, etc. and share them through SMS, emails, and WhatsApp. Simply get to accelerate your enrolments in a cycle by engaging with parents using WhatsApp Business API.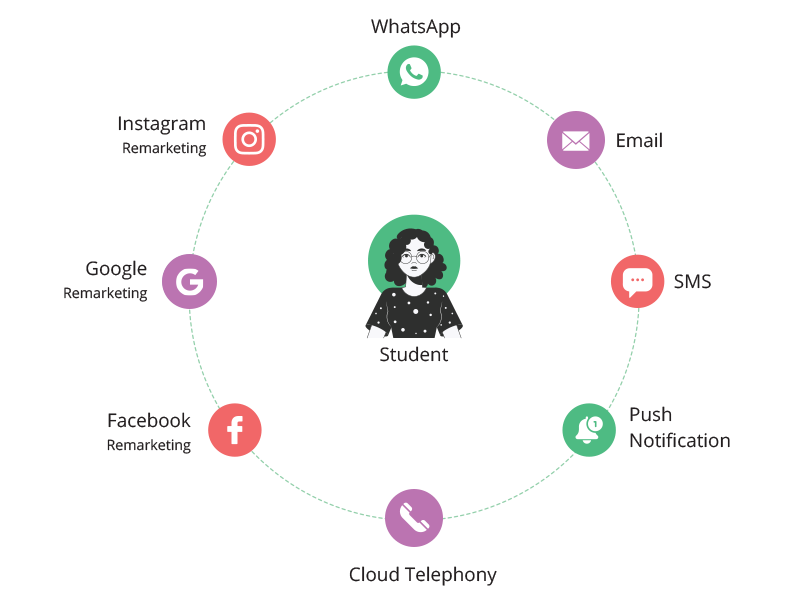 Create Powerful Marketing Automation Flows & Run Your Conversions on Auto-Pilot
In order to get the most out of your marketing campaigns, it is not essential to have an extravagant marketing budget! Extracting the most out of your preferred marketing budget is what Meritto's CRM for Preschools empowers you with. It enables you to create powerful Marketing Automation workflows to nurture each parent based on their current stage in the admission journey. Get real-time insights into all your active marketing workflows and track, measure, and optimise them to enhance your ROI.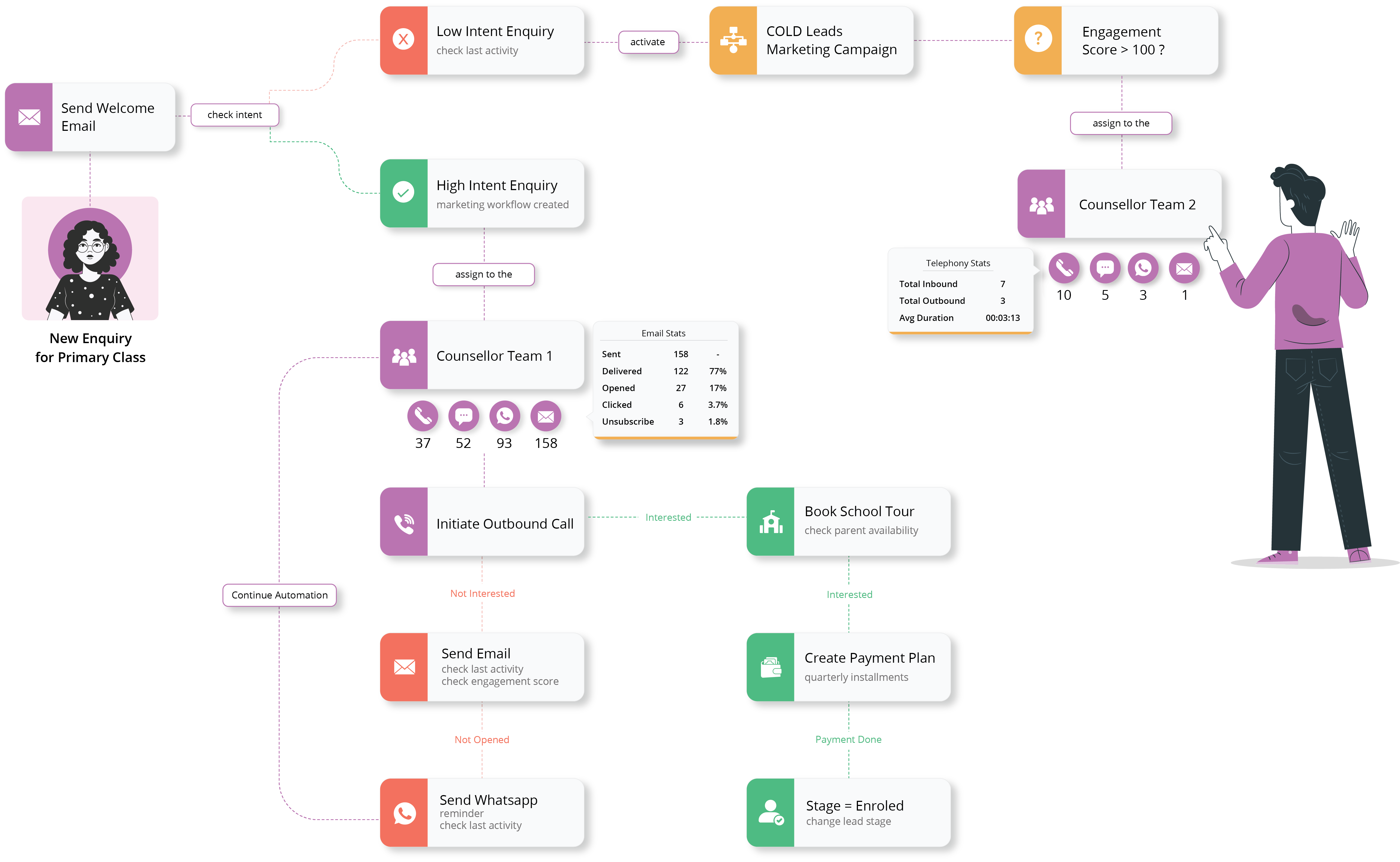 Generate in-depth Reports & get 360* Visibility in Real Time
As you get a bird's eye view of your group schools/ standalone schools, 360-degree visibility comes along! Advanced insight-driven dashboards allow you to stay on top of your school/ branch-wise performance. With robust reports and analytics, you get to identify the best performing channels, star performers in your team, the bottlenecks, and take strategic calls in real time. The admission CRM for schools, empowers you with 100+ Advanced Dashlets including Marketing ROI Optimization Dashboard, Finance Dashboard, and Campaign Management Dashboard, among others.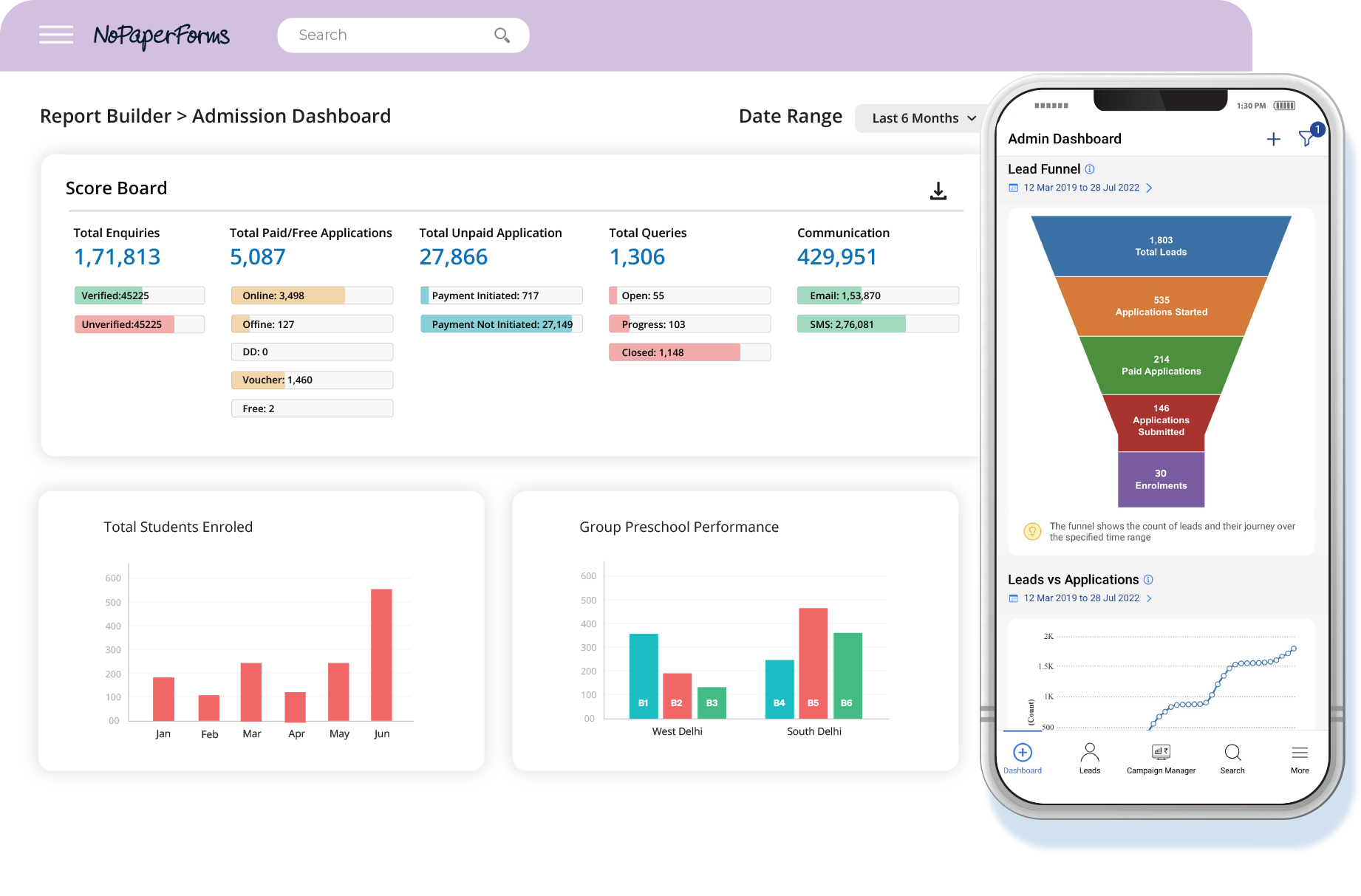 Unified Fee Payment Stack
Switching to Meritto's Preschool CRM enables you to smoothen out the complete process of fee collection via Unified Payment Stack to collect all types of fee. Create conditional payment workflows from the inbuilt payment manager and collect any type of fee within seconds. Configure discounts with customized simple payment plans in just a few clicks and allow your parents to submit all their fee hassle-free from the comfort of their homes.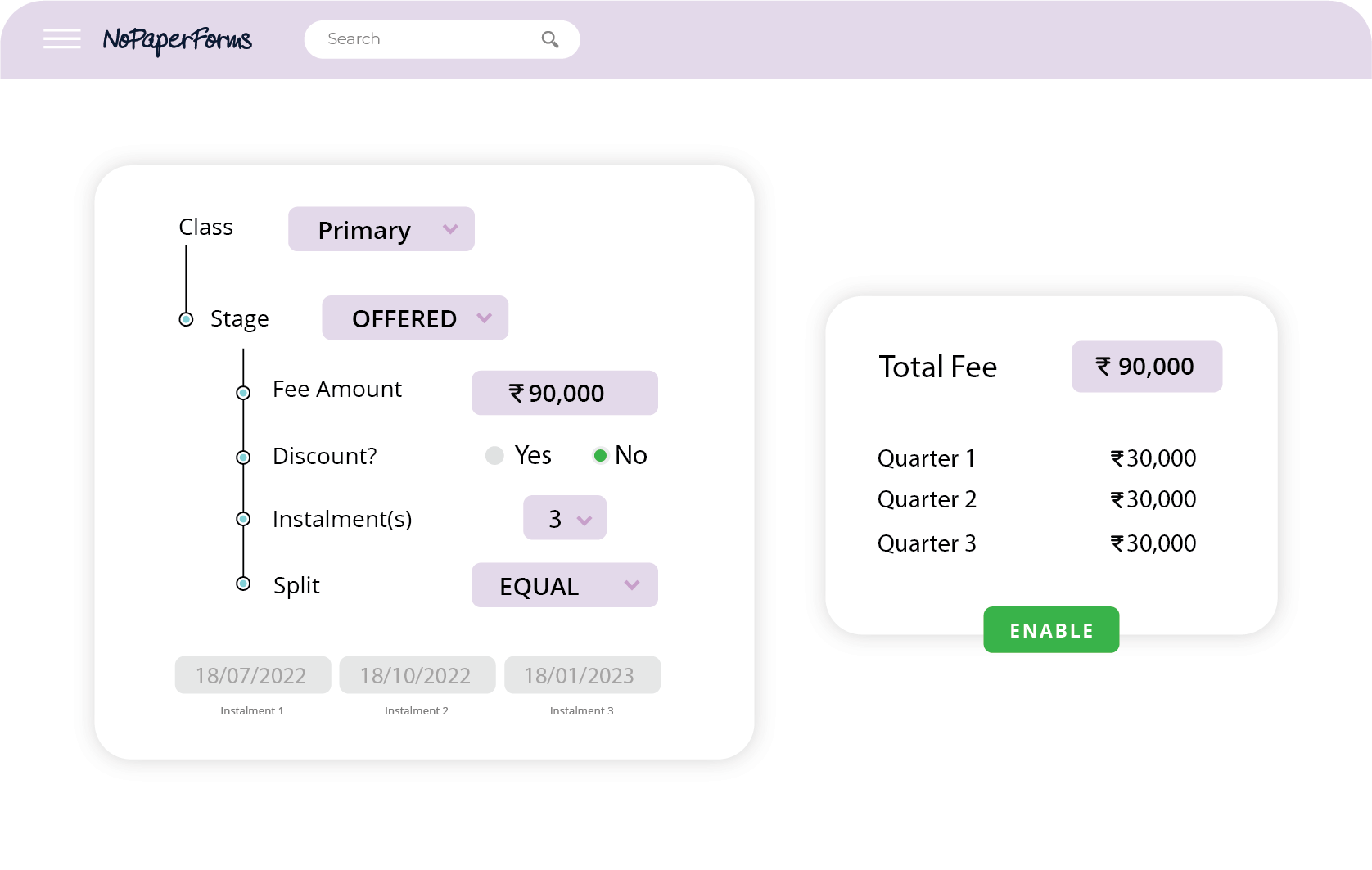 Attract, Engage, Manage on the Go!
Whether your counsellors are working from home, on the ground, at events or on campus, everything they need to do to contextually engage parents is just a tap away. From accessing and updating leads, making calls, adding voice notes or follow-ups to tracking visits and sending emails, SMS or WhatsApp in a single click — your counsellors can do all that and much more with the Meritto's Mobile App. 
Thus, for you to be proactive, we have the right tool in place! Now is the time that you make a smarter switch to Meritto's CRM for Preschools and elevate your school's growth. Schedule a demo with us today to know more!
Also Read: