What is CRM?
At Meritto (formerly NoPaperForms), we understand the significance of Customer Relationship Management (CRM) in streamlining business activities and maximizing operational efficiency. CRM encompasses a range of practices, strategies, and technologies that organizations utilize to effectively manage and scale their business operations. It revolves around the management and utilization of customer data and interactions. CRM, short for Customer Relationship Management, is a comprehensive solution that enables businesses to acquire, nurture, and efficiently manage customer relationships.
By implementing a CRM system, organizations can centralize customer information, providing valuable context to all customer-facing teams. This centralized approach adds layers of personalization to every customer interaction, enabling businesses to deliver tailored experiences and build stronger connections with their customers. In this blog post, we will delve deeper into the concept of CRM, exploring its meaning and functionality. Stay tuned to gain a clear understanding of how CRM works and how it can benefit your organization in organizing and accessing customer data effectively.
How Does CRM Software Work?
Designed to streamline and automate your activities, CRM software is a single platform to perform all your business activities without switching multiple platforms. From centralizing leads across sources to allocating them to different team members, the software lets you personalize marketing automation and map the sales rep's productivity. It also comes with campaign tracking and optimization and real-time reporting and analytics. All your scattered approaches and silos in the business are brought together, allowing you to attract, engage, and grow new customers more effectively.
Why Do Businesses Choose a CRM?
With a knack for developing long-lasting relationships with the Customer, CRMs encourage teams to convert more. As per the 2022 CRM usage statistics, 91% of businesses with more than 10 employees are engaging with the software and 81% of them are using cloud-based CRM platforms.
But have you wondered, why do businesses circle around a CRM?
Being the largest software market globally, CRMs have proven to be the best technological asset for businesses. With the ease of integration with business-friendly applications, CRM software enables implementers to cover every aspect of their business cycle with an increase in sales & marketing ROIs, all while helping them cut down on their costs.
What are the Types of CRMs ?
On a broader level CRMs are of two types:
Horizontal CRM
Built to cater to the core requirements of any standard business, irrespective of industry type. While the basic features are workable for a generic business model, you can also tweak the system to a great extent to make it fit your unique business requirements. More often horizontal CRM is recognized as "an inch deep and a mile wide" which means the good ones have a ton of features, but very few have been designed to address industry-specific requirements. For eg: Salesforce, Zoho, Hubspot etc.
Vertical CRM
Specifically built to cater to the unique needs of a particular industry. And instead of a bunch of features, these systems come with a high degree of verticalized customizations for a specific industry. Subsequently, the vertical CRMs are recognized as "a mile deep and an inch wide" which means they will have functionality specific to your business and may not require extensive customization; however, every business is different so some tailoring may be required. Education as a niche-based industry has also outweighed its CRM usage with an Education CRM, a vertical CRM built for Education. Consequently, the industry itself has seen a digital transformation during and post-pandemic.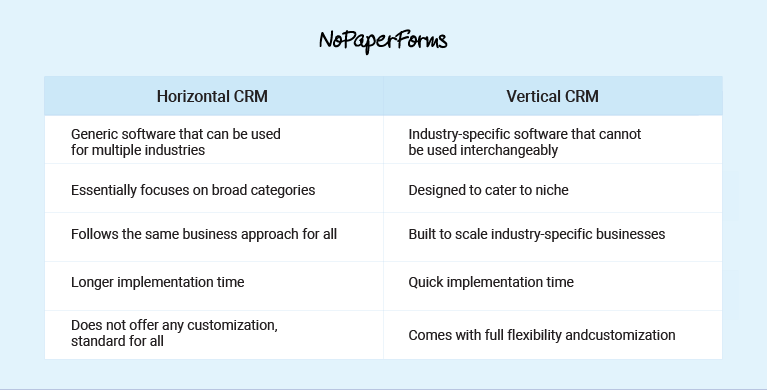 What is an Education CRM | Who Can use it?
Education CRM is a vertical-based CRM specifically designed and built for the education industry. It understands the nitty-gritty of the enrolment process and serves as a centralized platform that empowers your teams to grow your enrolments systematically including the Management, Admissions, Counselling, Marketing, Finance Teams and IT Teams.
We've put together a short video explaining what a CRM system really is and what it can do for your business.
What is the Best CRM for Education?
The industry is flooded with horizontal sales CRMs geared towards B2B sales processes which involve mapping different contacts, and creating deals and pipelines usually for a long and complex sales cycle. Educational organizations on the other hand cannot really work with such a system. As every vertical needs a different type of CRM that is built to cater to their needs.
Meritto's (formerly NoPaperForms) Education CRM is a de facto choice for anyone in education looking to scale – be it Higher Education or Online Degree Programmes, Coaching Institutes or EdTech, K-12 or Preschools! From performing and managing simple communication activities to including the technical range of activities for businesses and candidate experience.
Key Features of a CRM Specializing in Education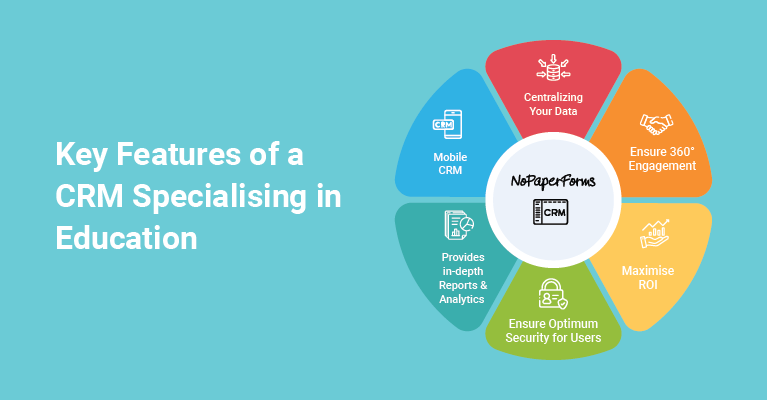 Centralizing Your Data
A unified platform to centralize your inbound leads and inquiries, ensuring no opportunity is lost and no leads are duplicated or leaked. Eliminate lead duplication altogether by assigning primary, secondary, and tertiary sources to all incoming leads and inquiries, whether they come from your website, education fairs, social media, walk-ins, or marketing agencies.
Know more about Lead Centralization
Ensure 360° Engagement
Based on signals and the prospect's interest area, send the right prospect to the right admissions counsellors/sales individual, either through a round-robin style or dynamically, according to your own custom logic. At both the branch and group levels, this can be done manually or entirely automatically. Eventually decreasing the response time, and increasing the smart nudges.
Know more about 360-degree communication
Maximize ROI
Run your enrolment processes on auto-pilot mode! Customize marketing workflows to nurture prospects at each level with a personalized touch of the enrolment process. Enhance your engagement activities by synchronizing your interactive & stage-specific communication templates (SMSs, emails, Push Notifications, and WhatsApp messages) with real-time updates in the lead stage. Make your marketing workflows effective enough to influence your prospects' actions to bolster their decision of joining your institution.
Learn more about Increasing Marketing ROI
Ensure Optimum Security for Users
Establish rights for viewing, modifying, and managing lead or application data and manage the login sessions for each user. Safely store and secure candidate information, optimize your team's bandwidth to create exceptional user experiences, and boost conversion rates using Advanced Data Masking functions.
Know more about User Management
Provides in-depth Reports & Analytics
Expand on the fundamentals of inquiries and conversions by delving into rich visual insights. Without using any code or excel sheets, completely customize the dashboards and create your own reports to promote alignment throughout the company.
With the feature of easy-to-build reports, you can analyze your enrolments from a variety of angles, including acquisition, marketing ROI, retention, conversion, purchases, and more!
Know more about Reports & Analytics
Mobile CRM
Track every action that has an effect on your company without breaking a sweat. Whether it's maximizing your team's on-the-ground productivity, tracking the status of your enrolments at a glance, or maximizing the returns on your marketing investments. With a mobile app, you can perform all of this anytime, anywhere, at your fingertips, and increase enrolments by increasing engagement and response times.
Know more about Mobile CRM
How Does CRM Make your team work easier in Education?
A CRM platform boosts your sales and marketing without the need for large staff or a huge marketing expenditure. When your CRM is combined with team automation (such as Meritto), you can create a sales/counseling and marketing engine that propels your conversions to new heights. It improves visibility, prioritization, and follow-up across the enrollment process.

Increased visibility: An Education CRM gives your team the visibility they need to be effective. Putting all lead and candidate data in one place makes it easier for teammates to hand off lead details whenever the account owner changes—everything about an individual or firm is documented and accessible.
Clear Prioritization: You can prioritise their outreach efforts by calculating a candidate's interest in your product or service. Candidates with the highest lead ratings are prioritised by the counseling team. An Education CRM can also prioritise candidate outreach. Candidates who are likely to be interested in a new course.
Insights: Data gathered in an education CRM allows for the analysis of patterns. You can get a complete view of your potential student's journey from the first touch point in a single place and hyper-personalize your sales engagement and sales communication efforts based on a potential student's profile details, behavior, and activity.
Personalization: An Education CRM makes it possible to send the correct message to the right person at the right time. You can send emails and SMS messages based on a candidate's recent actions. Assume a non-engaged lead just clicked a link in an email you sent offering a special promotion. You should mark that lead as "re-engaged," send an email with a compelling customer narrative, and set a task for a sales rep to call them.
Benefits of Using Education CRM
An Education CRM comes with a vast set of benefits that your educational organization can make the most of. Here are some of the most important ones-
Improved communication: It helps educational institutions improve communication and personalize it. Through CRM you can, automate email and messaging campaigns, enabling institutions to reach out to their audience in a timely and personalized manner.
Enhanced student retention: An education CRM can help institutions identify at-risk students, monitor their progress, and offer personalized support. This can improve student retention rates and prevent dropouts.
Data-driven decision-making: A CRM helps you centralize end-to-end data and make the most of it. Date based on student engagement, performance, and outcomes; will definitely assist you in making strategic decisions for the business.
Improved marketing: To beat the competition, education institutes are now trying their best in marketing campaigns. At your tips, you can analyze marketing data, target specific audiences, and optimize marketing campaigns. This can help institutions reach their target audiences more effectively and efficiently.
Increased overall efficiency: An education CRM can help institutions automate repetitive tasks, streamline processes, reducing manual dependency. This enhances efficiency on an individual as well as team level and allows them to boost their productivity.
Enhanced visibility: One of the most important benefits of an Education CRM is the transparency and visibility it brings along. It improves collaboration between departments, enabling team members to share information and work more effectively across functional boundaries.
Competitive advantage: An education CRM can give institutions a competitive advantage by enabling them to offer a more personalized, efficient, and responsive experience to their students. This can help institutions attract and retain more and more.
Secure Your Future Today | Start your CRM Journey with Meritto (formerly NoPaperForms)
A CRM is a powerful key to providing your customer with a delightful and seamless experience. Whether you are a small or an established business one needs to adopt it for the benefit of the organization, the team members, as well as the external customers.
Meritto has been an industry leader in Education, a CRM with a plug-and-play suite of products it enables businesses to manage and grow enrolments.  Meritto's Education CRM helps businesses of all sizes build outstanding customer relationships, with a built-in AI chatbot, lead management, marketing automation, analytics, and more.
On the fence about using a CRM for your company? Switch to Meritto
Also Read: