What is Education CRM?
If you have come searching for an Education CRM, such as Meritto (formerly NoPaperForms), chances are, you already have a basic understanding of what it is and its importance. However, what you should focus on is understanding just how pivotal an Education CRM can be for your admissions process.
As an educational institute, admissions are a critical factor that determines your overall success. While there are numerous generic CRMs available in the market, they may not necessarily cater to your specific admission-related needs. While they may seem appealing initially, they may fall short in providing the comprehensive solutions required for optimizing your admissions process.
At Meritto, we recognize the unique challenges faced by educational institutions in managing their admissions. In this blog, we will dive deeper into the importance of an Education CRM tailored specifically to meet your admission-specific requirements. By understanding the specific needs of your admissions process, you can make an informed decision and choose a CRM that will empower you to streamline your admissions, enhance communication, and ultimately drive your institution's success. Let's explore the distinctive advantages of an Education CRM like Meritto and how it can revolutionize your admissions process.
"One-size-fits-all is a myth. An education-specific CRM brings the benefits of best practices not only from India but also abroad. "Buying" or choosing a program and school/university as a process by a student is not a straight-line process, it's rather layered in stages."

Abhay Chebbi
Director, Office of Admissions, Alliance University
An education-based CRM, however, is designed keeping admissions in mind and each of its features is aligned with the cross-functional requirements of an institution. A generic CRM is a horizontal platform, serving different businesses equally but an education CRM has the potential to empower your institute by taking care of every dynamic vertically across all departments. Before we jump into the 'how' of an education CRM, let's walk you through its 'why'.
Institutes vs Education CRM
Picture this – every year you put in the full force of all your teams to make the session a success. You implement last year's learning but new challenges keep on coming in front of the road.
What could be the root cause of these challenges? Primarily, the plights of most institutions stem from the silos being created between their teams – counselling, marketing, IT, admissions, finance, and management. None of them seems to be on the same page. Moreover, the challenges each of these teams faces internally is a whole other story.
Due to a lack of transparency in lead management, the counselling team finds it hard to channel its efforts
The marketing spends are difficult to optimize because it's hard to measure which campaign/activity did well
Owing to the chaotic inflow of documents, downloading, verifying, approving, or rejecting them can be a real chore for the admissions team
Maintaining financial records in Excel sheets can result in inaccuracies
The presence of silos makes it hard for the management to improve their productivity, channelize their efforts and see through things clearly
How Does an Education CRM Help?
The education CRM is a unified platform designed to centralise your data, bring transparency to your marketing campaigns, eliminate functional silos and dependencies within departments, and much more. Here are some of the ways in which the functionality of an Education CRM will prove to be beneficial for your institute.
1. Capture and manage your leads on a single platform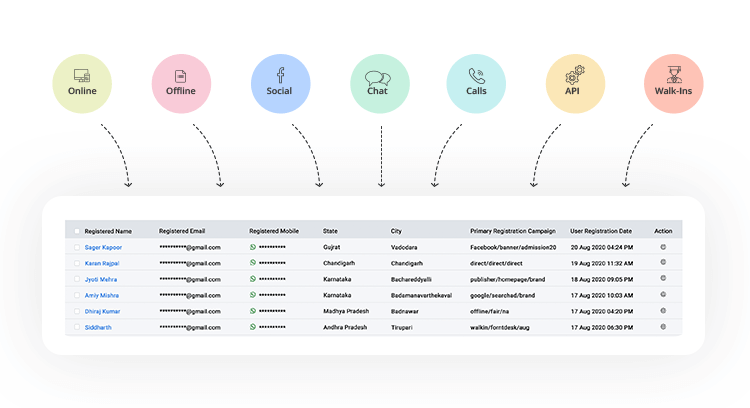 A prospective student might register a lead through email, social media, website, publishers, agencies, ads or simply, by walking in. The very first way in which an education CRM helps you is by centralising all your incoming leads across channels in one place.
2. Allocate leads dynamically to your counsellors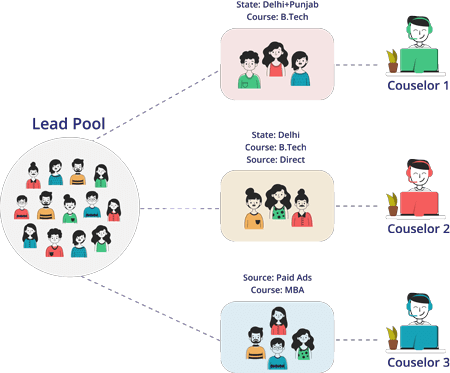 Once all your leads are centralised, they can be allocated to your counselors dynamically based on custom business logic or in a simple round-robin fashion. Your logic can be a mix of geographic details, course preferences, or the source of the enquiry – so no two counsellors get the same lead to nurture. Say goodbye to duplications and hello to cost optimisation!
3. Strategically nurture your leads via advanced segmentation and personalised communication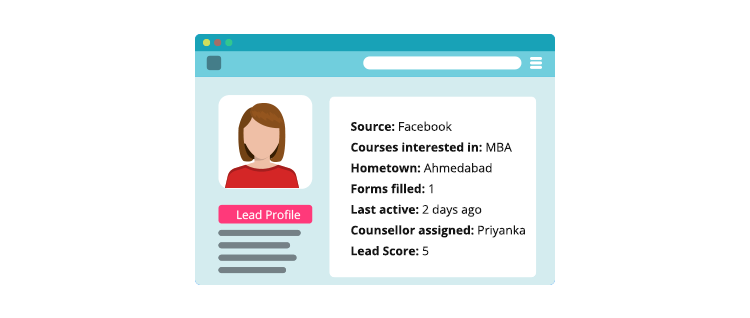 An education CRM tracks every lead's action and creates an elaborate profile of each of your prospects wherein apart from the vital information, you can see the whole journey, safely store documents, update your activities performed on a particular lead, and more. Since you also know the entire lead journey, you can send personalized communication through email, SMS, WhatsApp, telephone, etc. as per the stage they are on and even their disposition. A robust education CRM should also have the capability to assign a lead score and gauge the lead strength basis their engagement with the communication.
The lead profile, thus can be updated based on your team's and lead's activities. This way, it is easier for you to judge the lead's intent. Moreover, due to the creation of lead profiles, different segments according to the gathered data can be created. Through an advanced filter, the list of all the leads falling under a very specific category will be right in front of you.
4. Optimise your campaigns for effective results

When it comes to running marketing campaigns for education institutes, you can follow either of the two approaches – spray & pray campaigning or progressive campaigning.
Through the 'spray & pray' approach, you can reach out to your prospects via every possible channel and wish to get a response. On the other hand, you can perform progressive, targeted campaigning. The former approach is based on assumptions while the latter helps you gain momentum and track the performance in real time.
Assumption-based campaigning continues to be a general approach for many institutes. However, the adoption of specialized education CRMs has helped in progressively targeted, data-driven marketing campaigns. Managing your campaigns through education CRM equips you to track how well a particular campaign did, giving you an idea as to how you can use your marketing spends optimally.
5. Understand your admissions better with insightful reports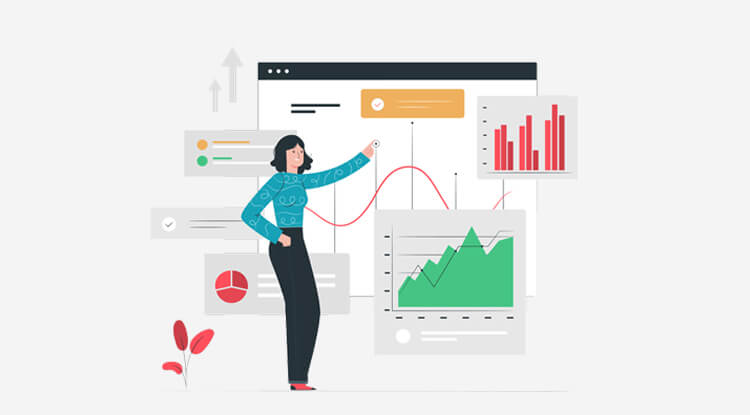 Since all the efforts your teams have made are getting recorded, a comprehensively prepared report can pave the way forward. The education CRM takes care of this as well. Observe the real-time logs of your trends, patterns, and analytics to understand the productivity of your different teams. advanced filters can be applied here as well to monitor the progress your teams have made during a specific period of time.
Forget switching from one tab to another and observe the traffic count, counsellors' productivity, and the overall performance of your teams on different platforms, when it can all be at one place.
An Education CRM Empowers You to:
Centralise all your data across sources on a unified platform
Do away with data and functional silos with no inter-departmental dependency
Enable your counsellor team to achieve more
Supercharge your marketing campaigns with real-time intuitive dashboards
Plan, Track, Optimise, and Convert better with real-time analytics
With admissions being your ultimate goal, you can't compromise on the system you're choosing to drive them. An education CRM is here to alleviate the candidate's journey for you, helping all your teams undergo a seamless experience.
Also Read: