Loss of leads is equivalent to loss of revenue. Indeed, for any organisation, lead management is regarded as the backbone of their business. But often companies underestimate the importance of this process and stick to the traditional method like Excel sheets in managing their leads. This straightaway leads to a greater loss in revenue because of duplicate leads, lead leakage, and so on.
For this industry-wide problem, we have the right solution!
What is Lead Management?
Before we move on to understanding how to manage leads efficiently, let us understand what is lead management. The process of acquiring, organising, and managing potential customers until they make the purchase refers to Lead Management. The process usually involves capturing leads from varied sources, stacking their information, checking their authenticity, allocating them for nurturing, communicating with them, and tracking their journey. Some steps of the Lead Management process are:
Generating Leads: Involving a wide range of marketing and offline activities, organisations generate multiple leads
Capturing Leads: Potential customers respond with their interest and their details are captured
Organising Leads: On the basis of their response and probability of becoming a customer, leads are bifurcated on the basis of their intent and various other factors
Nurturing Leads: Potential leads are allocated to the nurturing team for nurture and conversion process
Lead Management Process
Now that we are clear with what is lead management, let us quickly dive into and learn more about the process of lead management:

Step 1: Lead Capturing

To get the whole process of lead management started, the most crucial step is to generate leads effectively. One needs to critically understand that this step does not only include running marketing and sales campaigns for lead gen, but also collecting and centralizing them. Lead management ensures that your leads from various sources are bind on a single platform for your teams to effectively work on them.
Step 2: Lead Tracking

The whole concept behind lead management is to remove the manual dependency of the sales and marketing team so that they do not invest their time in tracking back the journey from where the lead has come. Lead tracking is an essential part of the management process as it helps in keeping a track of activities like which page has the user come from, which link did they use, and which product/ service they are interested in. It also helps in stating how easily the lead can be converted.

Step 3: Lead Qualification

Non-qualified leads are a major cause of lost deals and sales. Thus, one must emphasize on qualifying the leads through a lead manager, to ensure that the intent, interest, and fitment must align while it pushes leads through the sales funnel.

Step 4: Lead Distribution

When done manually, lead distribution can be a total mess! Thus, automating the same through a lead manager, makes the whole process streamlined. The automation in LM allows you to build lead assign workflows as per your own preference and you can simply allocate leads as the way you want to. This also ensures an equal work opportunity for all the admission counselors or sales reps.

Step 5: Lead Nurturing

It is at this step that the final result of a lead manager can be seen. The above-mentioned steps, set a wholesome ground for the counselors and sales reps to effectively nurture and build relationships with them. With the right information and higher lead intent, counselors can nurture more and more students on the go.

Why do Educational Organisations Need to Manage Leads on an Education CRM?
It is apparent that loss of leads is equivalent to loss of revenue! Educational organisations acquire tonnes of leads from varied offline and online sources and end up capitalising on only some of them. A major reason for this is managing leads on multiple spreadsheets, tools or point solutions. This broken approach to lead management results in lead leakage and higher duplicity rates, enhancing marketing spending and excessive loss of opportunities. To combat this industry-wide problem, educational organisations need a purpose-built solution that works wonders for them – Meritto (formerly NoPaperForms) Education CRM.
Designed exclusively as a B2C CRM, Meritto's Education CRM works as a laser-focused solution to seamlessly manage and scale the entire admission process, from candidate enquiry to their enrolment. The CRM system is equipped with an in-built Lead Manager that centralizes all incoming leads/ enquiries on a unified platform, ensuring no loss opportunity with zero lead leakage and zero lead duplicity.
It seamlessly captures your leads across different channels and sources, be it your website, online advertising platforms, education fairs, social media, education platforms, marketing agencies or direct walk-ins. Be it any offline or online mode of acquisition, as the CRM centralises all leads, it maps their initial touch points/ instances as primary, secondary and tertiary. It empowers admission teams/ counselors/ sales representatives to easily monitor the lead source performances, verify leads, prioritise engagement, optimise lead nurturing workflows and drive conversions seamlessly.

How to Convert More Leads into Enrolments: The Right Way!
As we have discussed how important it is to manage leads on a unified platform, below are some advantages of managing leads through Meritto' Education CRM-
Ensure Zero Lead Leakage
With every lead, comes a great business opportunity. The powerful one-view dashboard centralises all leads/ enquiries across multiple sources or channels, enabling you to manage them seamlessly. The CRM capture primary touch points of all the leads/ enquiries from social media campaigns, marketing agencies, website, education fairs and walk-ins, ensuring zero lead leakage and optimising cost.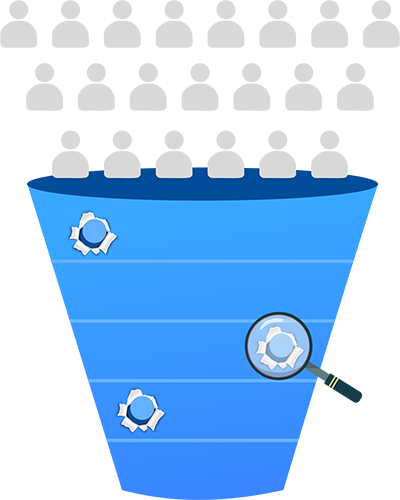 Simply Centralise All Leads in a Unified Platform
As you capture leads from walk-ins or other offline activities across campus/ branches/ centres and cities, simply centralize them on the Lead Manager with a quick upload. In real-time, capture all your online and paid lead generation sources, incoming calls, social media, digital agencies and more. The CRM eliminates duplicity and helps you visualize complete student history in real time. Admission heads/ Branch heads can access data across campus/ branches/ centres automatically without any manual data exchange. Teams from different campuses/ branches/ centres can also upload offline data directly to the Lead Manager.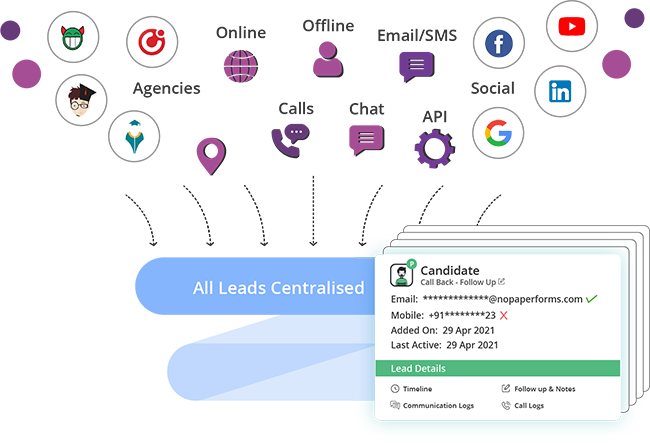 Eliminate Lead Duplication
Similar leads/enquiries can be received through online and offline sources as well. Candidates often submit their information on multiple websites, hence, the lead is circulated throughout the whole industry. Meritto's Lead Management System, eliminates lead duplicity as the CRM captures instances of enquiries/ leads up to 3 sources- primary, secondary and tertiary source attribution. Easily monitor lead source performances, optimize nurturing and ensure that no two admission counsellors/sales representatives are nurturing the same candidate.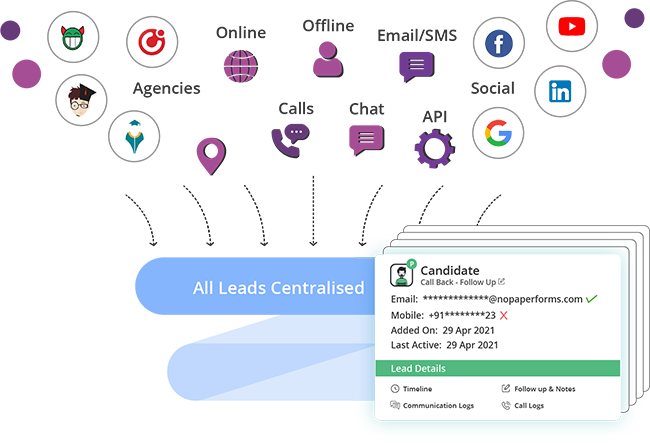 Innovative Source Tracking for Zero Lead Duplicity
The industry-first, non-editable source attribution by Meritto brings complete transparency and accountability to your admission process! The Education CRM captures lead/ enquiry sources on a real-time basis for all the online channels and automatically maps them. As it captures the very first touch point, it attributes them dynamically as Primary source followed by other sources- Secondary, Tertiary, and so on. This entirely eliminates lead duplicity and empowers organisations with authentic data to work on. The right source attribution helps you identify your top-performing channels and optimise your marketing ROI.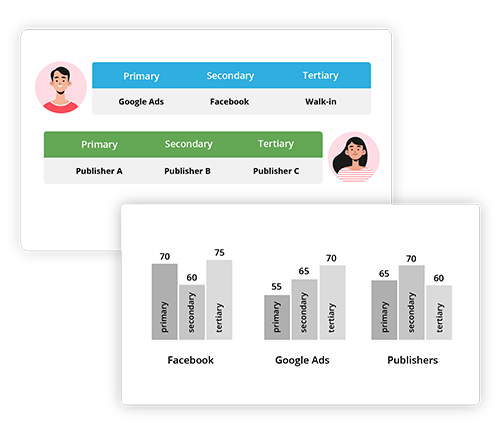 Auto Verify Leads to Optimise your Efforts
Counsellors/sales representatives waste their efforts on junk calls, ultimately hampering efficiency. The Lead Manager enables you to enhance your team's productivity by providing them with only quality leads/ enquiries through the exclusive 'Student Intent Verification'. All the leads in the Education CRM are auto-verified either through email or SMS. Thus, high-intent genuine leads/ enquiries from the pool are allocated for nurturing. This optimises the nurturing team's efforts and boosts conversion rate. Low-intent leads can be allocated to-and-within branch/centre-level nurturing teams for advanced nurturing.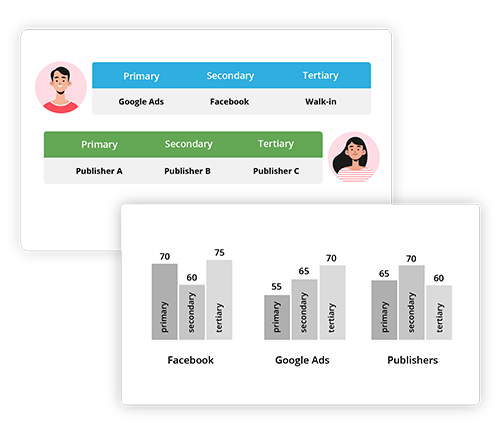 Ensure Quality Lead Flow from Marketing Agencies/ Publisher APIs
Improve the quality of leads/ enquiries flowing into your system with the Dynamic Lead Flow Algorithm. Meritto' Lead Manager allows you to set up a minimum verification rate of leads as a benchmark and experience the quality of your leads/ enquiries improving dynamically. Get the accurate authenticity rate of the leads shared by marketing agencies/ Publisher APIs and customise the number of leads shared as per their quality.
Manage your leads on the go with Mobile App
Whether your team is working from home, on the ground, at education fairs or on campus, they can easily upload all the leads/ enquiries by adding a quick lead or getting a QR code scanned by candidates. Meritto's mobile app enables you to take complete hold of your admission activity on your mobile phone.  
Companies envisioning growth, must understand the importance of lead loss and eventually, opportunity loss. As stated above, Lead Management is the backbone of businesses, thus, organizations must rely on a CRM that helps them streamline lead management and enhance conversion rates. Meritto's Education CRM enables you to achieve exactly the same! Schedule a demo with us!