Purpose-built for fast-moving sales teams in educational organizations
Track leads, determine which stage of enrollment they're at, communicate contextually, prioritize high-intent leads, automate mundane tasks, and do everything else that matters. Sales teams, call center agents, and field force sales reps of educational organizations — Meritto (formerly NoPaperForms) Sales Platform has a purpose-built solution for everyone.
Everything you need to super-charge your sales teams
Equip and empower your sales team to be more productive, efficient, and fast as you scale your enrollments to newer heights

Manage the entire sales journey on a single platform, and focus on converting and enrolling more students

Automate lead distribution, sales communication, and other mundane repetitive tasks like adding notes or marking follow-ups

Sales Tracking & Progress
Get 360° visibility into your sales team's performance real time. Identify your star performers and the bottlenecks.

Notify sales reps of cross and upselling opportunities whenever there is one through smart nudges and prioritize sales efforts

Empower your sales reps on-ground to track, plan, and contextually engage potential students while on the move

Integrated Payment Platform
Skyrocket your sales effectiveness as you run time-bound scholarship campaigns, create custom payment plans, and ensure lower-drop offs
Ensure unmatched sales efficiency
Distribute leads among the right sales reps based on course, location, availability, language, or performance record. Prioritize sales efforts whenever a potential student shows high intent, and nurture them down the enrollment funnel.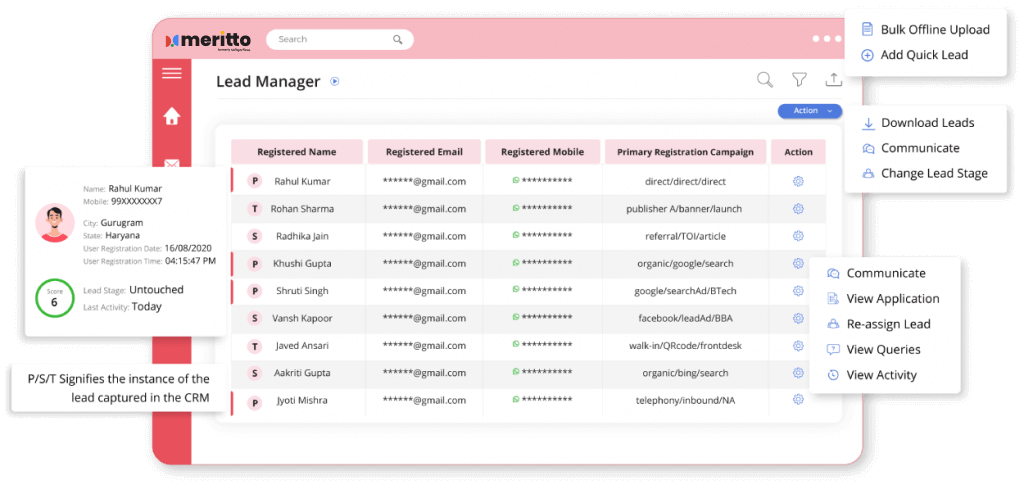 Smart
Views

Advanced
Lead Distribution

Opportunity
Management

Cloud Telephony
Integration

Sales
Tracking

360°
Communication

Get a bird's eye view of all your potential students
With quick access to your lead and candidate profiles, you could make your engagements more contextual. From Lead Activity, Communication Logs, to Telephony recording, it's all here. Juggling isn't your job after all.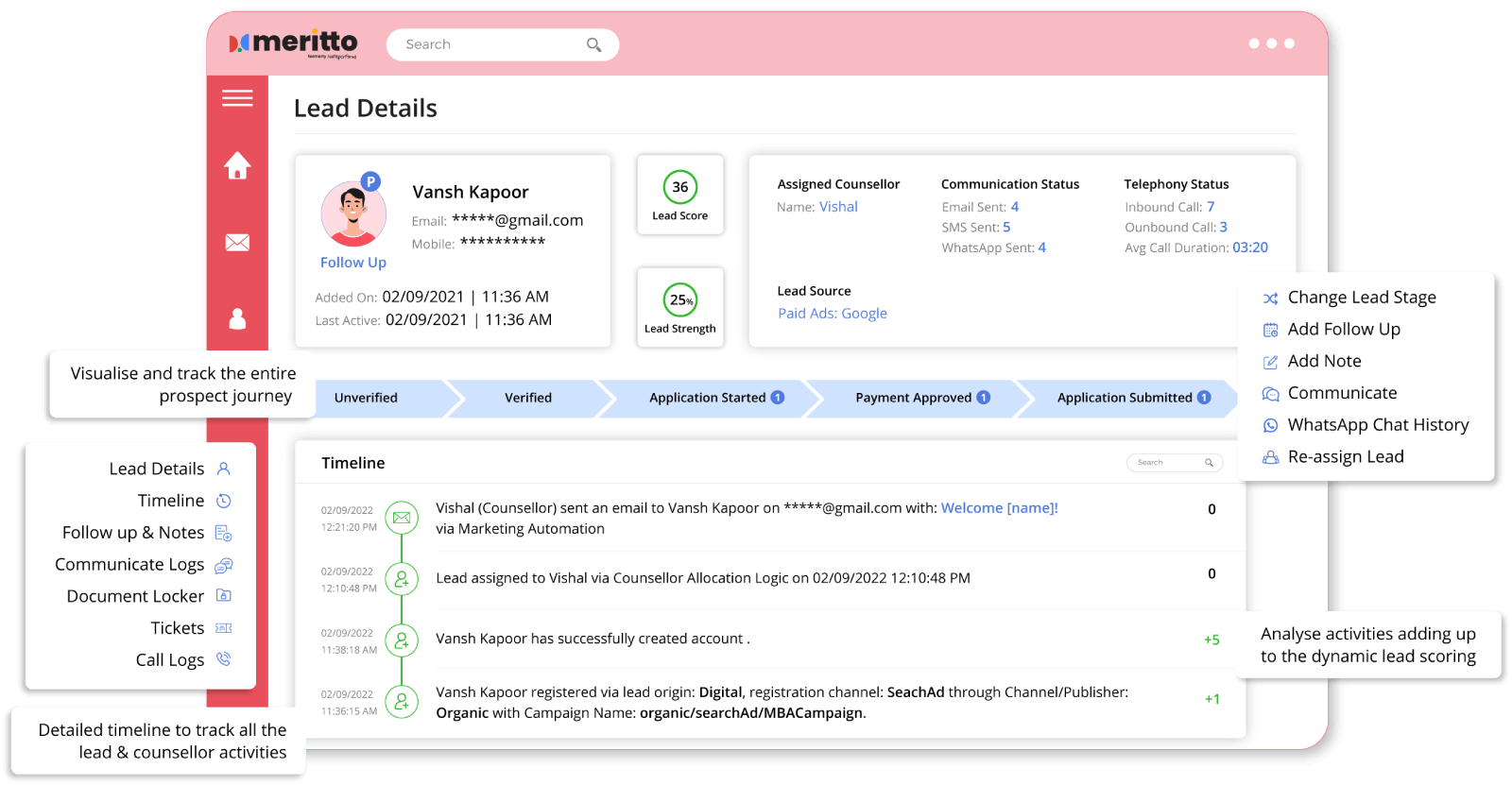 Equip your sales teams to focus on selling
Automate mundane repetitive tasks your sales reps get caught in most of the times and allow them to do what matters the most: engaging leads to enrollment. Whether it's adding notes, marking follow-ups, or triggering sales communication based on student activity, we have it all covered.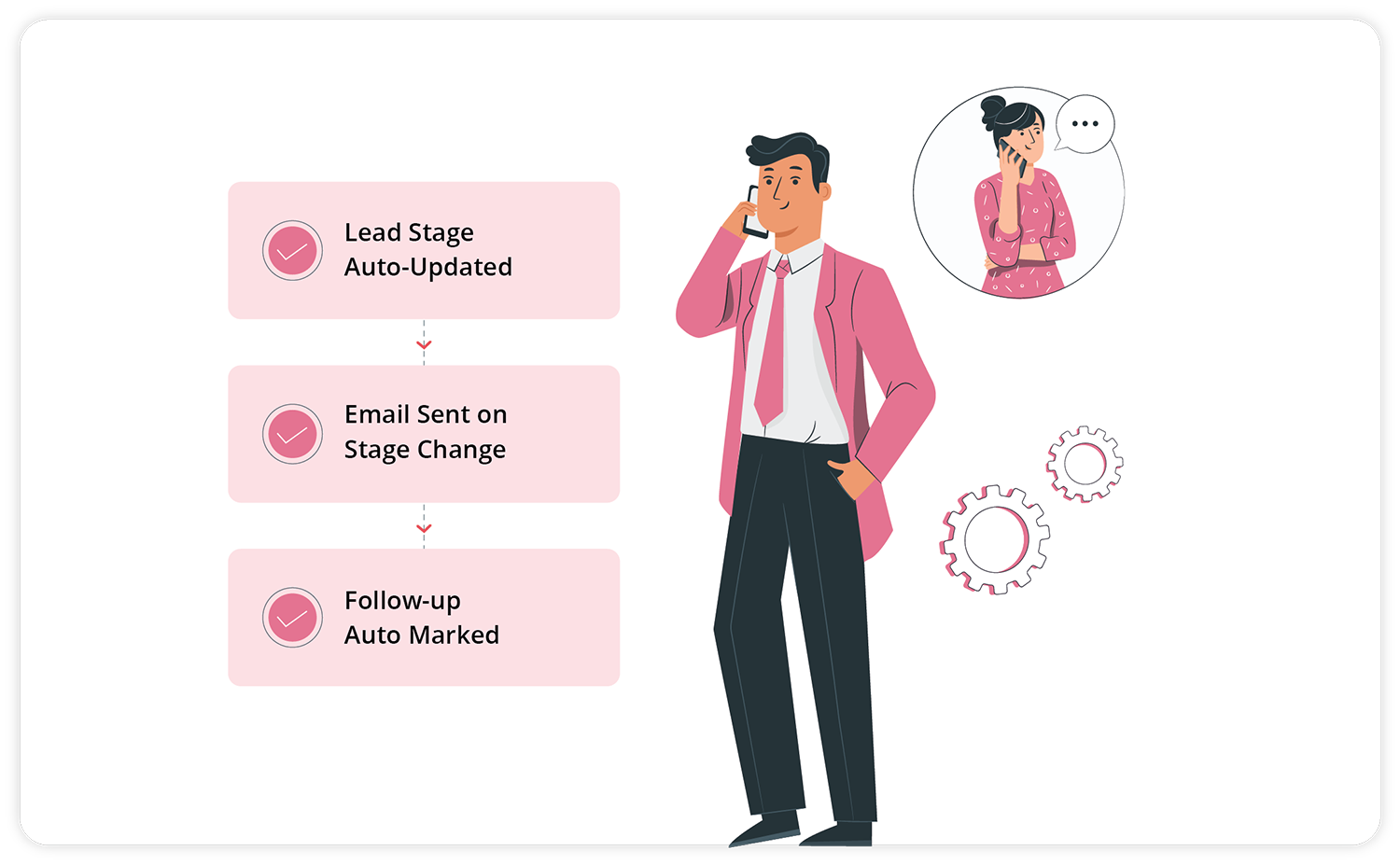 Empower your sales reps on-ground
Equip your sales reps to track, plan, and contextually engage potential students while on the move. From accessing leads, making calls, and adding voice notes to tracking visits and communications– it's everything you could ask for.

Mobile Admin
Dashboard

In-App
Calling

Geo Tracking and
Route Planing

Automate Check-In &
Check-outs

Mobile App –
Field Force Tracking

Potential Student
Caller ID
Measure, benchmark, & enhance your sales team's efforts
Get 360° visibility into your sales team's performance. Know your best-performing sales agents, the bottlenecks that hold others back from converting more students, and optimize your sales campaigns in real time.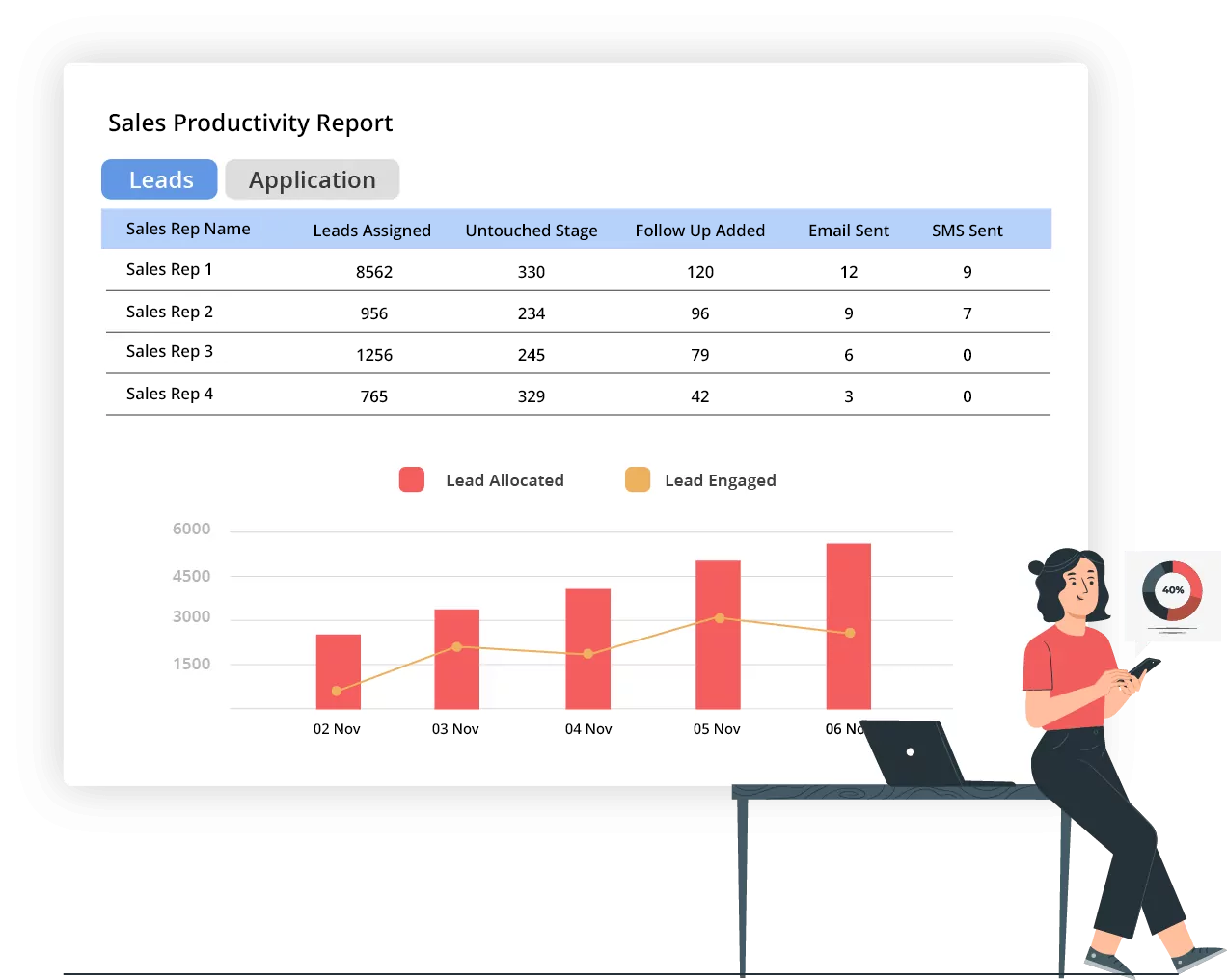 Missed Opportunity
Analysis

Sales Rep-wise
Performance

Team-wise
Reports

Calling
Reports

Lead Engagement
Reports
Know when you could cross and up-sell courses
Intuitive AI features built into Meritto (formerly NoPaperForms) EdTech CRM notify sales reps of the cross and up-selling opportunities whenever there is one. Go further as you identify and enroll alumni to a newer course relevant to their career.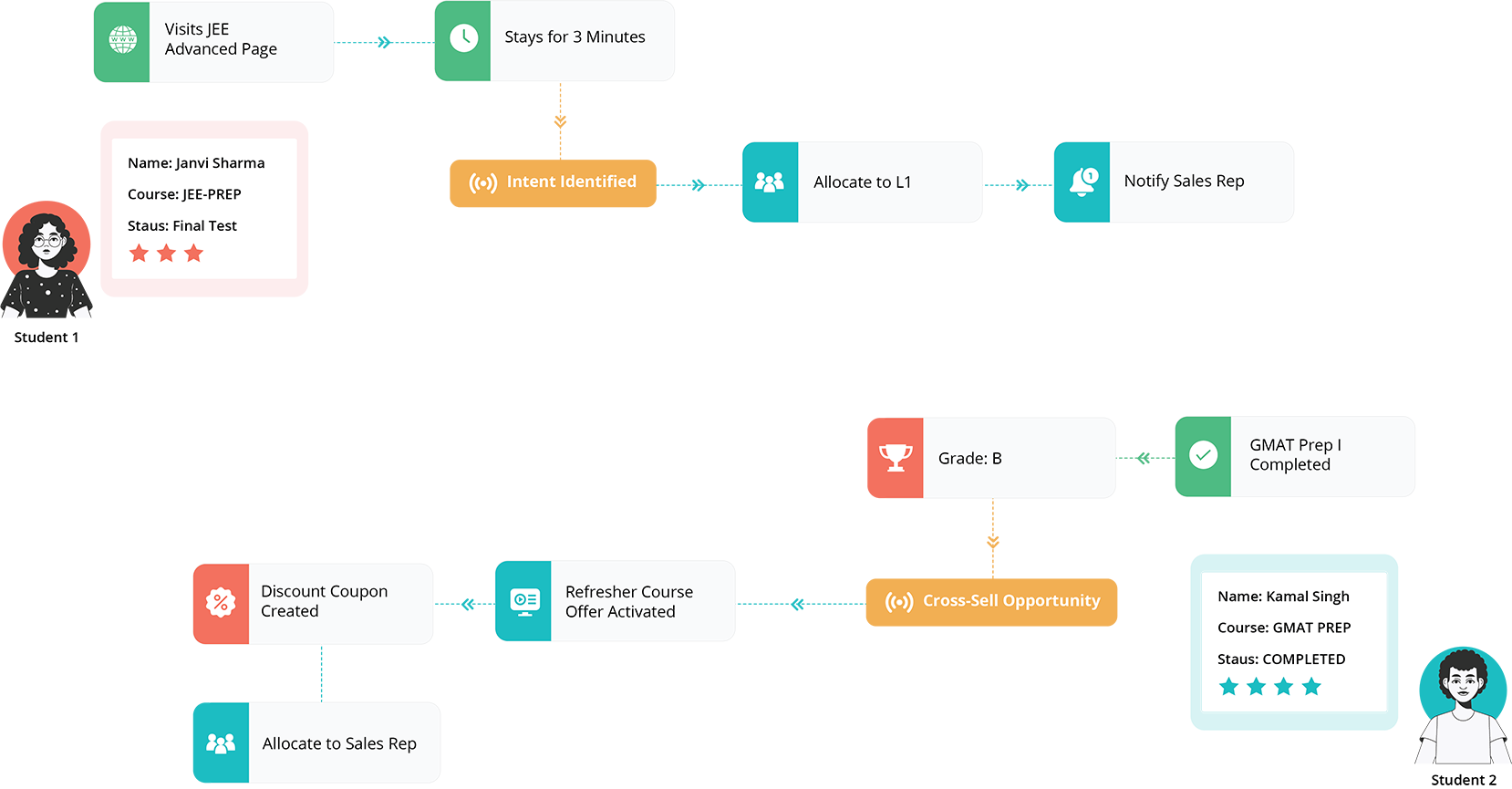 Smart
Nudges

Real-Time
Allocation

Cross-sell/Upsell
Signals

Increased
CLTV

ICP
Identification
There's more for all your teams
Know more about our solutions that empower your teams to do more of everything that's important
Decoding a Sales Platform for Education Organizations
Know how our purpose-built platform equips fast-moving sales teams to grow enrollments, in this quick video featuring one of our enrollment experts.
Our partners market our product the best
After all, their reviews are from their first-hand experience