Purpose-built for enrollment marketing teams in educational organizations
Automate your everyday marketing tasks, nurture students across channels, track campaign performances in real time, and successfully manage your marketing activities across various channels. With Meritto (formerly NoPaperForms) powerful yet easy-to-use solutions, you're in control of marketing in one single place.
Get all that your marketing teams need to attract, engage, and enroll
Equip and empower your marketing team to focus on what matters the most – candidate experience, and scale your enrollments like never before.

Centralize data from all sources
App installs, landing page, social media, API, or an online inquiry– capture and centralize leads on a single platform

Segment & Remarket
Curate custom audience segments to strategically target and make your marketing and remarketing campaigns more effective

Hyper-personalized communication
Automate all your enrollment marketing communications using predefined templates or curate your own personalized ones to nurture leads

Identify star performers and bottlenecks
Pinpoint and close gaps with your campaigns and publishers. Identify bottlenecks, and take corrective
actions in real-time

Engage your inbound traffic
Convert all inbound and advertising traffic into qualified student leads by contextually engaging with them on your website

Boost your campaign's ROI
Keep track of key metrics on advanced dashboards to optimize your enrollment marketing campaigns and increase its ROI
Centralize all leads from app installs, landing pages, social media, API, and more
Get a 360° view of all your leads in one single window so you can track and benchmark performances without having to switch between too many tabs or maintain multiple sheets. Ensure zero lead leakage and duplicity!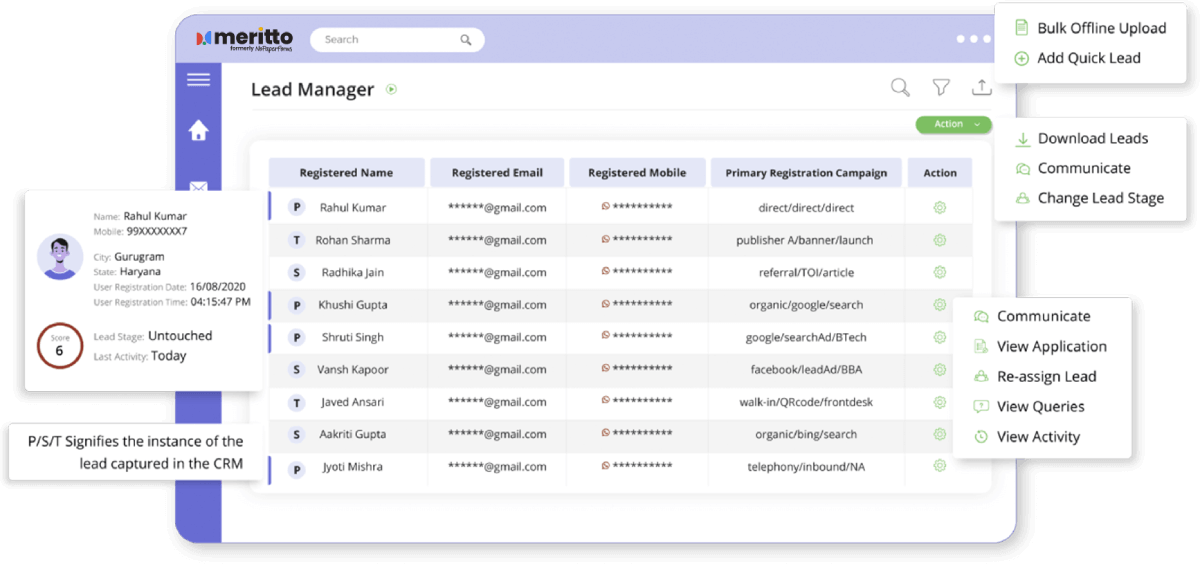 Centralize Data
across Sources

Segment
Audiences

Dynamically
Allocate Leads
Build visually appealing marketing templates in minutes
Say goodbye to the days when you needed IT's help to code your emails! Say hello to a no-coding drag & template builder that you can use to create impactful marketing collaterals and engage your potential students better.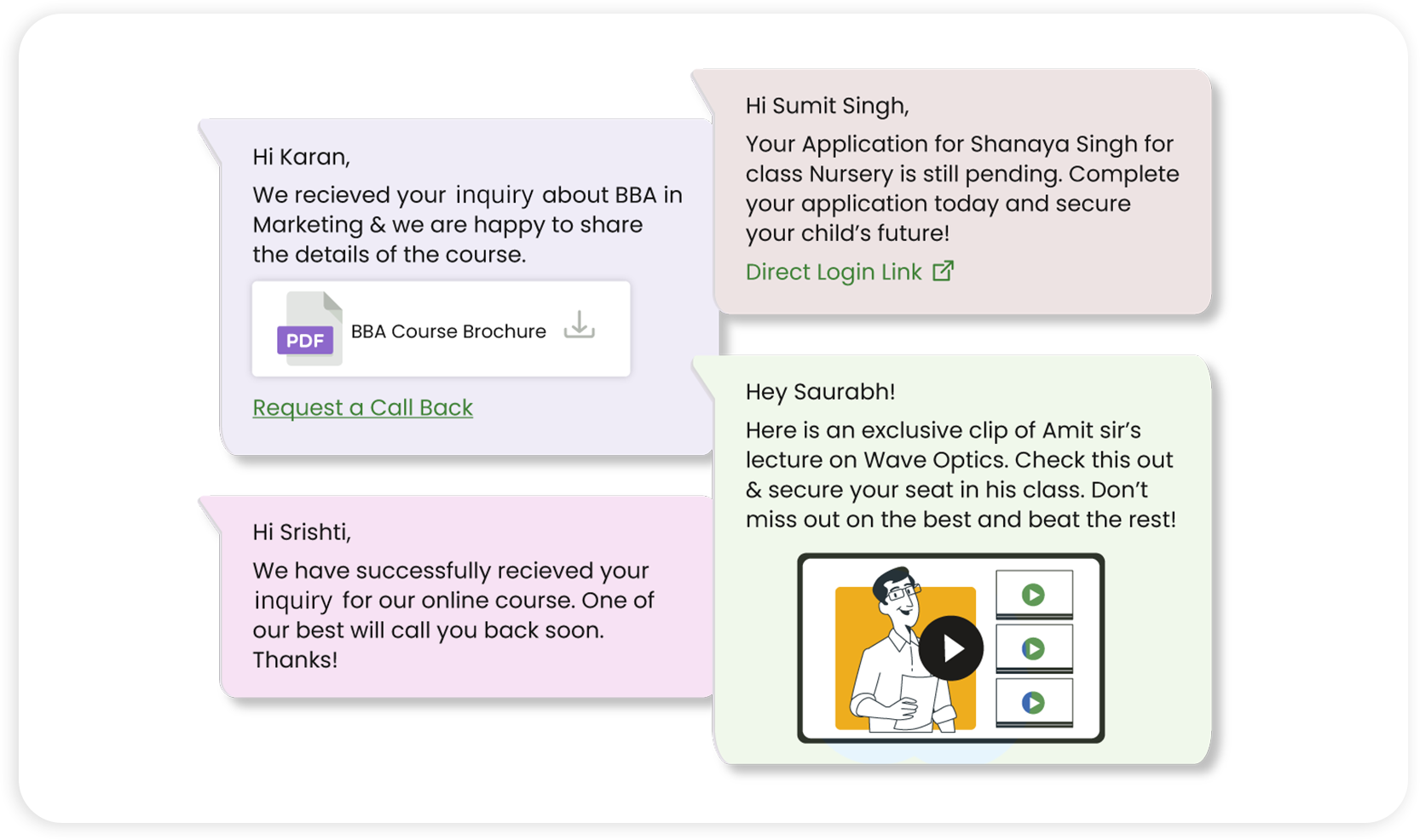 Setup Landing
Pages from scratch

Drag and drop
Email Builder
Get the word out about your programs and courses
Automate your entire Marketing Communication efforts across channels like Email, SMS, or WhatsApp based on your potential student's activity. Strategize the perfect outreach with advanced communication workflows that delivers a
hyper-personalized experience.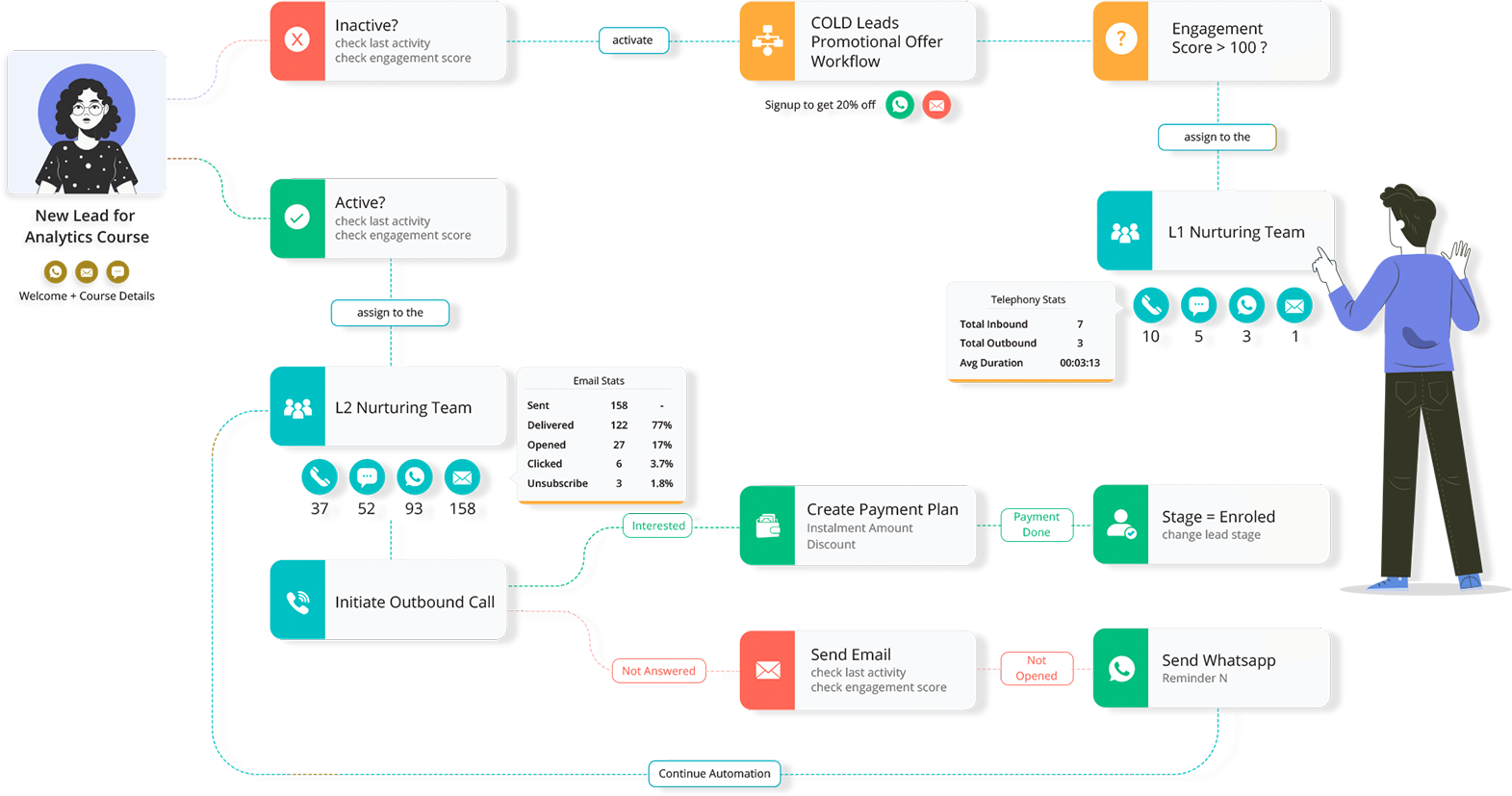 360° Communication
Suite

WhatsApp Business
API

Drip Marketing Automation
and Workflow Builder

Communication Performance
Reports & Tracking
Make the most of your inbound traffic
Put the smartest admission counselor to work who can convert all inbound and advertising traffic into qualified leads by contextually engaging with them on your website. Uncover intent signals and increase your ROI.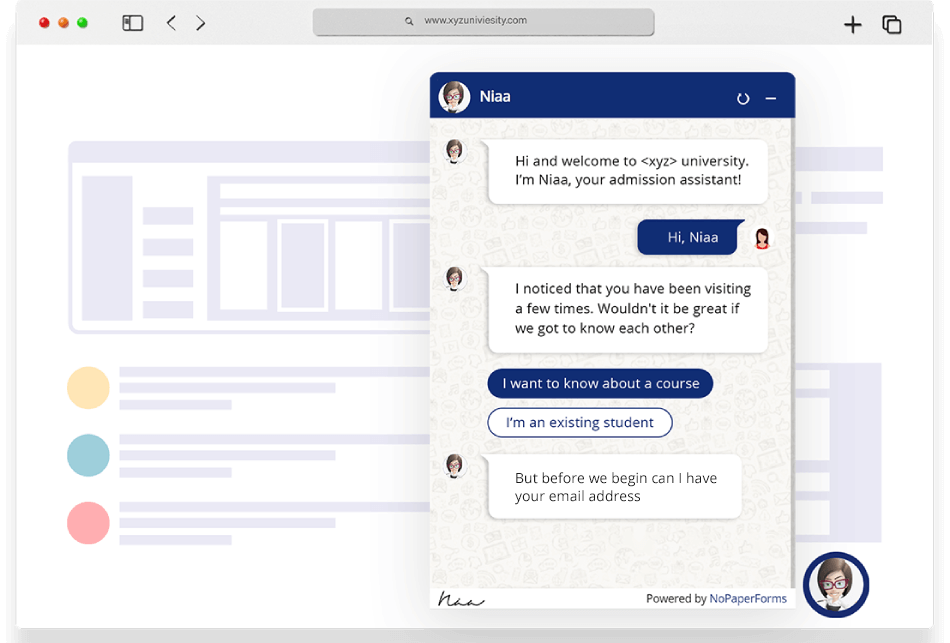 Intent-verified
Lead Generation

Contextual Nurturing
24×7

Omni-channel
Presence

Real-time ROI
Dashboard
Maximize your Marketing Campaign's ROI
Track, measure, and optimize the efficiency of all your enrollment marketing campaigns in real-time and maximize the ROI from your marketing spending. Stay on top of your conversion tracking from inquiries to applications.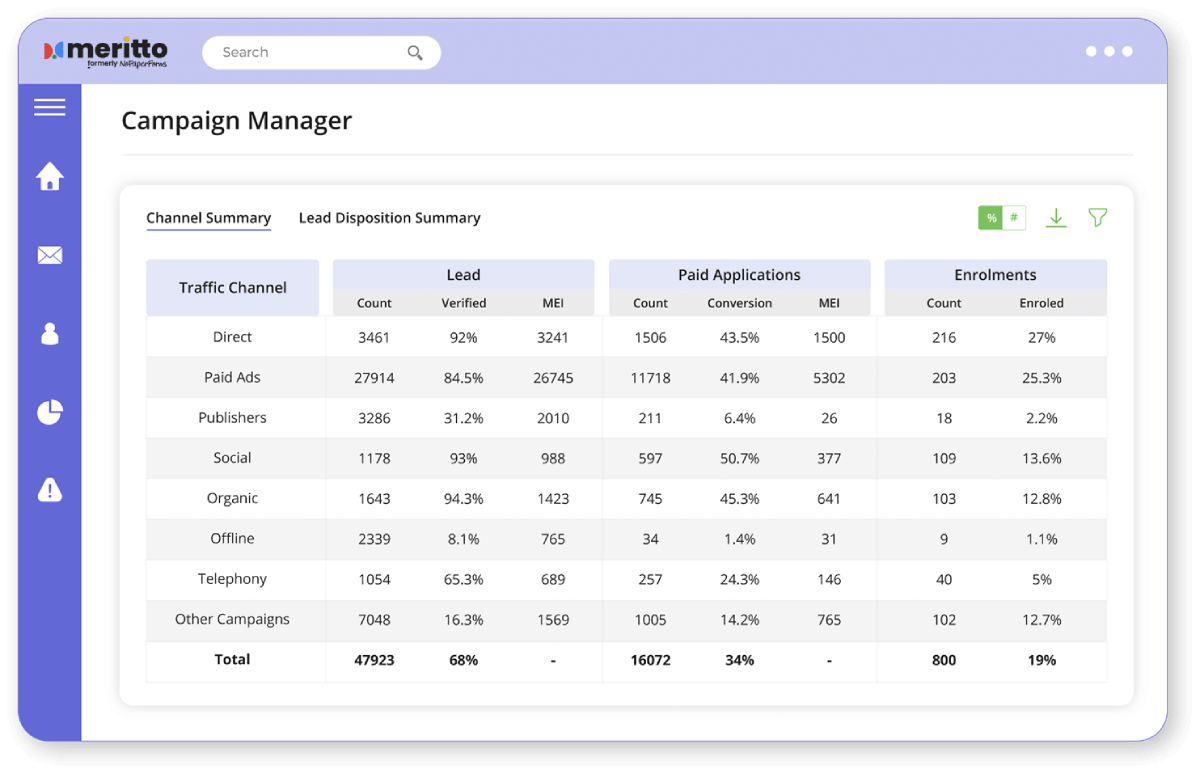 Conversion
Tracking

Property Wise
Tracking

Benchmark your
Admissions Marketing
There's more for all your teams
Know more about our solutions that empower your teams to do more of everything that's important
Meritto (formerly NoPaperForms) Enrollment Marketing Platform explained in minutes!
Discover how our platform empowers marketing teams in education organizations to attract the right students and learners, automate hyper-personalized communications, maximize ROI, and more, helping them to grow their enrollments with ease.
Our partners market our product the best
After all, their reviews are from their first-hand experience