Engage more, Convert more with the Power of Strategic Remarketing!
Educational organisations do not tailor their segments and continue to run remarketing campaigns targeting the same set of audiences post an enrolment cycle, resulting in non-personalised nurturing for the potential prospects and a poor customer experience. This takes a toll on your marketing budget and increases your drop-off rate.
Built in remarketing connectors in the Meritto (formerly NoPaperForms) Education CRM enables you to stay a step ahead with strategic remarketing as it automatically tailors your target audience segments as per the prospect's stage in the enrolment journey, no more manual intervention!
With the real-time update of the leads/ enquiries stage in the audience segments, you can optimise personalise nurturing and bolster their decision of joining your educational organisation. Set up recurring data push for the target audience and run your remarketing campaigns on auto-pilot.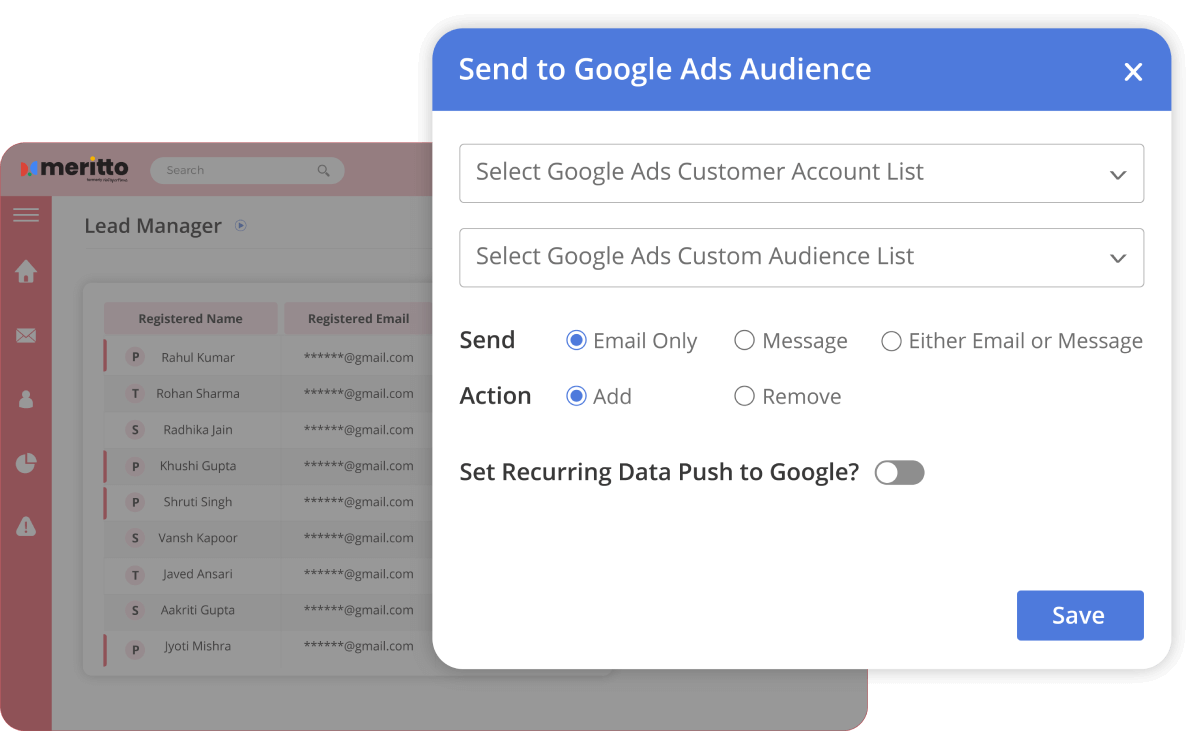 Google Ads Custom
Targeting
With pre-integrated Google Custom Audiences Plugin, create Custom Audience Lists directly from the Lead or Application Manager with advanced filters at your disposal. Strategise your remarketing campaigns and hit the bull's eye by making your target audience take the right action. What's more? Create a schedule so that the system directly pushes these details without any manual intervention.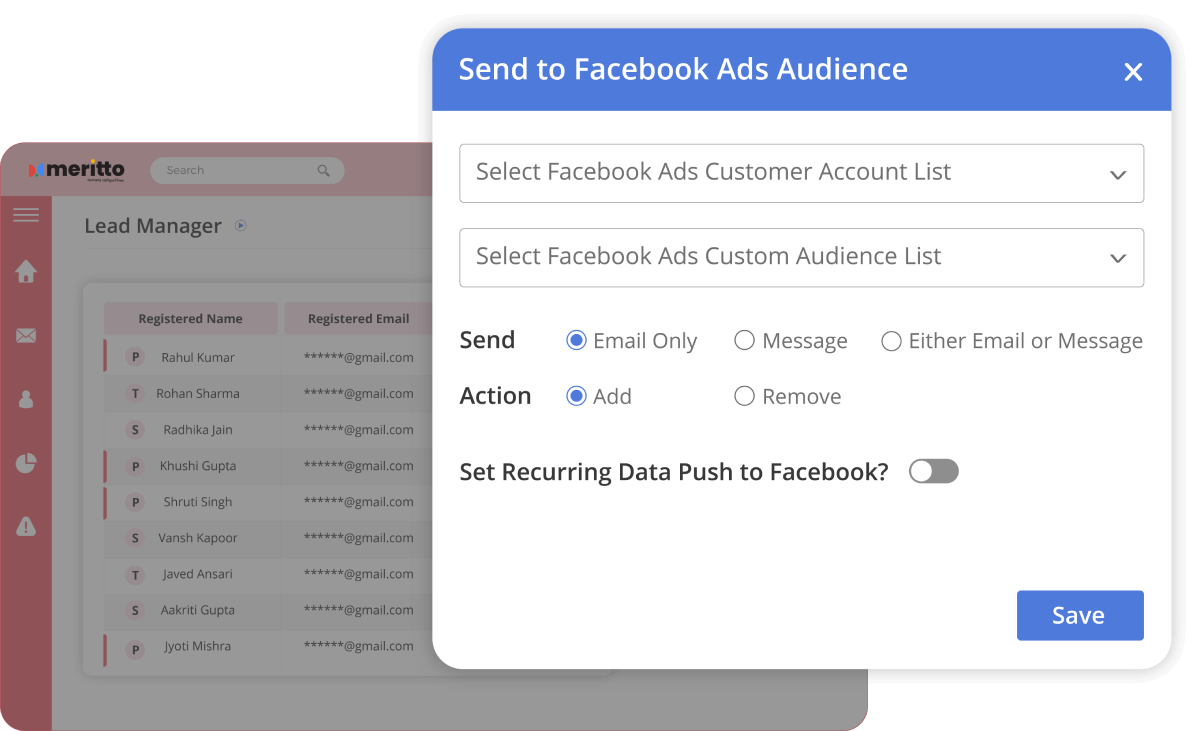 Facebook Ads Custom Targeting
What's important for a successful Facebook Ads campaign is that you know who your audiences are, and with the Meritto platform you could directly have strategic remarketing for those who you know are potentially interested in your institute. Connect your Facebook Ad Account with Meritto and create real-time Facebook Audiences directly from the platform.
The system automatically updates the segments as per the stage change in the leads, enabling you to run target remarketing campaigns and provide a personalised experience to your prospects. You can create several categories of students like Form Started, Form Complete but Payment Pending, Form Not Started, Cart Abandoned etc.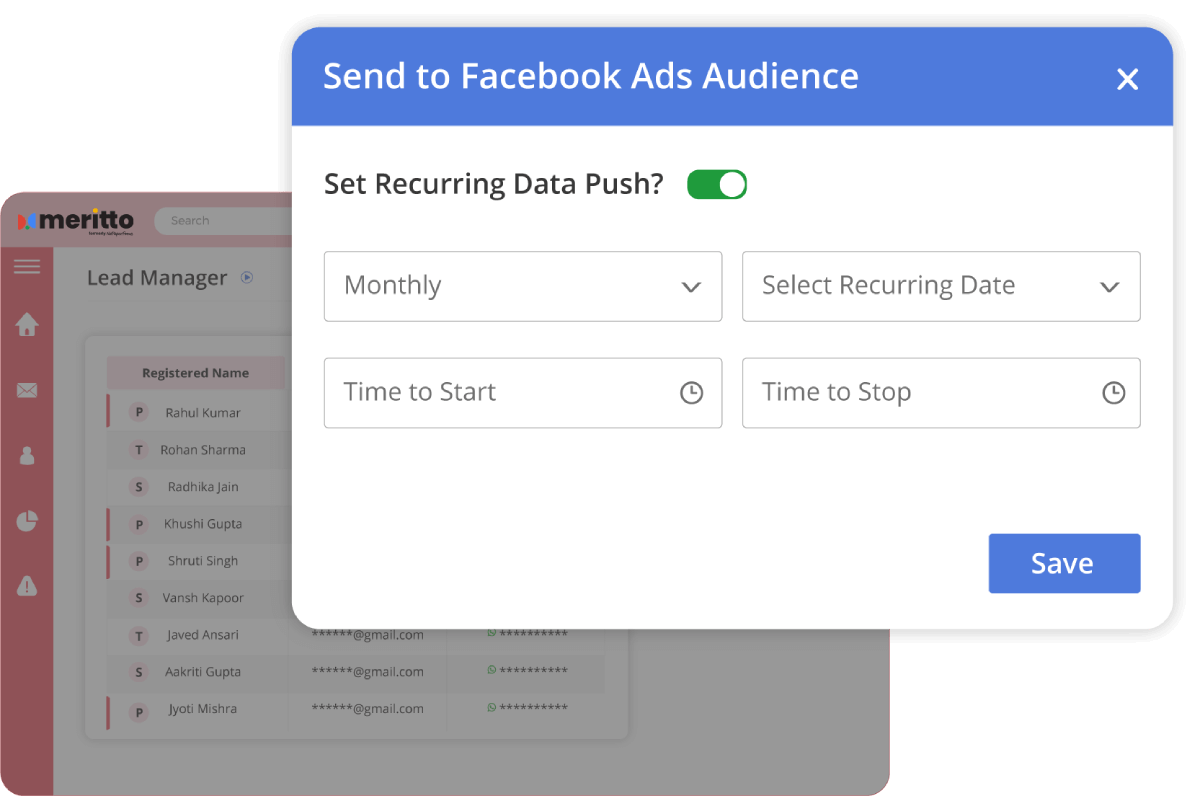 Automated Recurring Audience Push

Set up a recurring data push to Facebook or Google Audiences and forget having to sync data ever again! The system automatically fetches the target list of prospects based on your set filters and feeds them to your Remarketing Audiences.
Use Multiple Facebook Accounts
Boost your conversions from strategic remarketing as you get to integrate multiple Facebook accounts with Meritto' CRM and run target campaigns. Get your Custom Audience updated automatically either as recurring or real-time data push and maximise your marketing ROI.