How WhatsApp Business API is the new face of Lead Nurturing?
WhatsApp is the most widely used and preferred channel among all today. With an open rate of over 98%, rich media messaging, and the ability to broadcast messages to numerous candidates at once, WhatsApp Business API improves your engagement and enhances brand recall like no other channel!
Meritto (formerly NoPaperForms) WhatsApp Business Integration transforms how your educational organisation is using WhatsApp. It empowers you to personalise nurturing via interactive broadcast and sharing real-time updates with the prospects. Scale your enrolments with just some simple clicks as you optimise the counsellor/sales representative's productivity and maximise your marketing ROI!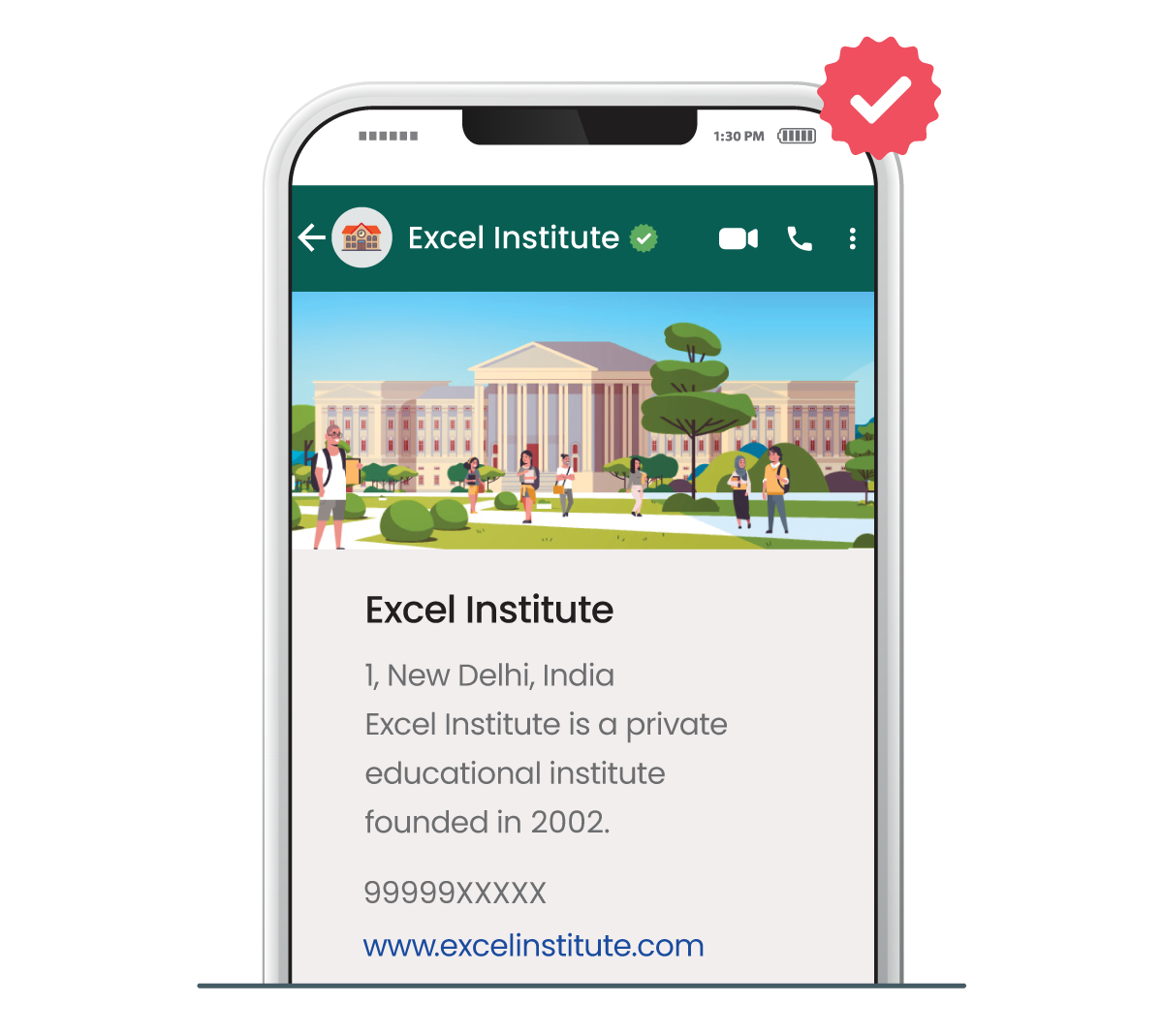 Enhance your Brand's Credibility with a Verified Badge
Very few businesses are verified by WhatsApp as official business accounts. Get yours verified to elevate your brand recall. Receiving personalised messages from a verified account will not only enhance your brand's credibility amongst the prospects but will also bolster their decision to join your education organisation. What's more to it? Even if a user does not add your number to their address book, your brand name still reflects on WhatsApp.
Broadcast Messages & Automate Replies with Notifications
Personalise broadcast messages with a click of a button, based on prospects' position in the enrolment journey, no more static template-based communication! Allow your candidates to interact with the account and help them consume and learn more about your organisation by delighting them with instant automated responses. From sharing application status to sending deadline reminders, exam slots schedule/school tour schedules to course fee due date reminders, all can be done on one platform.
Automate Messages based on Enrolment Journey
Automate your nurturing efforts by sharing interactive messages as per the prospect's position in the enrolment journey and scale your conversions better than ever! Simply share direct login links, fee payment plans, acknowledgement slips, virtual interaction links, enabling them to take the right action just at their fingertips. Simplify the entire enquiry-to-enrolment journey for the prospects as you get to share all vital updates.
Power your Conversations with Rich Media Messaging
Immerse your candidates in a rich experience with videos and images. Make them visualise their journey with your educational organisation and showcase how you can empower their dreams. Share exclusive insights about your branch, campus, library, sports arenas, hostel/ accommodation facilities, placement cell, student communities, scholarships and much more. Share the schedule and location of the GD/PI, parent-principal interaction, examination/entrance test venue information, etc. Emote better with emojis to further enhance your communication and outreach efforts as per your audiences.
Create & Save Custom Communication Templates
Seamlessly design and park interactive templates in the system and send them anytime, anywhere! Have all your repetitively used communication like welcome messages or application submission reminder messages armed to be used anytime. The use of a token allows you to make it personal every time!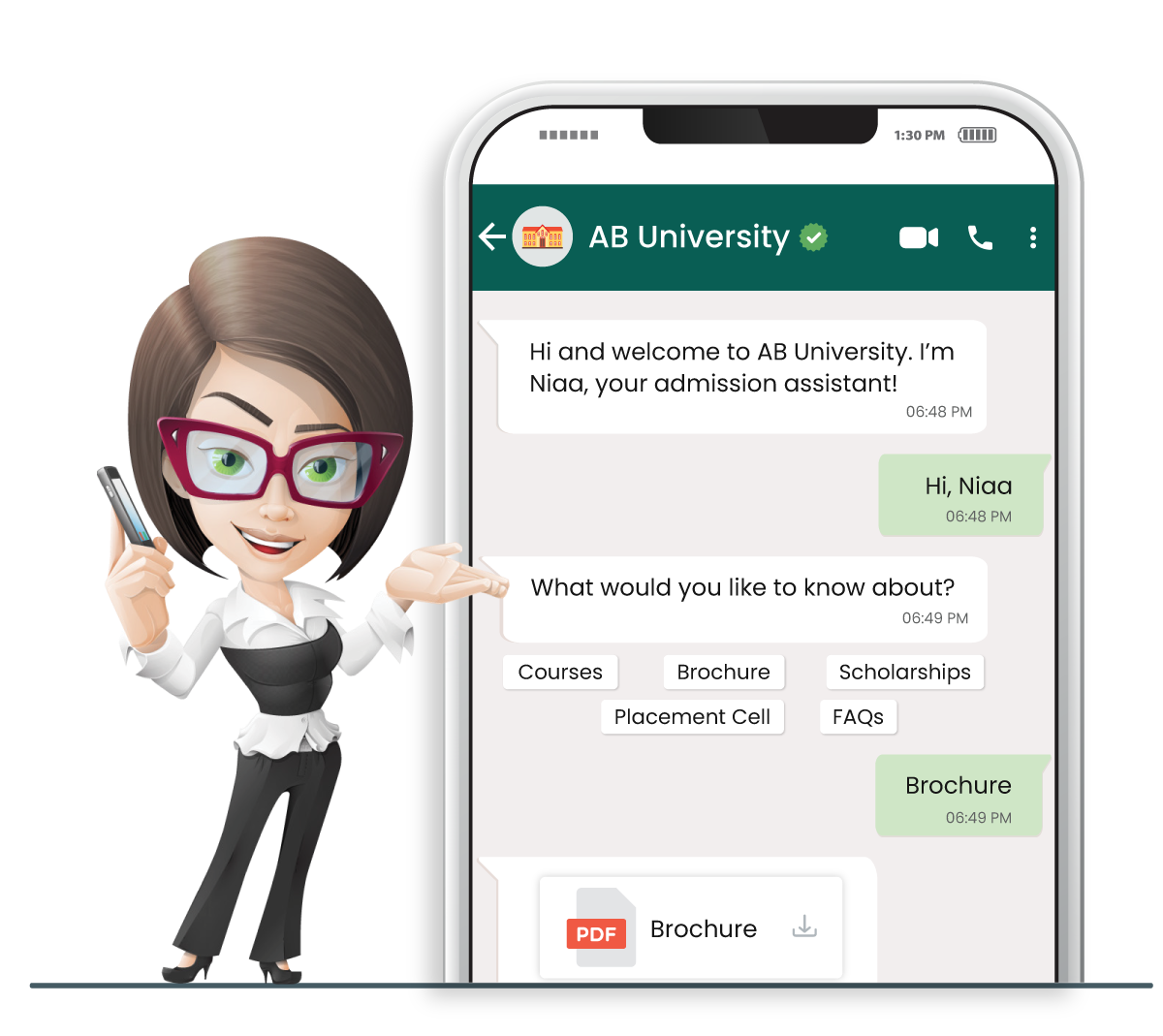 Automate Engagement with Niaa
Let Niaa – the conversational chatbot to contextually engage with your candidates 24*7. Available on Web, Whatsapp and Facebook. Niaa provides a delightful counselling experience with a human touch.
What's in it for you?
After reading this ebook, you'll learn some best practices and actionable insights that will help you:
Attract more leads and enquiries for your programmes

Amplify engagement and nurture candidates throughout their admission journey

Delight with dynamic messages at every stage to convert more leads into enrolments

Improve your team's performance and productivity

Learn how Niaa – The Education Chatbot can drive your engagement on WhatsApp Business API
The Ultimate Guide on WhatsApp Communication to Convert More
Empower your teams to drive dynamic communication workflows via WhatsApp Business API to drive instant engagement, increase brand recall and maximise enrolments.
Wish to peak your applicant engagement?
Schedule a demo
Let us walk you through our #Zabardast product and what you can achieve with it.
WhatsApp Business API FAQs
The WhatsApp Business app is a standalone smartphone application for small businesses.
The WhatsApp Business API is an interface for medium and large businesses that need to broadcast a high volume of messages, enable business process automation and integrate their existing communication platforms.
WhatsApp Business API enables your institution to engage with your prospective students directly on WhatsApp. You can share pivotal insights about your educational institution, drive high-quality engagement with candidates, and nurture them based on their profile and application details. Using it enables you to share information in multimedia formats without any hassle; you can also take your prospects on a virtual tour of the college so they get a good idea about your institution. It can also be used to reply to queries of applicants and nurture them in a personalized manner.
WhatsApp Business API can be integrated with Meritto, enabling your counsellors and admission teams to engage with applicants in real time. With a single click on both the web and mobile app platforms of Meritto, you can communicate with your prospects. All the communication that happens between the prospects and counsellors gets archived in the system and can be observed anytime. You can also let Niaa, an AI-based Education Chatbot, take over your WhatsApp Business API account to nurture candidates 24 x 7 x 365.