Purpose-built for Finance teams to seamlessly manage enrollment fees
Make fee collection easier, faster, and more secure with one-click payment automation, fee forecasting, finance dashboards, run-time settlement reports and more, that Collexo, a purpose-built unified payment platform by Meritto (formerly NoPaperForms) offers in one single platform.
It's everything your finance teams need to do more
With our comprehensive suite of powerful yet easy-to-use features, your teams could stay on top of all their tasks in one place, saving time and reducing errors.

Extensive Fee Workflows
Seamlessly collect one-time or recurring fee payments through your preferred payment channels.

Payment Settlement in Multiple Accounts
Equip teams with a conditional logic builder to settle fee payments in the right bank account.

Reconciliation & Settlement Reports
Map transactions in real-time and get detailed settlement reports for hassle-free reconciliation.

Automate GST & Surcharge Handling
Split taxes into SGST, CGST, and IGST in no time and automatically configure surcharge and convenience fees.

Fee Forecasting
Predict your overall revenue generation with complete visibility of end-to-end financial activities.

360° Finance Tracking
Get core insights and analytics at your fingertips to stay on top of your enrollments and their fee payments
Collect any type of fee in seconds
Whether it is admission, tuition, examination, transportation, certification, crash course, course material or hostel fee, equip your finance teams to seamlessly collect it through all student touchpoints and channels.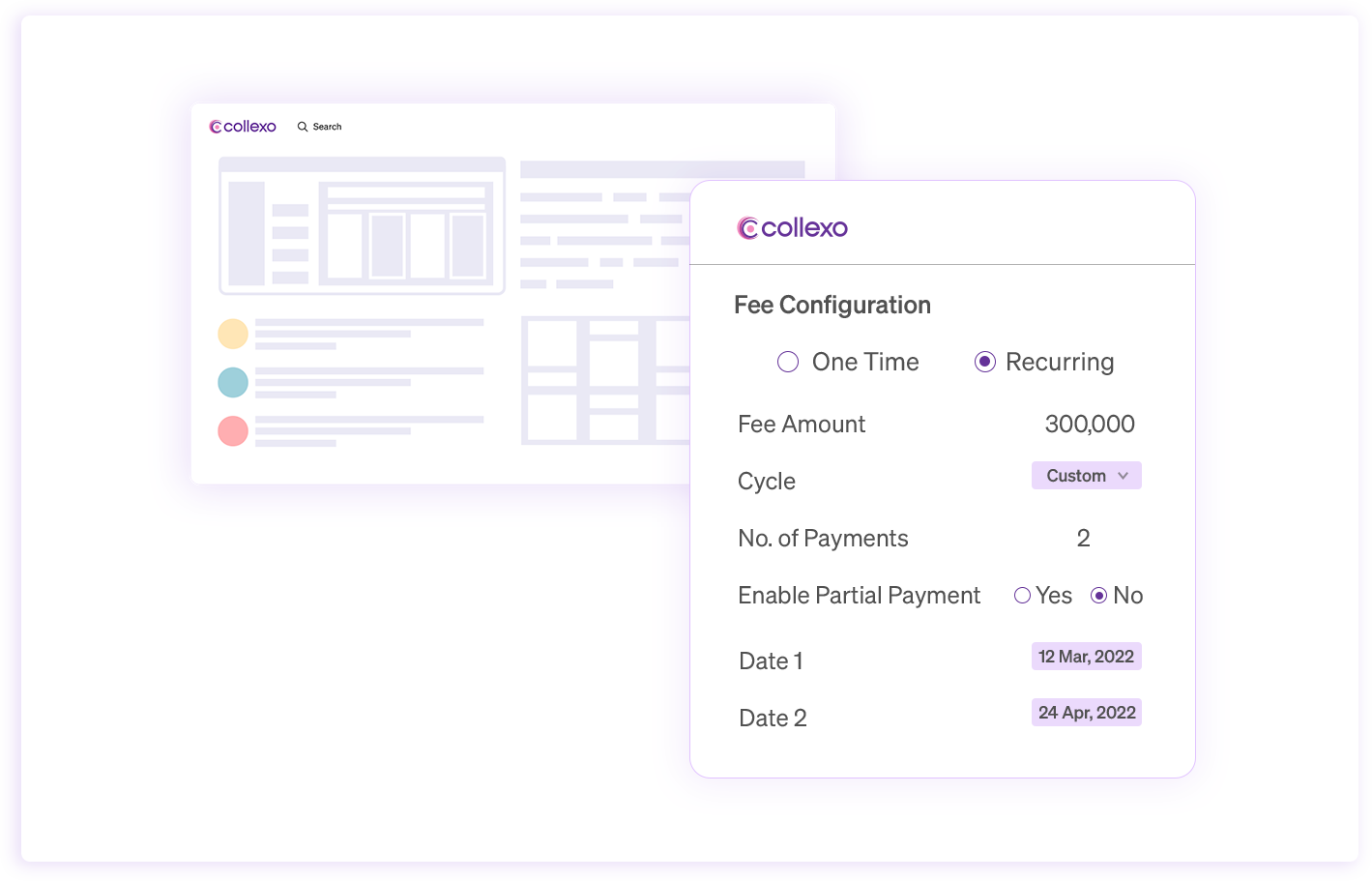 Collect Instant One Time Fee

Set up Recurring Payments

Flexible Partial Payment Collection

Powerful Conditional Workflow Builder
Start accepting payments, anytime and anywhere
Offer a frictionless checkout to students as they quickly pay via payment mode of their choice: Credit/Debit Card, UPI, Wallets, and Netbanking. Enable your teams with the flexibility to accept payments through ERP, personalized payment links, enrollment cloud, and your own website.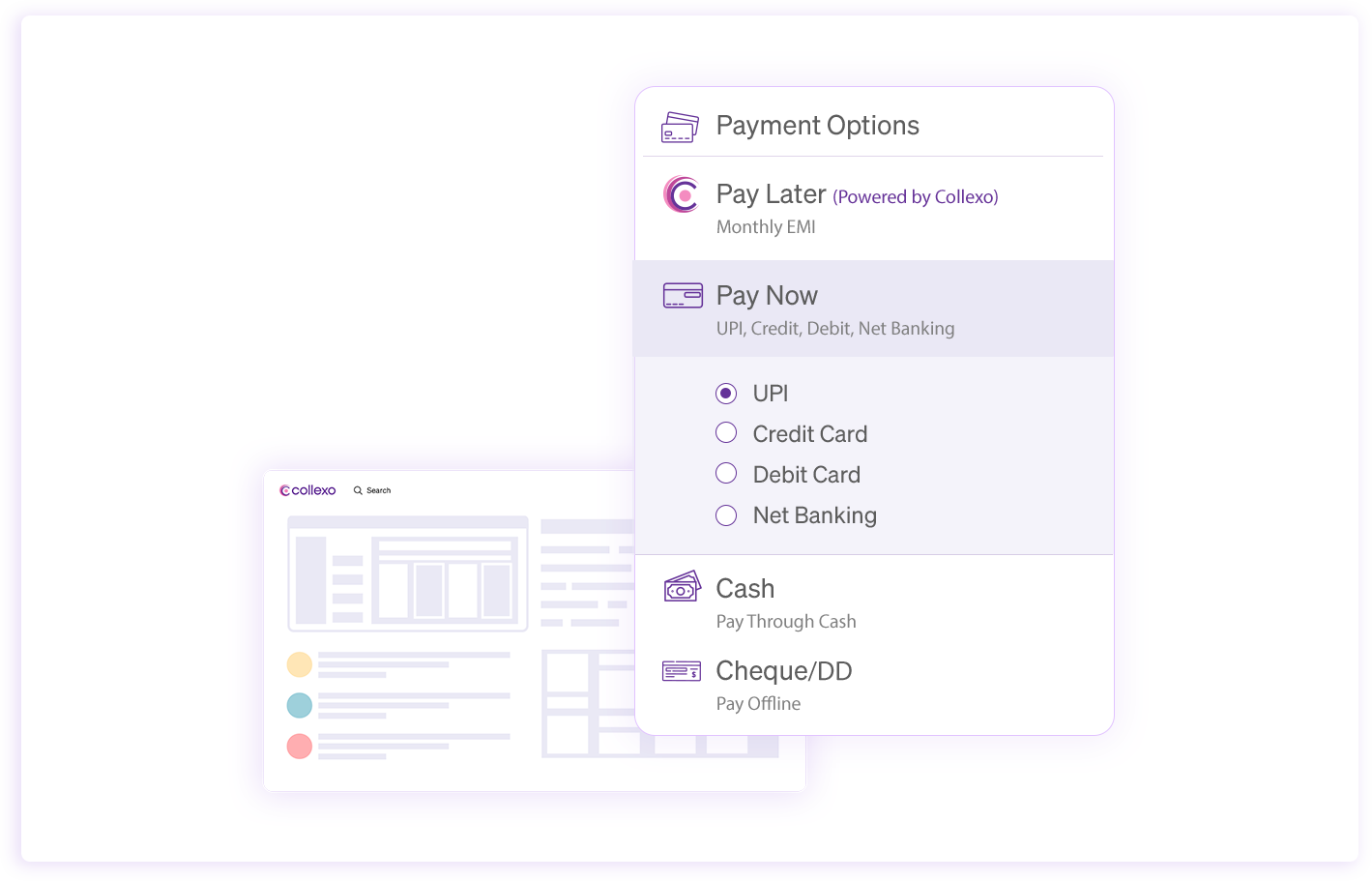 All Payment Modes at one place

Instant No Code Payment Links


No Cost and Interest based EMIs

Accept Cheque/DD Payments

Build complex Conditional Payment Workflows in minutes!
Automate your fee collection process by creating conditional payment workflows and collect any type of fee within seconds. Configure discounts, create simplified payment plans, and launch new programs/offerings in just a few clicks.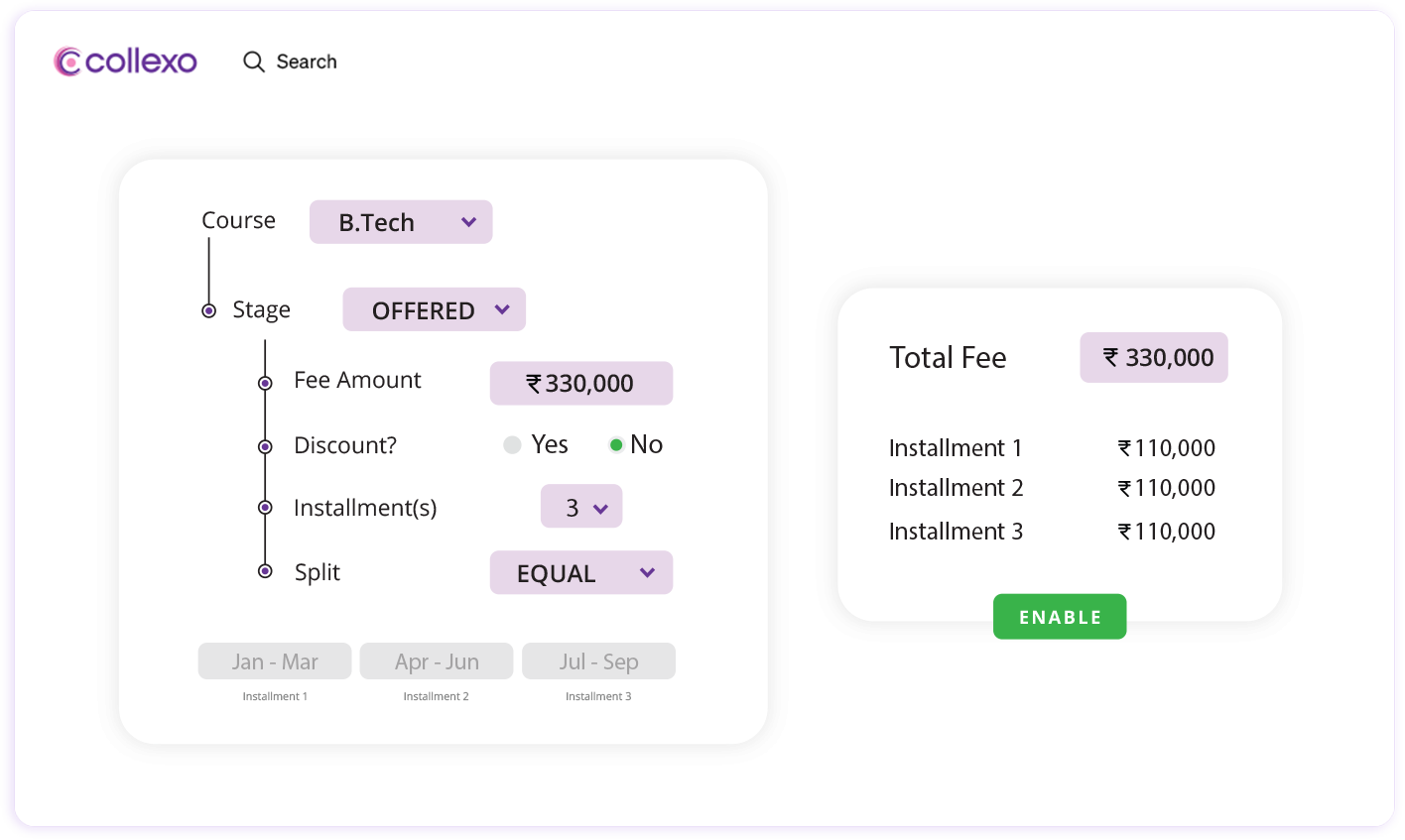 Conditional Workflow Builder


Trigger Based Payment Collection

Configurable Workflows for each program/fee

Student Specific Fee Collection

Powerful APIs to fetch variables
Offer personalized discount vouchers and coupons
Whether you're looking to run a promotional campaign or offer student-specific discounts, Collexo by Meritto allows you to create and share payment links instantly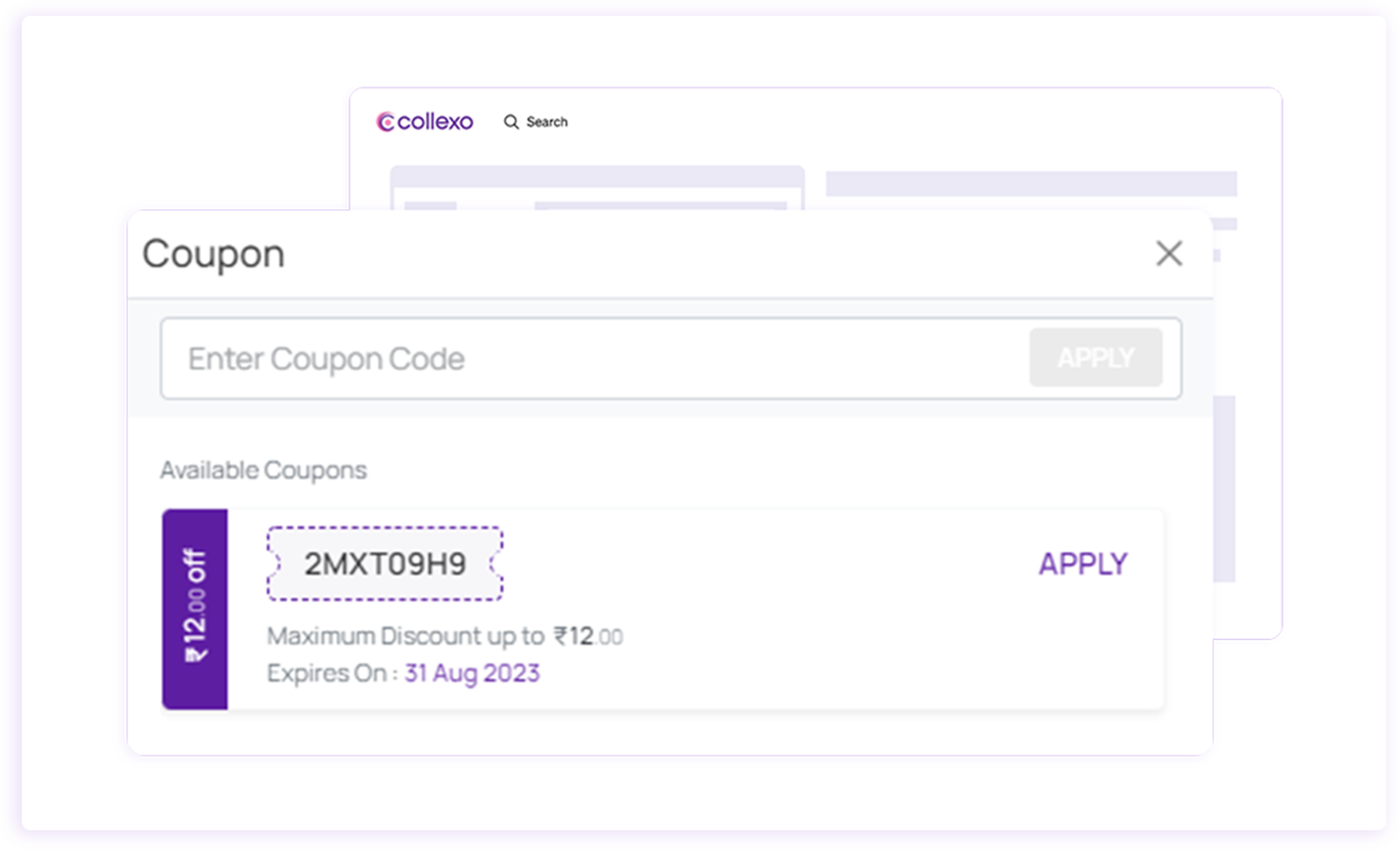 Create One Time or Multi-use Vouchers

One View
Usage Tracker

Offer Flat or Clubbed Discounts

Increase your
Conversions
Route payments directly into multiple bank accounts
Route fee payments to different bank accounts automatically with our powerful Logic Builder and cut down on manual dependencies of teams. Keep a track of all payments from a single dashboard with real-time settlement reports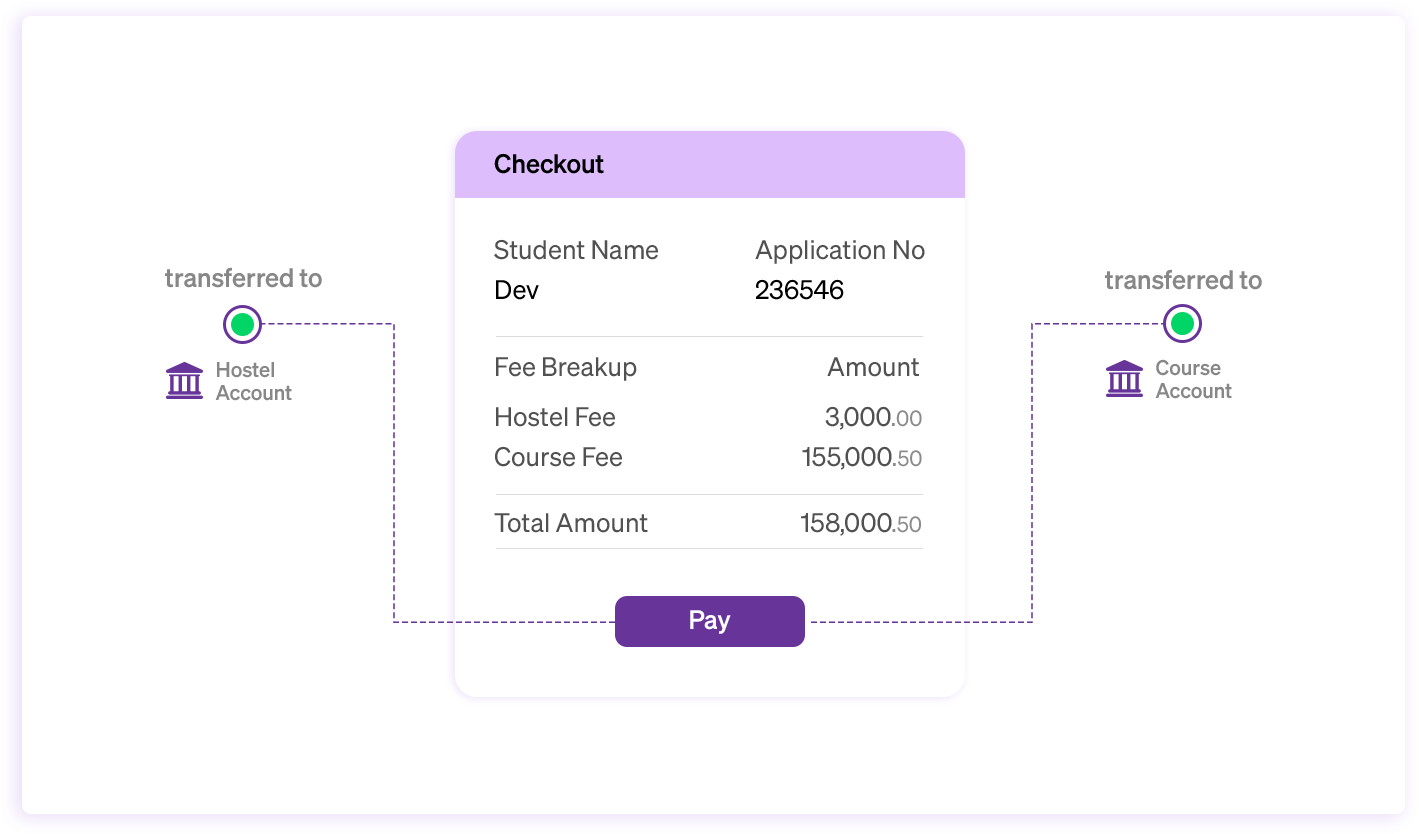 Logic based
Payment Routing


Configure Multiple
Accounts

One View Reconciliation Dashboard
Get complete visibility of your finances, in real time
Keep track of all your fee payments and collections with real time transaction reports. Automatically map all incoming fee payments to directly eliminating suspense entries.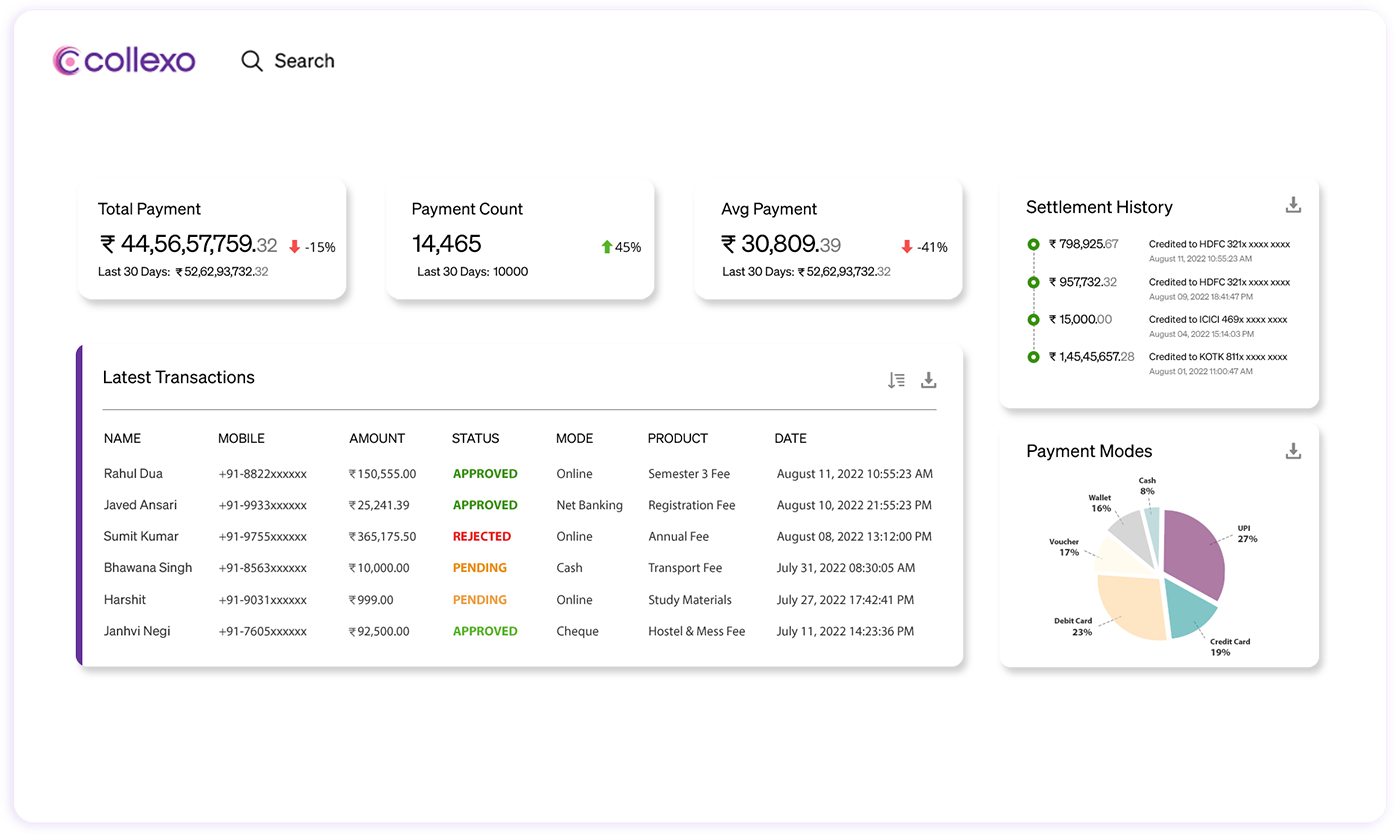 Real Time Payment Dashboard

No more
Suspense Entries

Instant Settlement
Reports

Detailed Transaction
History

One View Reconciliation Dashboard

Centralise and Track Offline Payments
Make reconciliation a matter of minutes
Simplify and accelerate how you reconcile and recognize transactions. Get complete visibility of settlements against each student and transactions with intuitive reports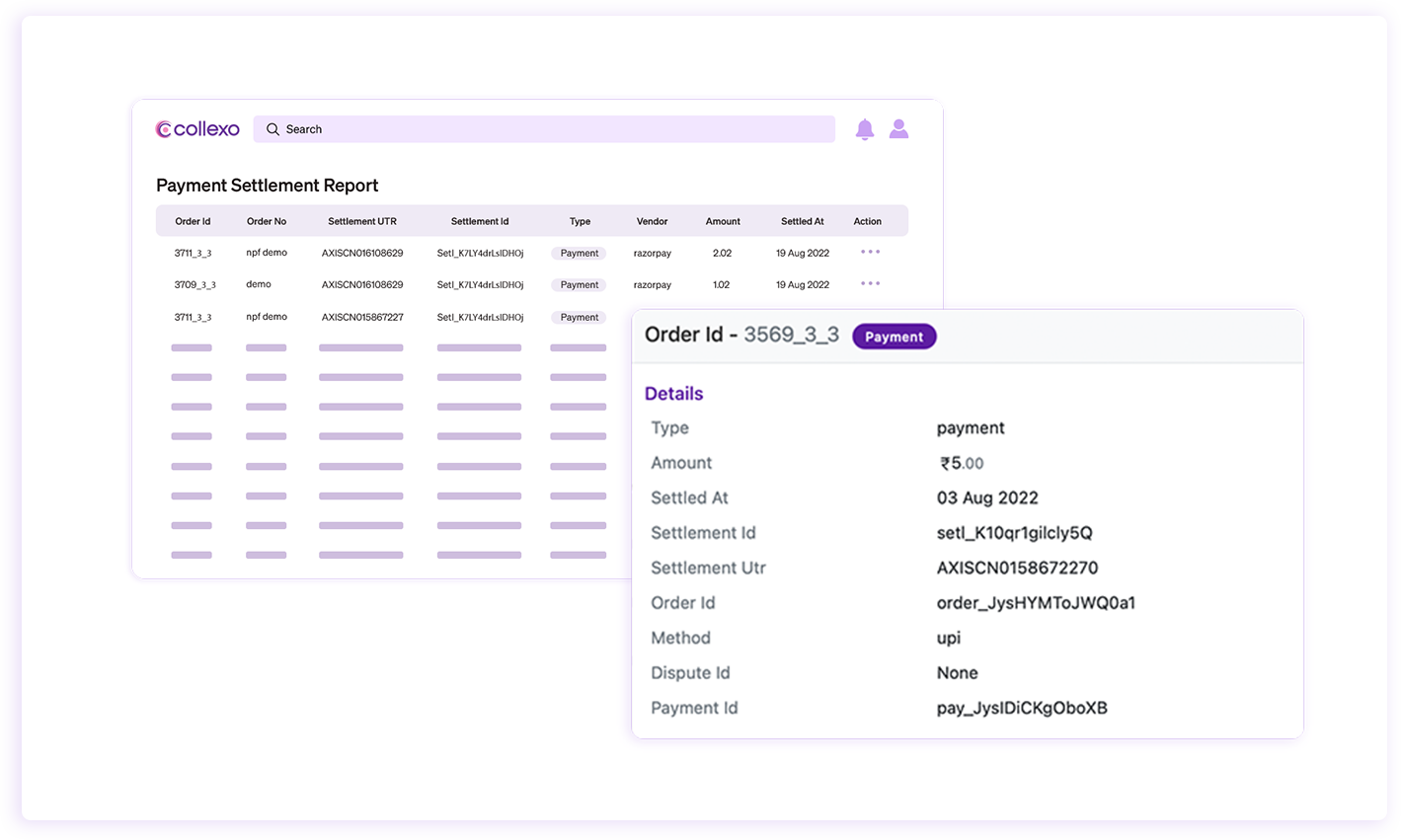 No more
manual processes

Map transactions to
each student

Consolidated
Reports

One View
Settlement Report
Automate GST & Surcharge handling
We've built GST Calculators for you so that you don't have to automatically split taxes into SGST, IGST, CGST based on your and student's location. Configure surcharge, convenience fee as desired with a complete breakup of tax calculations and watch it unfold on the checkout page instantly.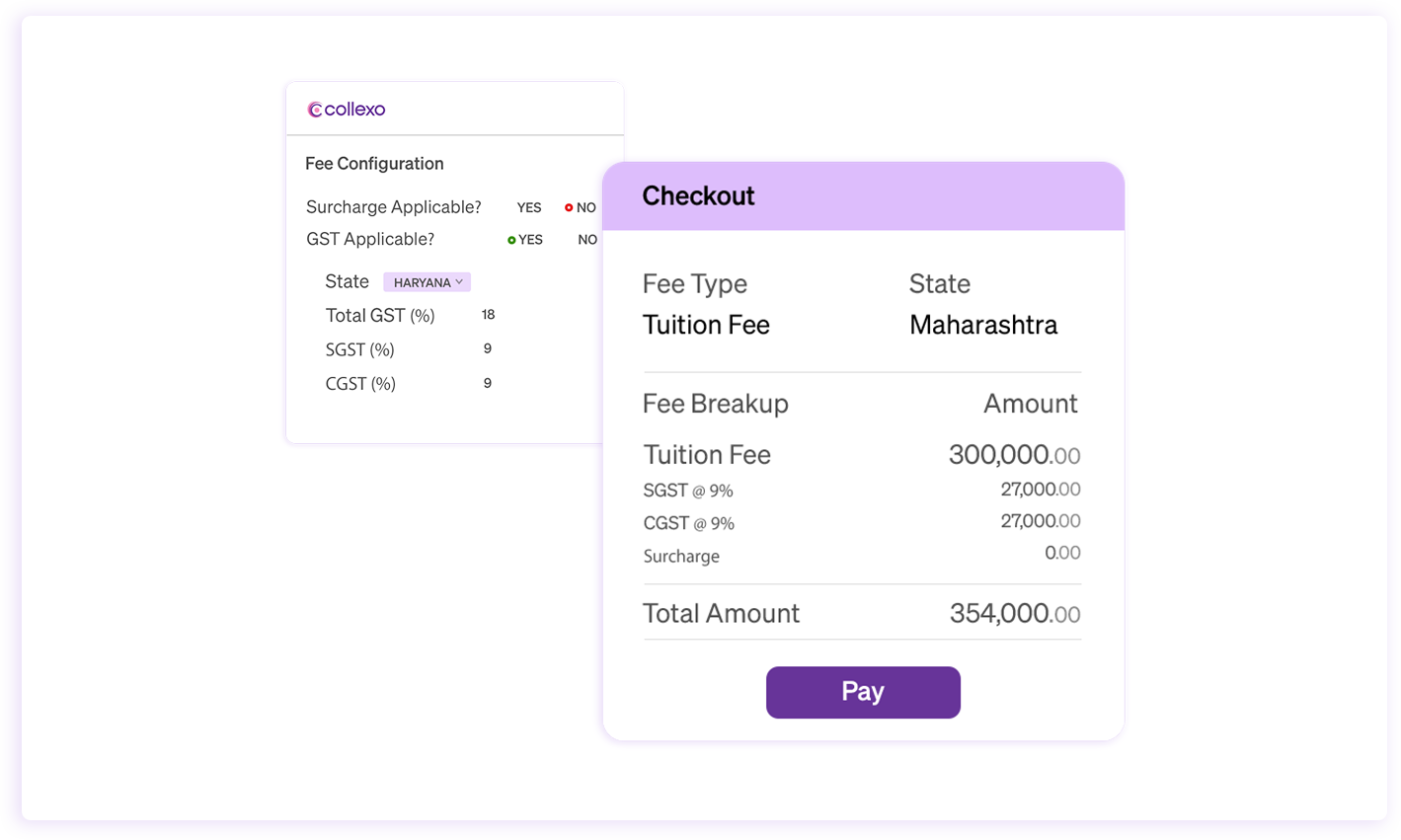 Generate Tax
Invoices

Hassle-Free
GST Compliances

Item Wise
Tax Handling

Real-Time Reports
and Analytics
An Education Payment Cloud explained in minutes!
If you're still unsure about how Collexo can transform the way you collect, track and manage your fee payments, check out this quick video featuring one of our experts for a recap of its powerful features.
There's more for all your teams
Know more about our solutions that empower your teams to do more of everything that's important
Our partners market our product the best
After all, their reviews are from their first-hand experience