The flagship edition is now Live until 12 August!

If you've already registered for the
challenge, be sure to check your email for all the necessary details.

If this is your first time here, simply click the registration button above and expect to receive your test link within 48 hours.
Here's how #EnrollymicsByMeritto works

Prepare as much as you can
Get a thorough hands-on experience of the platform. Attend EvolveByMeritto. Explore Product articles, videos, blogs, and Meritto Academy

Take the assessment for free
Showcase your industry expertise with our range of online tests based on whatever interests you.

Earn industry-recognized certifications
Get credentials to add to your LinkedIn and stand out from the crowd. Click here to log in and access your certificates from previous attempts.
Designed for all functions within an education organization
No matter your role, Enrollymics by Meritto is yours to take part in

Sales

Counseling

Marketing

Admissions

Finance
Earn industry-recognized credentials
Join hundreds of professionals who proudly display their #EnrollymicsByMeritto credentials. Here's a quick glimpse of them.
Participants who score between 33-49 points out of 100 will earn the "Beginner" certification level. This indicates that they have a fundamental understanding of Meritto and serves as a starting point for individuals who are new to the platform and seeking to build a strong knowledge base.
Participants who score between 50-79 points will earn the "Professional" certification level. This indicates that they are experts who understand the subject matter covered in the quiz and can bring substantial results to the education organizations they work for.
Participants who score between 80-100 points will earn the "Specialist" certification level. This indicates that they have a mastery level understanding of the subject matter covered in the quiz and can bring tremendous positive impact at the education organizations they work for.
The countdown to greatness has begun
Rules and Regulations
Eligibility
We believe that everyone should have an opportunity to demonstrate their skills and knowledge, and we welcome individuals in student enrollment and recruitment from diverse backgrounds and experiences to participate in Enrollymics by Meritto. If you're reading this, we encourage you to take up the challenge and showcase your expertise to the world. We want to inspire you to grow your skills and education organization.
Registration
Participants must register for Enrollymics here. Registration will be open for a specific period of time. Any registrations received after the deadline will not be considered.
Detailed Terms and Conditions
Please note that Meritto holds the final authority for all decisions regarding rewards and recognitions. We reserve the right to modify or update any aspects of our programs or events at any time. We will make every effort to communicate any changes promptly and transparently to you. Should you have any questions or concerns, please do not hesitate to reach out to enrollymics@meritto.com for further clarification.
Verify an #EnrollymicsByMeritto Credential
With Enrollymics, users are instantly awarded certifications upon successful completion of their assessments. These aren't just ordinary certificates - they are proof of mastery in specific roles and are a testament to the user's proficiency in using necessary tools effectively. Not only can users download these certificates, but they are also provided with unique links which remain valid up to the certification expiry date. Anyone can use these links to verify the attempt, the certificate, and its validity.
Request Verification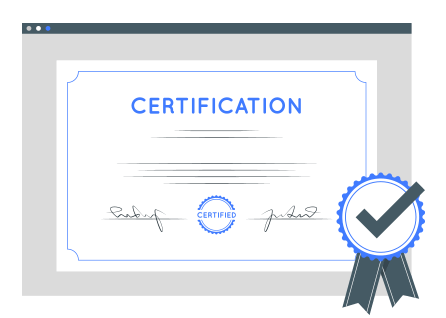 Already Certified with #EnrollymicsByMeritto?
Follow our step-by-step guide video to seamlessly add this accolade to your LinkedIn profile. Let your expertise shine and inspire others. It's your time to stand out, afterall!
Ready to get started?
Let us walk you through our
#Zabardast
product and what you can achieve with it.