Experience A Single-Click Process for
Student Verification
Student verification is an important part of all admission processes. Once a number of candidates have submitted their application forms, a lot of time and manual effort goes into validating the authenticity of the shared information. Currently, this process involves collecting scanned images of documents like Proof of Address, Proof of Date of Birth, Marksheets, etc. They're then validated manually which takes a lot of bandwidth of your resources and makes the whole process prone to errors.
With Aadhaar Authentication, your prospective students can verify their Aadhaar details via DigiLocker in a single-click, without needing to upload any files or share any details. It is secure, flexible and takes less than a minute. The platform validates the application details shared by the candidate and updates their Aadhaar Verification status. As an institution, you can filter the candidates based on their verification status and proceed with them accordingly. It completely eliminates all errors involved in manual screening and saves a lot of time for your counselling and admission teams which can be channelized for more productive work.
Why choose Aadhaar Authentication for
your educational institution?
Verify Candidates Faster
Accurately validate a candidate's identity in less than 1 minute and speed up the admission process

Eliminate Manual Errors
Ensure no scope of errors with verification from UIDAI
Improve Productivity
Save your team's bandwidth and prioritize nurturing for verified candidates

Customize Verification Requirements
Choose the fields you want to validate among Full Name, Gender, DOB, State, District, etc.

Stay Compliant with Regulations
Ensure compliance with UIDAI and UGC regulations and recommendations
Plug & Play
Integrate seamlessly with the Meritto (formerly NoPaperForms) platform
Customize your verification requirements
Choose the fields you want your candidates to verify as per your requirements. You can select some or all out of these options: Full Name, Gender, Date of Birth, Country, District, Pincode, and Address.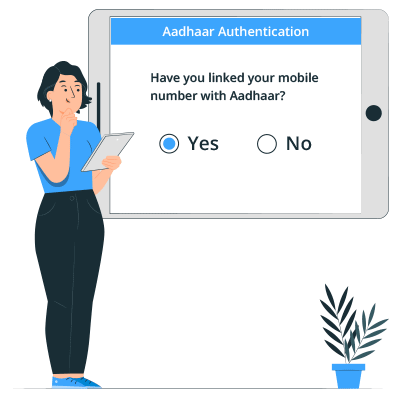 Get Students to Verify their Aadhaar details
If the candidate's mobile number is linked to their Aadhaar card, they are directed to the DigiLocker website. They can enter their Aadhaar number there, submit an OTP, and give their consent to share their details with your institution.
Proceed with Candidates based on their Verification Status
Once a candidate has attempted to verify their Aadhaar details, the platform validates them with the information they've shared in their application form. It then updates their status as follows:
Verified: With all the application fields verified, you can safely proceed with admission process for these students.
Partially Verified: With at least one application field unverified, you can filter out these candidates and guide them on the required steps to verify their information.
Not Verified: With no application field verified, you should verify these candidates' documents with extra care before issuing offer letter/admission letter. Carefully spend your bandwidth on these applicants to improve your team's productivity.