Automate, track, and align your team
Mobile CRM accessible anytime, anywhere
Track all the activities that impact your organisation without breaking any sweat. Whether it is monitoring the health of your enrolments at a glance, maximising your team's productivity working on ground or optimising your marketing ROIs.
Meritto (formerly NoPaperForms) Mobile App is a de facto choice for anyone in education looking to scale – be it Higher Education or Online Degree Programmes, Coaching Institutes or EdTech, K-12 or Preschools! Improve your enrolments by improving engagement and response times, the Meritto Mobile App empowers you to do all of this anytime, at your fingertips.
Empower Your On Ground Team
Whether your counsellors/ sales representatives are working from home, on the ground, at events or on campus, everything they need to do to contextually engage candidates is just a tap away.
From accessing and updating leads, making calls, adding voice notes or follow-ups to tracking visits and sending emails, SMS or WhatsApp in a single click — your team can do all that and much more with the Meritto Mobile App.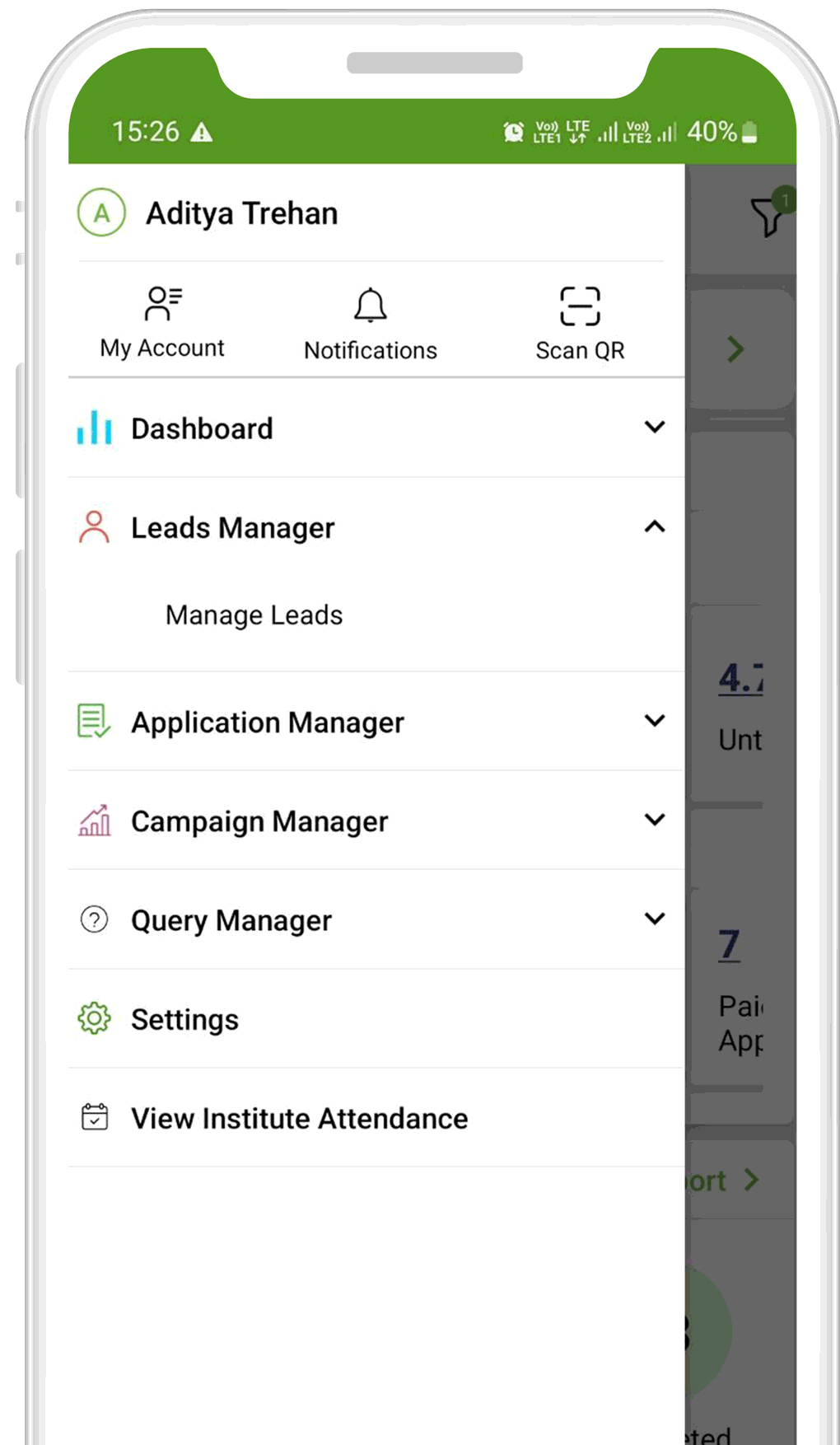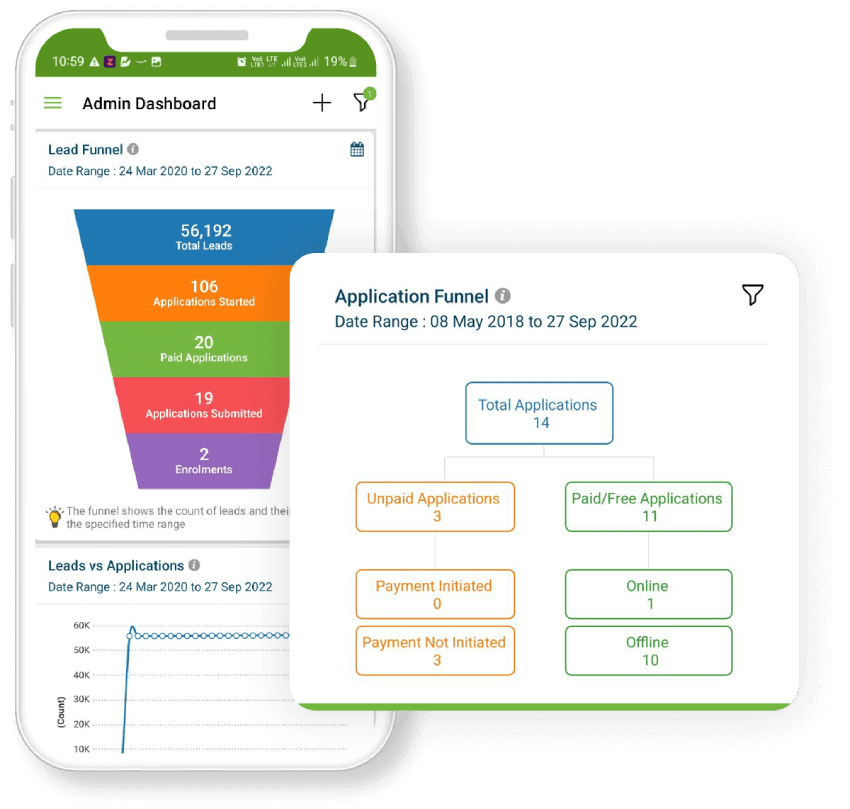 Supervise Overall Performance
With Admin Dashboard, get 360° visibility of the overall health of your enrolments. View a quick snapshot of the entire lead funnel, right from enquiry to enrolment. Get detailed reports and analytics of all aspects of your enrolments in real time. Derive deep insights from the data, track progress on a regular basis, and take relevant actions to improve the efficiency of all your admission processes.
Automate Check-in & Check-outs
Increase the efficiency of your field agents working on ground. Allow your field teams to check-in to indicate that they are starting their sales route, and similarly, check out at the end of the day. With the Meritto mobile app, you can map their location and view their route, as well as the date and time.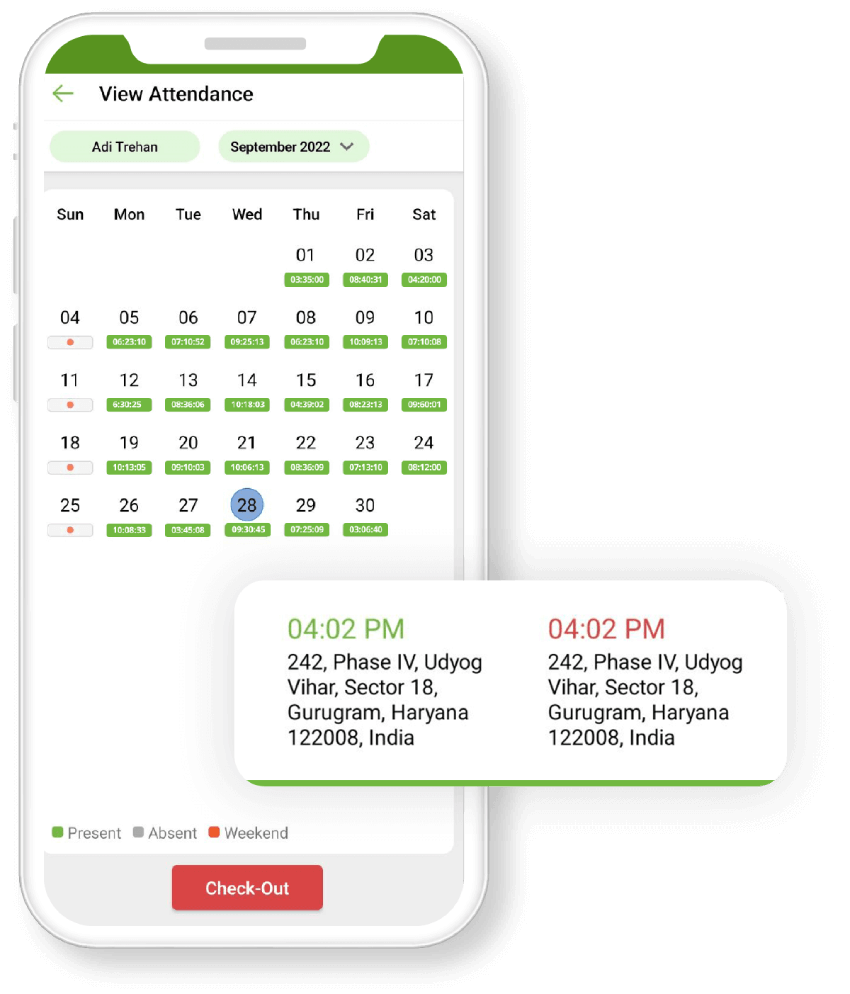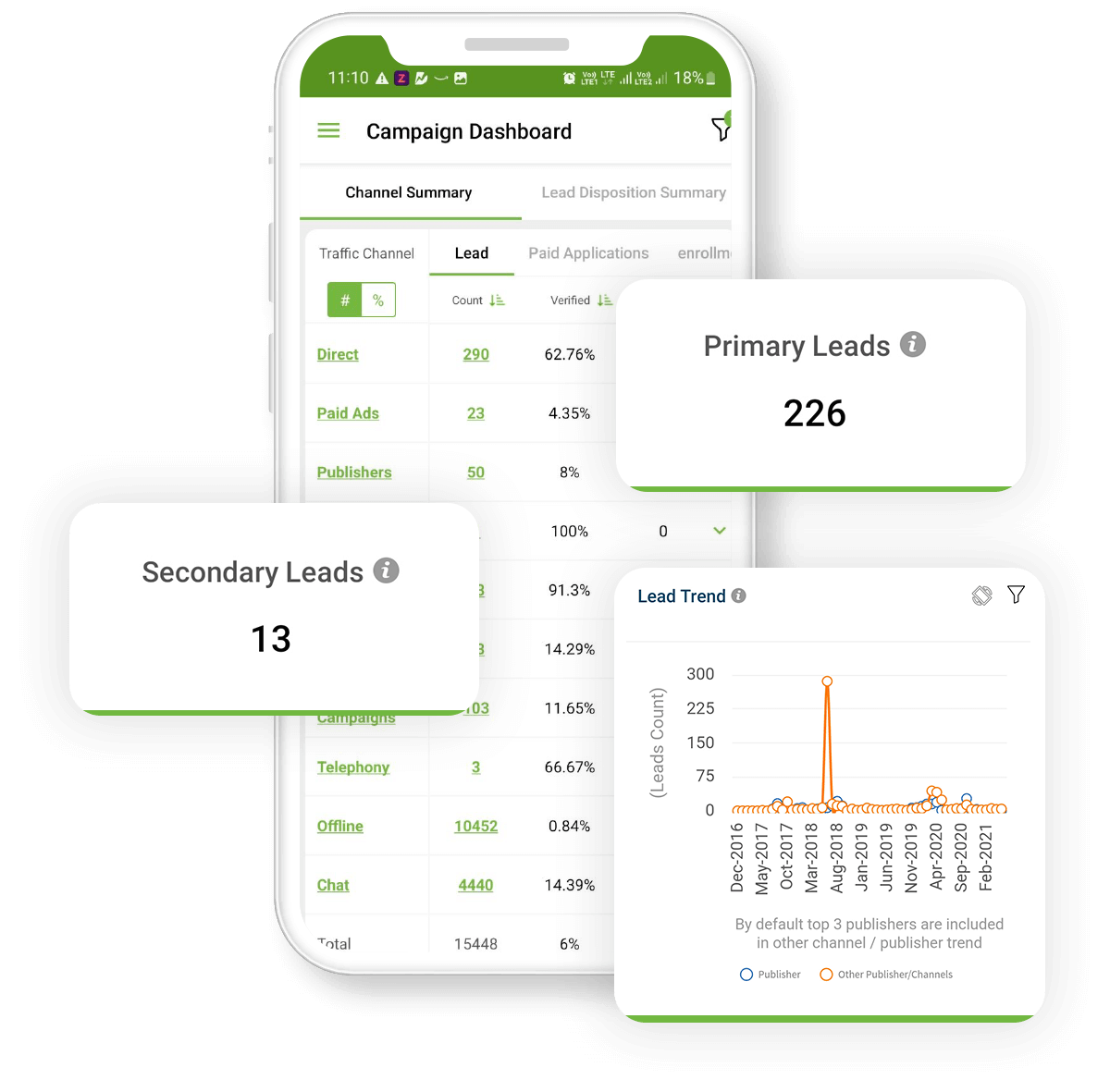 Optimise Spends and ROI with Campaign Dashboard
Stay updated with the real-time performance of your campaigns. At work or on the move, get easy access to leads, applications, and conversion trends and insights from all your channels and sources, along with their disposition summary. Make informed, data-driven decisions to optimise your spends and ROI.
In-App Calling
Email, SMS & WhatsApp
Caller ID
Integrate with Cloud Telephony Partners
Have existing telephony vendors? Integrate them with the Meritto' Mobile app and leverage the immediacy and mobility that it ensures. All the while, your data remains masked and secure.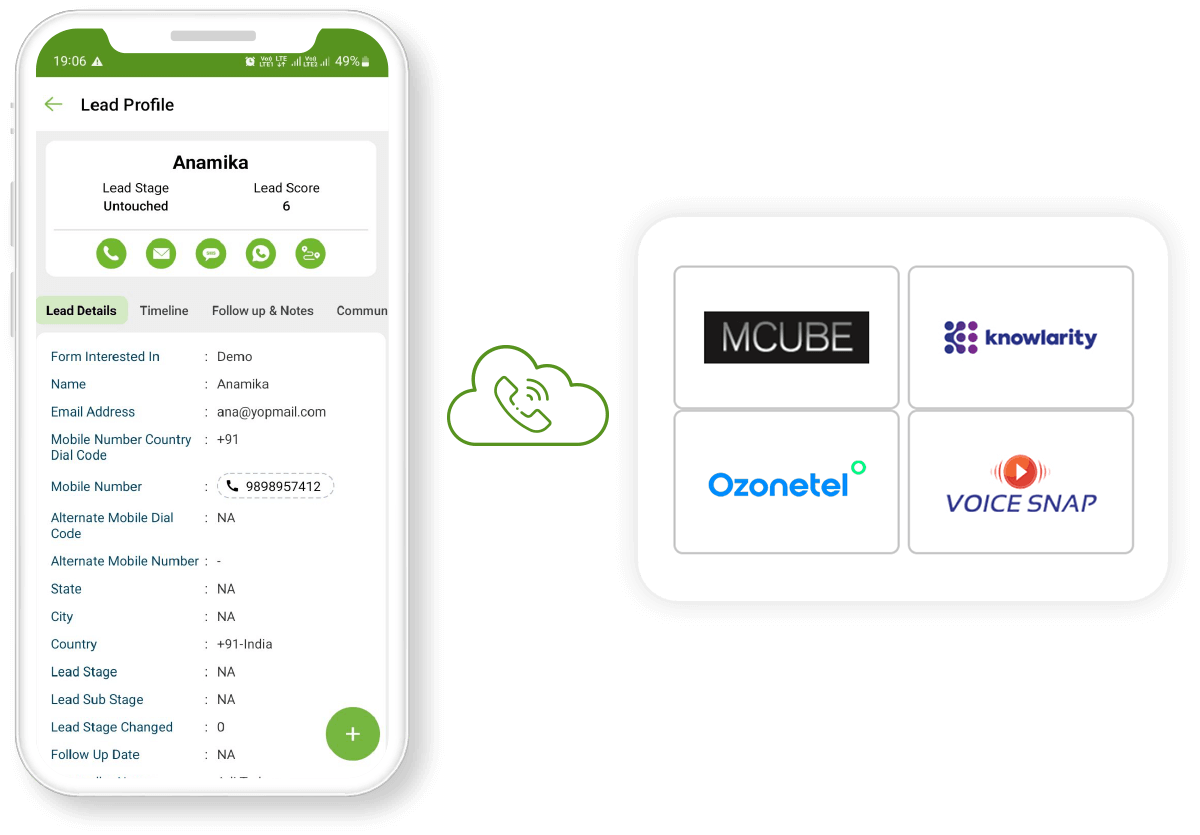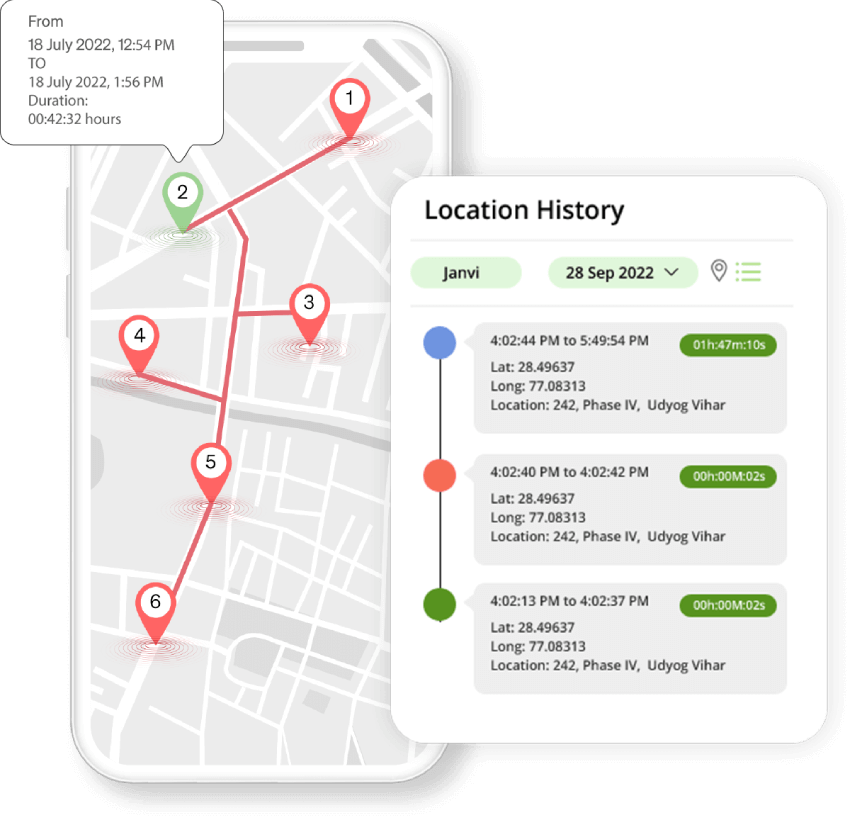 Geo Tracking and Route Planning
Increase the efficiency of your teams working on ground. Get real-time updates of your location and the number of meetings that they have had. Take a look at the sales route they took, the distance they travelled, and the tasks they have completed.
Lead & Application Manager
Voice Search
Voice Notes
Manage Queries while on the move
Streamline your query workflows and reduce turnaround times with a secure, robust and end-to-end query management system! Track, answer, and manage candidate queries while covering all communication touchpoints with your candidates. Let your teams have access to identify key concerns and provide a smooth resolution to your candidates to drive faster conversions.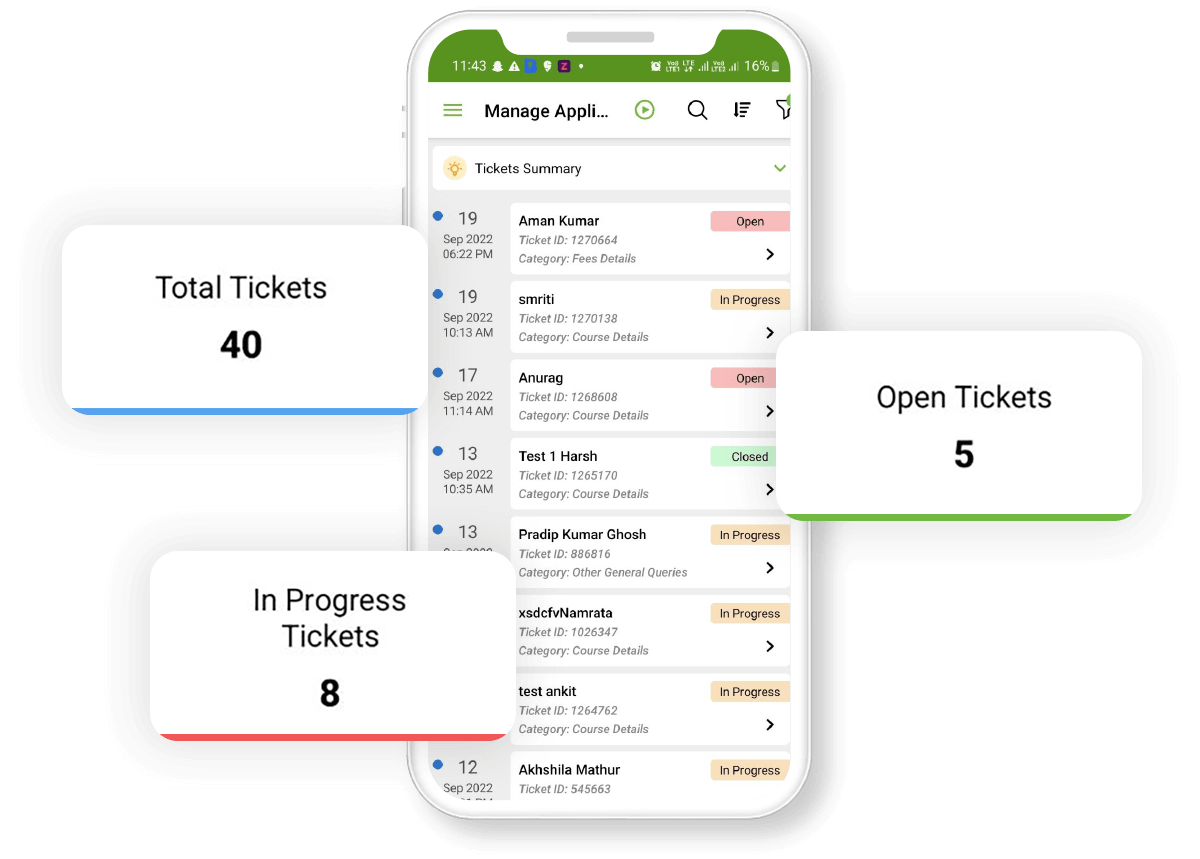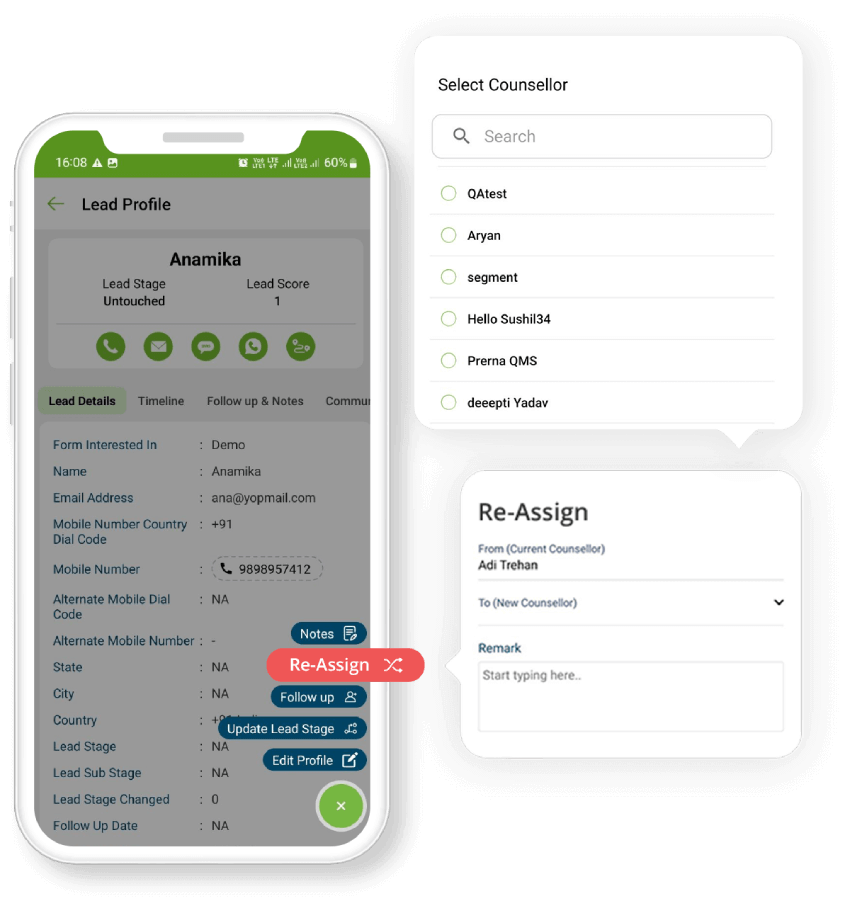 Choose to do more & Allocate Leads as per team's location
Carry enrolments in your pocket, with all the power and flexibility you can automatically assign leads to your on ground team based on their location. Send them prompt alerts or provide them follow-up responsibilities.
Location History
Push Notifications
On Ground Team Dashboard
Download Enrolments on the Go

Mobile CRM accessible anytime, anywhere
After reading this ebook, you'll learn some best practices and actionable insights that will help you:
Supervise and improve the overall performance of your admissions

Drive progressive, data-driven marketing campaigns and optimize your ROI

Empower your counsellors to work from anywhere and improve their productivity

Check and improve your preparedness level for managing admissions on the go