Why is there a dire need for Quality Lead Framework in the Education Industry?
Digital Marketing continues to be one of the essential factors that determine the success of admissions. The current digital marketing ecosystem of institutions comprises numerous digital agencies and publishers that help them build a large pool of prospective students
While many publishers or digital agencies work with the right intent, a few choose shortcuts and indulge in a malpractice, commonly known as Lead Dumping. This malpractice has become a major industry challenge now and severely affects an institution's marketing expenses, counsellor bandwidths, and ultimately, conversions.
Meritto collaborated with major institutions to understand the gravity of the problem and came up with a comprehensive solution that not only helps institutions overcome the challenges but also sets new benchmarks to scale their performance.
What comprises Quality Lead Framework
The Problem: Lead Dumping via API
API is one of the sources used by the publishers to push leads to an institution. While APIs help in real-time data flow, their increased usage leads to higher probability of lead dumping. An increased dependability on APIs makes it impossible for you to make an optimized use of your marketing spends and lowers the conversion rates.
Earlier, there was no way to control the quality or flow of leads from API. Now you can do both.
The Solution: Dynamic Lead Flow Algorithm
An innovative tool that helps you ensure a steady flow of Quality Leads into your system. All you need to do is set up the algorithm once which then works dynamically to improve the quality of leads on a daily basis.
You can set up Quality Lead Flow in these simple steps:
Verify your leads via email or SMS as the first-level quality check.

Enter the number of leads a publisher can push via APIs in a day.

Set a verification rate as your benchmark.

Reward or penalize publishers dynamically based on their verification rate.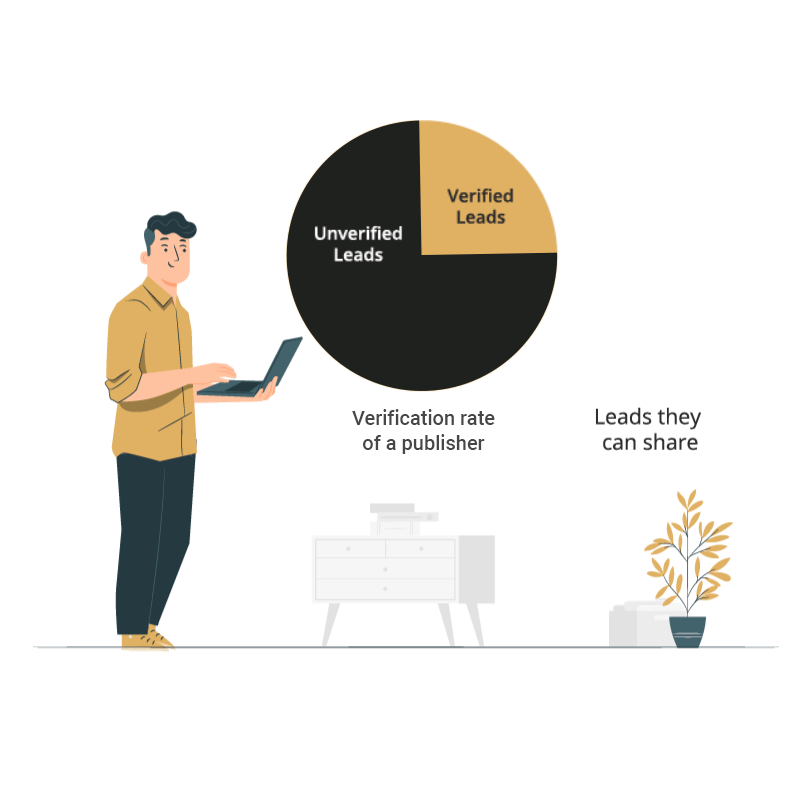 This drastically reduces your marketing spends on junk leads, brings in transparency and accountability of publishers or digital agencies, and ensures that your counsellors spend their time only on quality leads.
The Problem: Lead Duplicity
There are multiple publishers who generate leads for an institution which may not have a unified, comprehensive tool. This results in higher duplication of leads and thereby, increases marketing spends and worsens conversion rates.
The Solution: Mutually Exclusive Impact (MEI)
A comprehensive dashboard that gives a clear visibility of the exclusive impact of a publisher in your admissions.
Know the exclusive impact of a publisher in each step of your admission process.
Attribute leads to non-editable Primary, Secondary, and Tertiary sources

Identify sources who provide unique leads (leads that only have a Primary source)

Learn how many of them have submitted an application form, made the requisite payment, and got enrolled from each source

Get absolute transparency, accountability, and merit-based attribution of your publishers and measure their performance with unique MEI number and percentage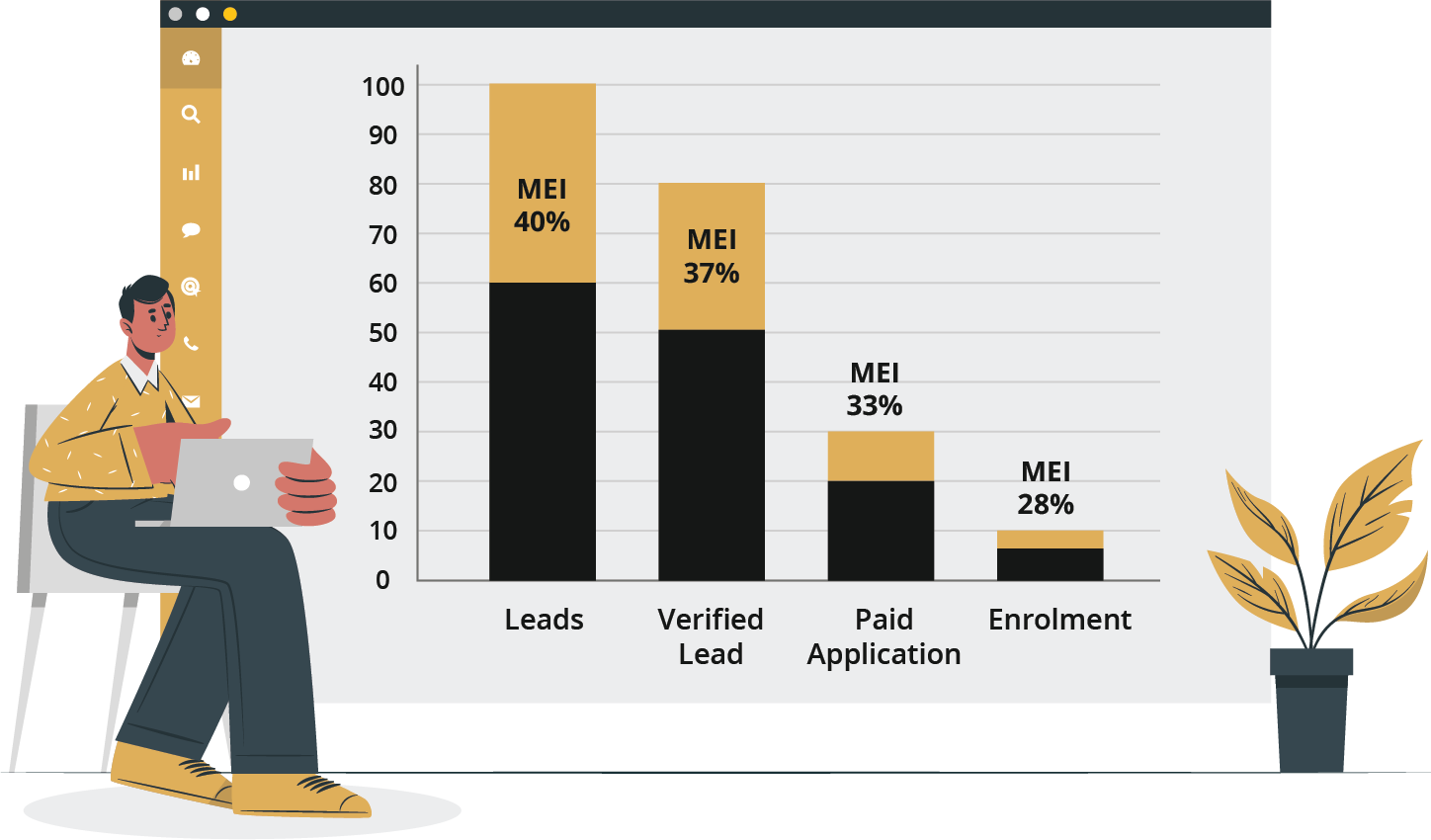 The Performance Evaluator: Campaign Manager
No need to make speculations about your marketing campaigns any more. With Campaign Manager, you get to track your campaigns in real time and thereby optimize your marketing spends. Since you get the transparency to observe your publishers' and agencies' performance, you can evaluate them based on your preferred parameters using Advanced Filters and Dashlets.
You can further do drill-down and comparative benchmarking analysis across campaigns and publishers to improve the efficiency of your campaigns and ultimately your conversions.
A Looking Glass: Publisher Panel
Bringing the publishing publishers in sync with the institutions is of utmost importance. With the Publisher Panel, all your publishers or lead generation publishers are empowered to view detailed metrics of their performance and optimize their campaigns so they can provide quality leads to your institution.
Track, measure, and optimize these fundamental parameters to make the best use of your marketing spends and increase your conversion rates:
Verification Rate

Cost Per Verified Lead (CPVL)

Mutually Exclusive Impact

Lead to Paid Application Conversion Ratio by Source

Overall Lead Spend and Application Revenue by Source
After reading this eBook, you will be able to:
Optimize marketing spends and RoI

Improve quality flow of leads

Gauge Mutually Exclusive Impact of publishers in your admissions

Improve efficiency of counsellor teams

Make informed decisions to improve admission processes
and more…
[slide-anything id="4776″]