Retention is an important metric for educational institutions because it is closely tied to revenue and long-term sustainability. At Meritto (formerly NoPaperForms), we understand the significance of customer retention in the EdTech industry, and we are here to help you thrive. In this blog post, we will not only discuss the various features of Customer Relationship Management (CRM) but also highlight how these features can be specifically applied to the EdTech industry for revenue growth. Whether you're a startup or an established player in the EdTech industry, this blog post will provide you with valuable insights and effective strategies to improve customer retention using a CRM. Let's delve into the world of EdTech and discover how Meritto can help you achieve long-term success.
Quick Read: CRM for EdTech Organizations
What is Customer Retention in EdTech industry?
In the education industry, customer retention in EdTech industry refers to the ability of an educational institution to keep its students enrolled and returning for multiple years or academic cycles. It is a measure of how well the institution is able to engage and satisfy its students and keep them coming back for more. Factors that can impact student retention include the quality of the institution's academic programs, the availability of financial aid and support services, the level of engagement and support from faculty and staff, and the overall student experience. Educational organisations with high retention rates are often seen as more successful and desirable, as they are able to attract and retain large numbers of students.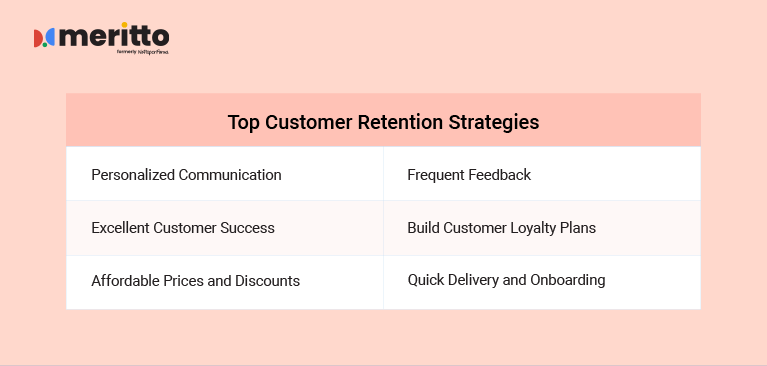 Ways to Retain Customers in EdTech Industry
There are various strategies that EdTech companies can use to improve customer retention and eventually, grow their EdTech business. Some of the most effective include ones to boost your business are:
Understand User Behavior: The most crucial aspect of retaining customers in EdTech or any other industry is by understanding their behavior and taking strategic decisions based on data. Study their performance patterns, identify gaps, and focus of areas which need improvement. This will ultimately help you address their learning and improve their performance.
Personalization: EdTech companies can use data from their CRM systems to personalize the learning experience for each student. This can include personalized content, tailored learning paths, and customized communication.
Providing Excellent Customer Support: Make sure that your customer support team is knowledgeable, friendly, and responsive to student/ candidate inquiries and concerns. This can include providing live chat, email, and phone support, as well as a comprehensive FAQ section.
Continuously Improving and Updating Products: Another way to enhance customer retention in EdTech industry is to continuously improve and update the products based on customer feedback and industry trends. This can include adding new features, fixing bugs, and ensuring that the platform is user-friendly and accessible.
Share Improved and Engaging Content: With engaging content easily available on their fingertips, it will be easy for you to boost engagement on your platform. These days, EdTech organizations are focusing a lot on curating content which solves the purpose of the learner, and is exclusive as well. Helping companies have greater engagement.
Using In-app and Push Notifications: One of the most effective strategies to improve customer retention is sharing push notifications. Push notifications or in-app notifications are small pieces of content that pop on the screen regardless the student is using the app or not. Thus, this helps the company with brand recall and boosts engagement. Quick communications like these, also enhance the app's view and average time spent.
Offering Incentives for Long-term Commitments: EdTech companies can offer incentives such as discounts, free trials, or exclusive content to customers who commit to longer-term subscriptions.
Use Marketing Automation: Design marketing workflow will ease your teams' efforts in nurturing the candidates for retention and upselling. You can create segments as per your target audience and design workflows based on the student's actions.
Offer Affordable Prices: Another major strategy to retain students is by offering them courses and study materials at affordable prices. Ensuring that they keep on upgrading to the plan at affordable prices.
By implementing these strategies, customer retention in EdTech industry can be easily improved with higher customer satisfaction, increase customer loyalty, and ultimately drive revenue growth.
How to Enhance it Using a CRM?
One needs the right tool to implement the aforementioned strategies, thus, one shall switch to using CRM. These strategies when implemented using a CRM, bring out amplified results. Here are some top ways to enhance customer retention in EdTech industry using a CRM:
Personalised communication: A CRM system can store detailed information about each student, including their preferences and communication history. This allows the EdTech companies to personalise the communication and support they provide to each student, increasing the likelihood that the student will remain engaged and satisfied.
Automated communication and follow-up: Automating communication through CRM system can automate communication and follow-up with students, such as sending reminders, updates, and personalised messages. This ensures that all students receive the same level of attention and support, regardless of how busy the EdTech company's staff may be.
Predictive analytics: Analysing student data to identify patterns and trends, such as which students are most likely to drop out or disengage. This allows the EdTech company to proactively reach out to these students and provide additional support to prevent them from leaving.
Learning analytics: Another way to enhance Customer retention in EdTech industry is integrating with a Learning Management System to provide learning analytics on student progress, engagement, and outcomes. This can be used to personaliSe the learning experience and identify students who may be struggling.
Event Management: A CRM system can be used to manage events and webinars, such as online classes, office hours, and student support sessions, to keep the students engaged and connected with the institution.
Parental Engagement: You can manage communication and engagement with parents by the help of a CRM. This can be useful for tracking and improving parental engagement, which is a key factor in student retention.
Overall, a CRM system can provide EdTech companies with a wealth of information and tools to help them engage and retain their students. By using the data and functionality provided by a CRM system, EdTech companies can improve the student experience and increase retention rates. Make the right decision today by switching to Meritto's (formerly NoPaperForms) purpose-built CRM for EdTech.