Preschool CRM: One Platform to Scale Your Admissions
Unlock your preschool's potential with India's largest and best CRM for preschools. Attract and Engage parents all while providing them with a connected and personalised experience.
Enquiry to Enrolment Funnelling
Detailed Performance Reports
360˚ Communication Suite
Grow your Admissions
A family of 1500+ preschools us!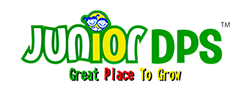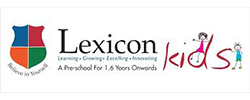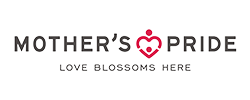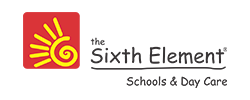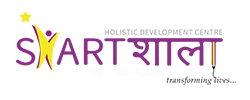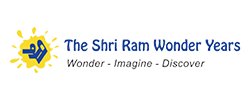 A Unified CRM for Preschools to Attract, Engage and Enroll
Reimagine the efficiency of your preschool with Meritto's Customer Relationship Management (CRM) solution for Preschools. Move away from handling multiple systems and navigating siloed teams, which cause escalating costs, limited visibility, and stunted growth, compromising the parent experience.
Meritto's one-stop admissions platform provides an all-in-one solution, streamlining everything from inquiry to enrollment. It's where you could achieve seamless team collaboration across all your schools, foster relationships with parents through tailored communication, generate comprehensive marketing reports for optimized ROI, and facilitate a variety of payment options.
Enquiry Centralisation
Dynamic Enquiry Allocation
360° Communication & Nurturing
Unified Parent Admission Portal
School Wise Visibility
Advanced Reports & Analytics
Inbuilt Payment Collection Platform
Revolutionise
the entire admission
process for your
preschool
Auto Scoring &
Merit List Generation
Revolutionise
the entire admission process for your school

Scale your Reach
Gauge parents' interest, shortlisting tand decision-making process

Enquiry Management
Centralise all enquiries of qualified parents from calls, website, social media and offline at one place

Enquiry Nurturing
Inform, engage and nurture parents based on their profile. Communicate in a single-click via Email, SMS and Whatsapp with pre-integrated templates

Enquiry Conversion
Know, track and optimise enquiry to application to enrolment rate with in-depth performance reports

Maximise ROI through Marketing Tools
Track, Measure and Optimize Marketing Campaigns for Admissions

Application Automation
Acquire manage and scale application

Auto Scoring & Merit List Generation
Review auto-generated score, ranks and merit-list based on your predefined metrics

Automated Fee Collection
Collect admission fees of enrolled students online

Scale your Reach
Get discovered by qualified parents and a 360 visibility to achieve your goals

Mobile App
Check the overall health of your admissions and empower Teams to call, communicate and manage enquiries on the go
CRM for Preschools » Lead Management
Centralise Parent Enquiries
Centralise, manage, and distribute your incoming parent enquiries across different sources in a unified platform. Eliminate lead duplication completely through primary, secondary and tertiary source attribution and empower your teams to easily monitor the lead source performances, optimize lead nurturing workflows and drive seamless admission, without having to rely on traditional preschool ERPs or third party point solutions.
CRM for Preschools
CRM for Preschools » Enquiry Nurturing
Enquiry Nurturing, redefined
Channelise your team's nurturing efforts with a complete one view parent profile. View conversation history along with a detailed activity timeline to engage better. Nurture the interested parents via calls, SMS, WhatsApp and Emails with just a single click.
Lead Nurturing for Preschools
CRM for Preschools » Effective Communication
360° Communication
Interact and engage with parents through marketing tools to track and measure campaigns for admission. Release bulk communication to parents through SMS, WhatsApp and Emails in just a few clicks.
Learn more about 360˚ Communication
Create Powerful Automation Flows & run your conversions on Auto Pilot
Optimise your enquiry to application to enrolment rate by analysing parent's interests & tracking their decision-making process. Create powerful Marketing Automation workflows to nurture each parent based on their current stage in the admission journey. Intelligent nudges help you automate daily tasks by automatically nudging the parent's to the next step, even while your team is on leave.
Drip Marketing Workflows
Automated Student Journey
Hyper Personalised Communication
In Depth Analytics
ROBUST REPORTING ENGINE
Get in depth visibility in real time
360° Visibility with insight-driven Dashboards. Stay on top of your school wise performance with robust Reports & Analytics. Identify the best performing channels, star performers in your team, the bottlenecks, and take strategic calls in real time.
Centralised School Wise Reports
Track Admission Counsellor Performance
100+ Advanced Dashlets
Marketing ROI Optimisation Dashboard
Drag & Drop Report Builder
Finance Dashboard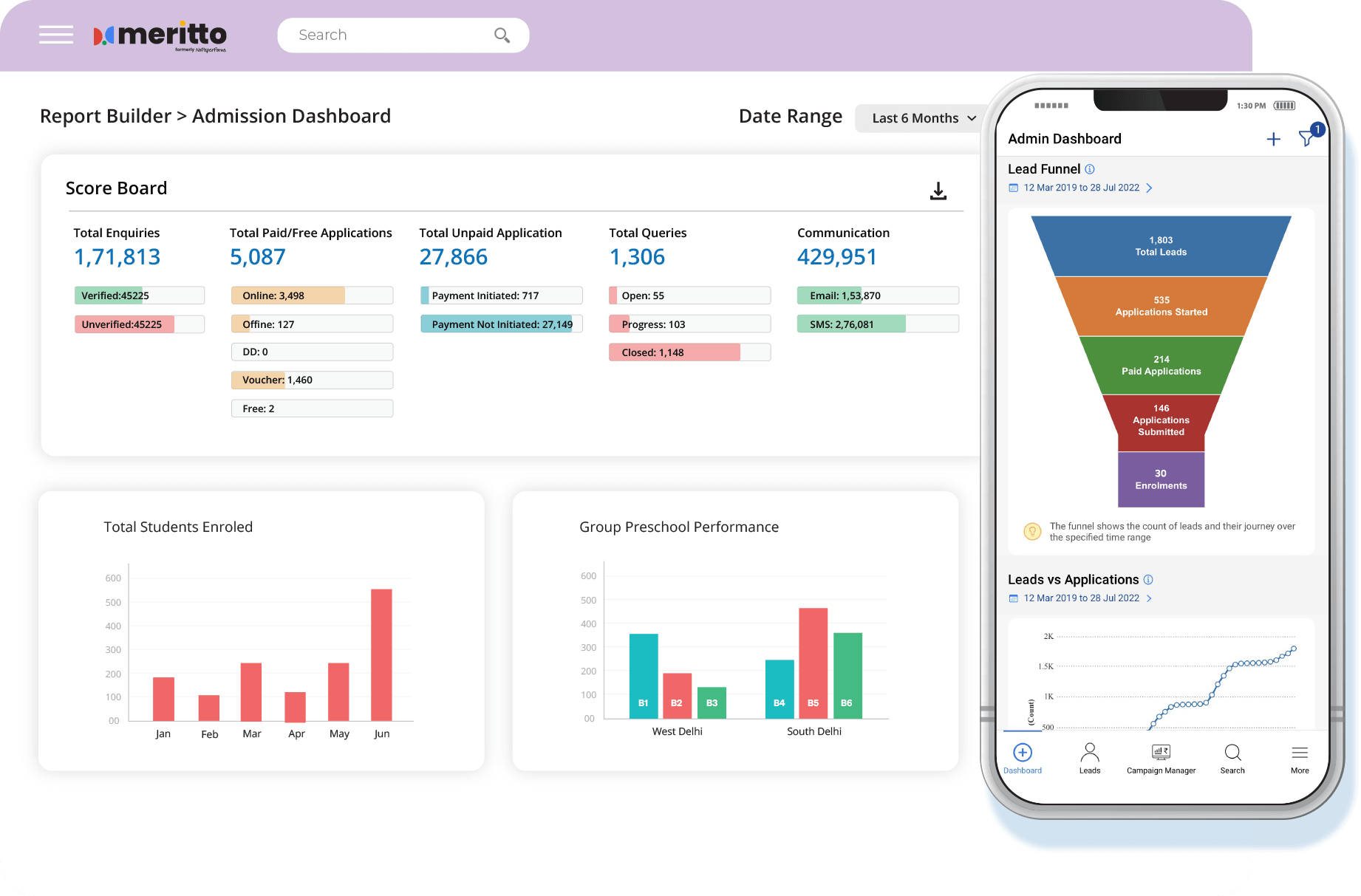 SEAMLESS ENQUIRY ALLOCATION
Dynamically Allocate Enquiries to and within Schools
Assign right students to the right admissions counsellors based on signals and their interest area – either in a round robin manner or dynamically, based on your preferred custom logic. This can be done manually or completely automated at both, school level or group level. Whether you have school wise nurturing teams or a centralised group level nurturing team, automatically allocate all incoming teams as per your requirements with the drag and drop allocation logic builder. Intelligent nudges built into the platform decrease your response time and ensures that your team intervenes, at the right time!
Real Time Dynamic Enquiry Allocation
Custom Logics based on signals/interest
Decreased Response Time
Real Time Reports & Analytics
UNIFIED PAYMENT STACK
Create Powerful Payment Workflows
Create conditional payment workflows right from the inbuilt payment manager and collect any type of fee within seconds. Configure discounts, create simplified payment plans, and launch new programs/offerings in just a few clicks.
Conditional Workflow Builder
Instant Financing (No Cost and Interest based EMIs)
Multiple Payment Modes
One View Reconciliation Dashboard
Automated Receipt/Invoicing
Finance Dashboard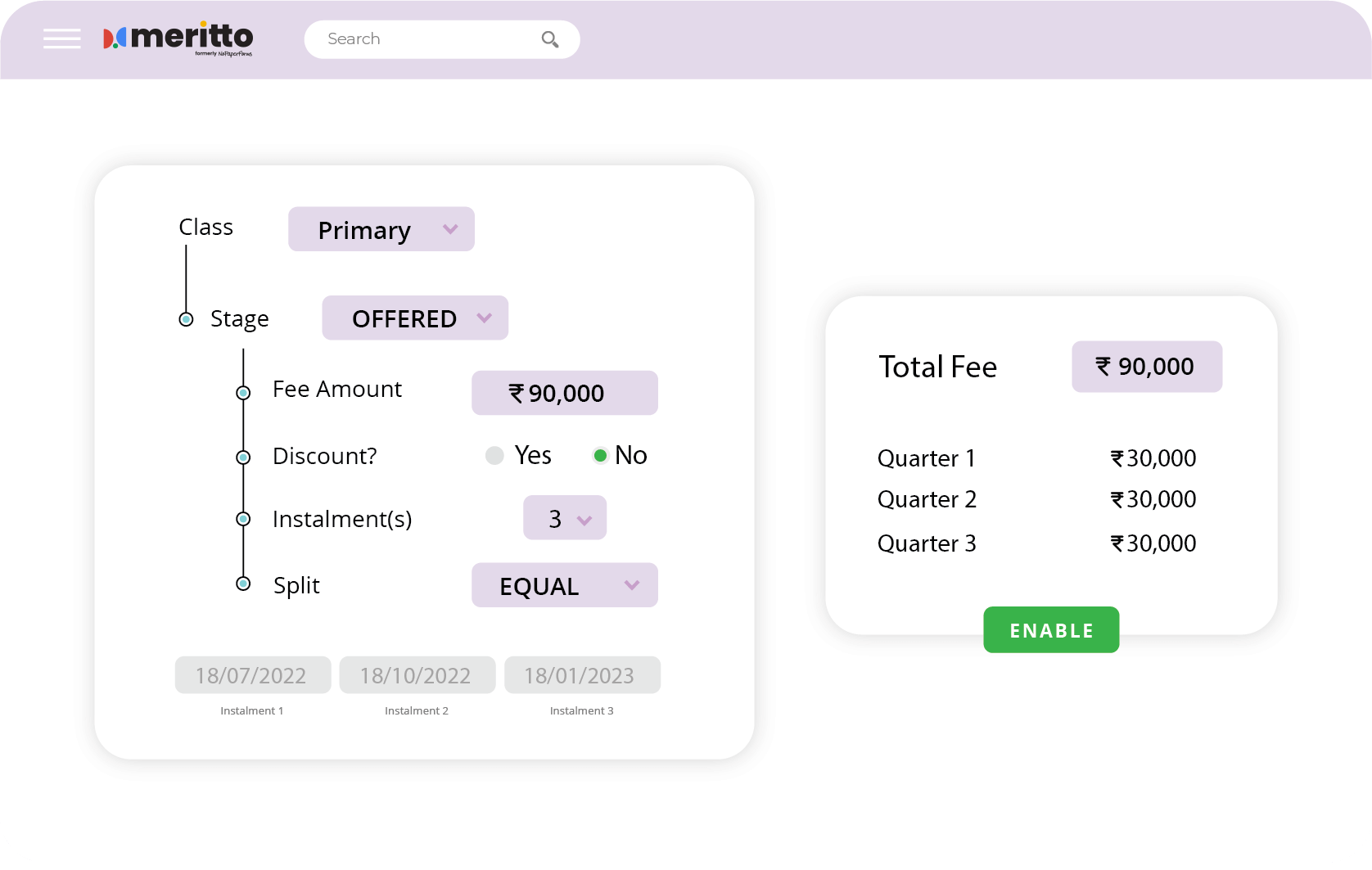 CRM for Preschools » Reports & Insights
Growth Tracking
Real Time Trends, Reports, and Analytics help you take decisive actions with a Comprehensive One-View Dashboard with configurable dashlets. Get a complete picture of your ongoing admission cycle.
Track Overall Performance
Admission Software For Online Courses » Student Verification
Niaa – The Education Chatbot
Connect 24*7 with Niaa, our AI-based chatbot. It can be integrated across web, WhatsApp & FB to help build applications, optimize ROI in real-time and drive admissions seamlessly.
Learn more about Education Chatbot
CRM for Preschools » Mobile App
Attract & Engage on the Go!
Whether your counsellors are working from home, on the ground, at events or on campus, everything they need to do to contextually engage candidates is just a tap away. From accessing and updating leads, making calls, adding voice notes or follow-ups to tracking visits and sending emails, SMS or WhatsApp in a single click — your counsellors can do all that and much more with the Meritto Mobile App.
Learn More about Meritto Mobile App
Unlock the potential of your group of preschools/playschools!
The biggest challenge that a chain or a group of preschools/playschools face is that there is limited to no visibility of the potential and brand equity of each school. Each school operates in its own silo and uses point solutions to manage the admissions. As an owner or part of the management team, it becomes very difficult to analyse trends and insights, understand which school is performing well and which needs a boost. With a unified platform, Meritto enables you to take greater control. Get complete visibility with real time actionable reports and insights, analyse parent's profile across schools and scale your enrolments.
Real Time Visibility
of each school
with complete enquiry
to enrolment funnel
mapping.
Take Corrective Measures
on run time
know what is working
and what is not
with scorecards.
Empower your teams
to convert more
with parent sentiment analysis
and potential mapping
in just a few clicks.
Exponentiate your
opportunities
by getting discovered
by parents exploring
schools in your area.