empower your partners with
Real Time Visibility
We firmly believe that publishers and institutions need to be in sync at all times to gain the most out of any campaign or marketing activity. To enable that synchronization, while our Campaign Manager empowers institutions to monitor campaigns with a highly transparent system, we also empower publishers to track their performance at micro level thus creating an opportunity for them to deliver beyond sub-optimal level. With the power of analytics, publishers can now get ready to leverage the data, in real time, to deliver better and scale.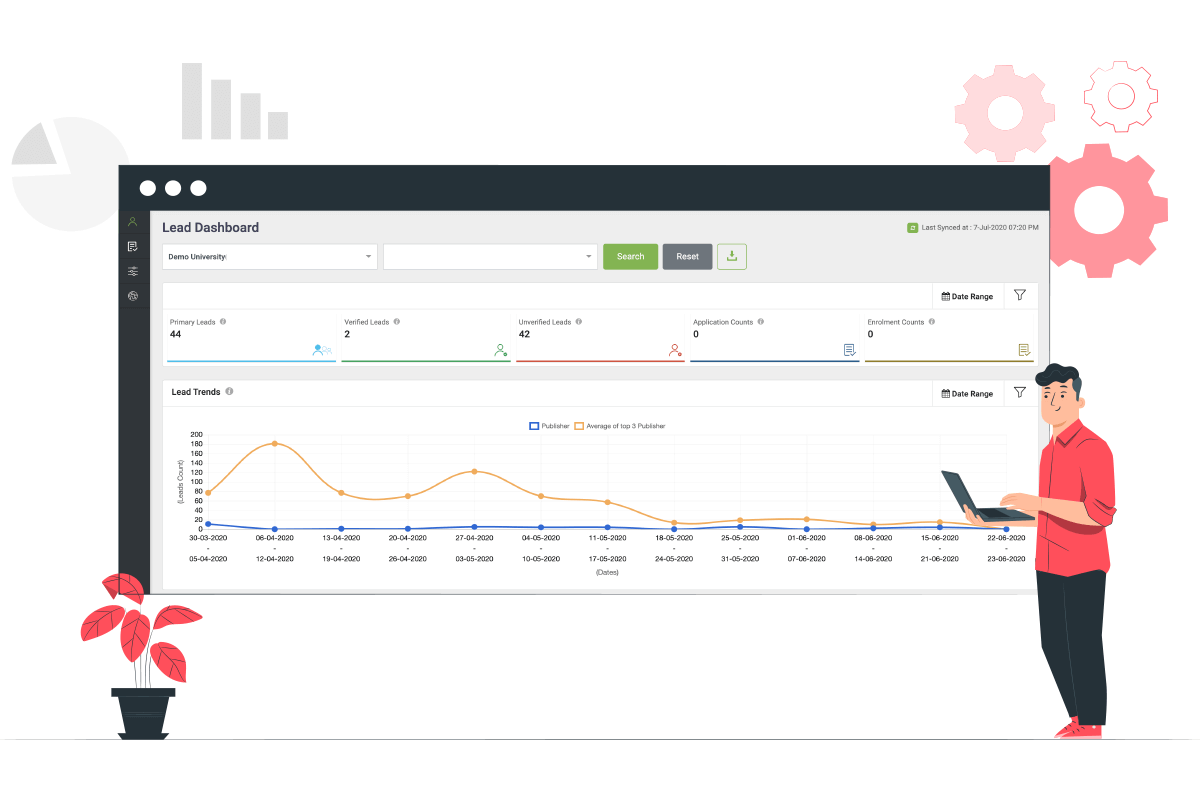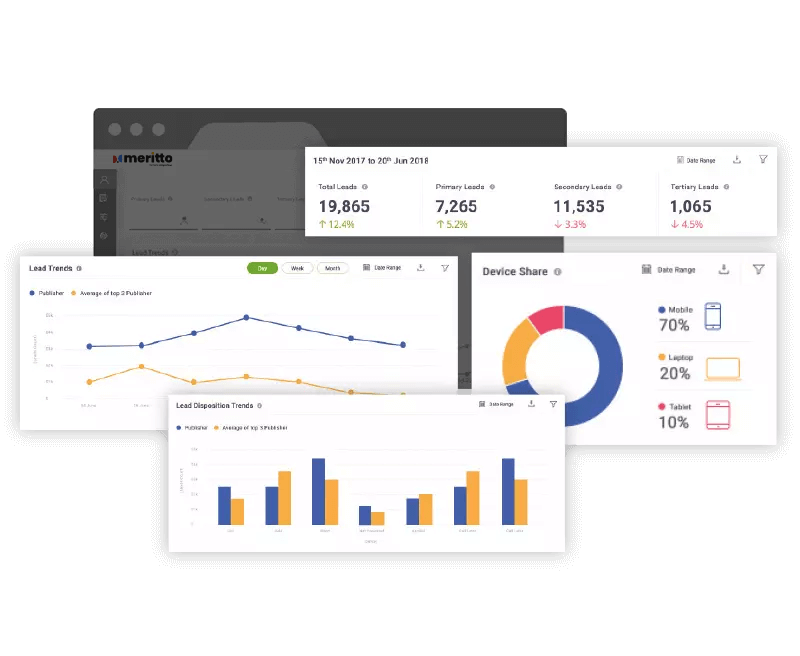 a realtime
Lead Dashboard
Lead Dashboard brings powerful tools for publishers to keep a track of their delivery which helps identify the trends and allows you to keep a check on the health and quality of your leads in real time. With Relative Benchmarking, they can compare their delivery against the top publishers for the particular institute and with industry leading analytics and insights, fine tune their strategies on the go. Comparative Benchmarking measures the growth over days, weeks or months and helps them identify their strengths and weaknesses.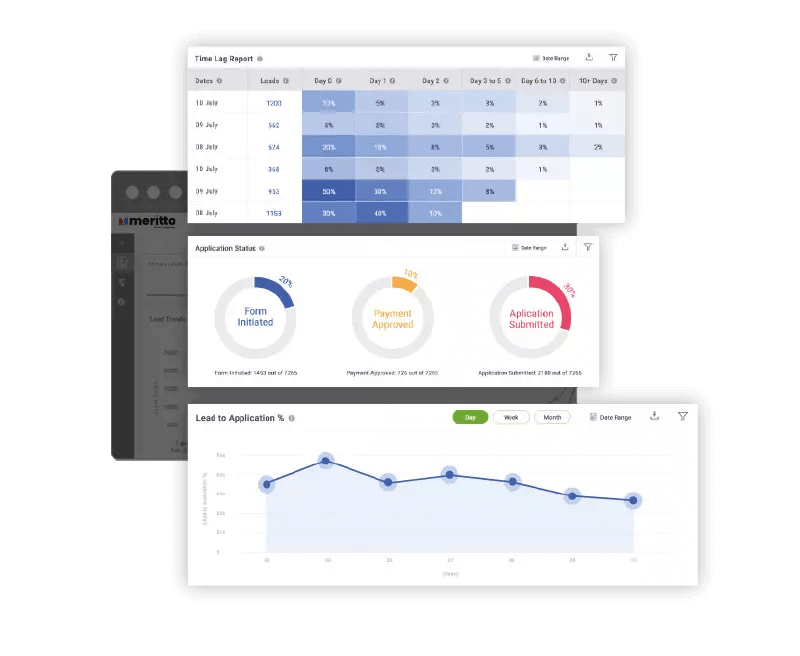 track conversions with
Application Dashboard
With Application Dashboard, publishers can track the entire journey of the student from registering an enquiry to finally submitting the application form. With real time updates and ground breaking predictive analytics, this advanced dashboard gives them the complete breakup of the status of their leads.
Applicant Data visibility is purely subject to client's approval. In case the institution doesn't wish to give access to the publishers for the same, this dashboard won't be visible.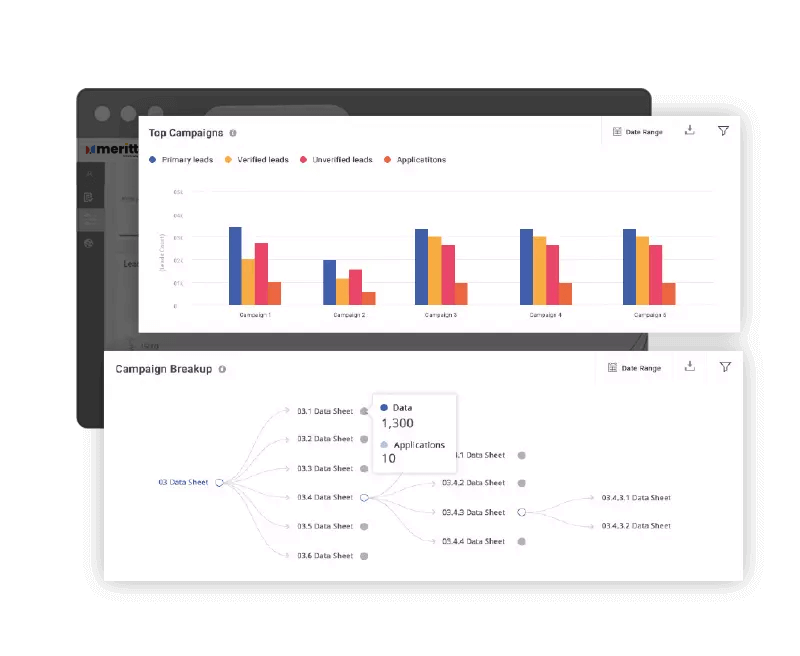 identify what is working with
Campaign Dashboard
Identify what campaigns are working for the institution. Meritto (formerly NoPaperForms) has a multiple level tracking system that stores up to 3 source instances of the same lead in the system, enabling you to find out the number of duplicate lead attempts and their respective source. The Campaign Dashboard shows the exact delivery of their top campaigns and lets them identify the best mediums.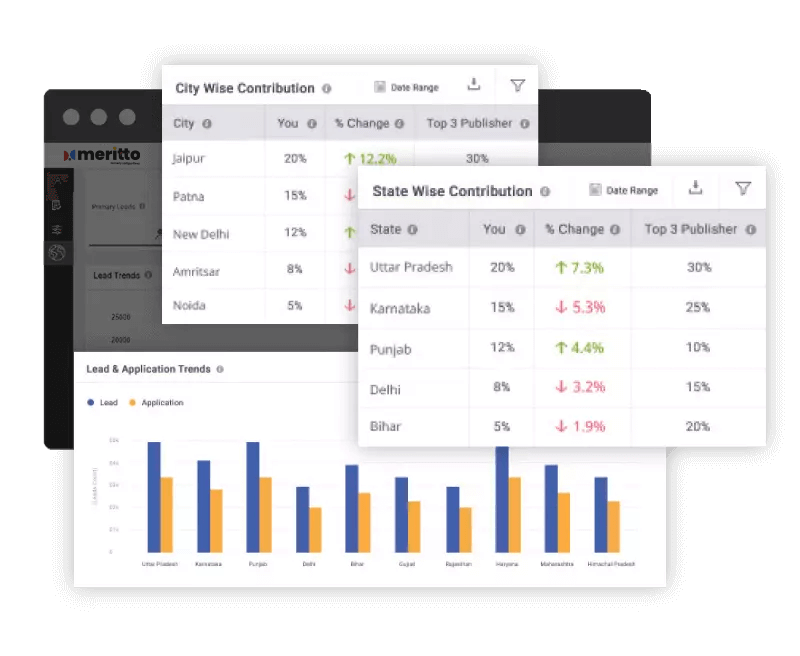 intuitive and advanced
Geographical Dashboard
The Geographical Dashboard presents tremendous insights about the geography of leads. With real time state/city bifurcation and the new Relative Benchmarking feature, publishers can now optimize their campaigns geographically and provide the institutions with better leads from non-catchment areas as well. If the institution permits, the marketing agencies can also see the bifurcation of applications across states and cities and measure their growth overtime.