Grow your Enrolments with Real-time Campaign Management!

Marketing campaigns for all educational organisations is a crucial activity targeted for scaling the enrolments. Besides offline walk-ins and telephony, the current marketing ecosystem of educational organisations comprises numerous digital agencies and publishers who run marketing campaigns to help them build a large pool of prospects. Due to the lack of a campaign management system, educational organisations were not able to track the real-time performance of all their campaigns. And were putting their marketing efforts and investments into vain!
With Meritto (formerly NoPaperForms) Campaign Manager, you can track, measure and optimise the performance of all your campaigns in real-time, maximising your marketing ROI and enrolments. No more spray-and-pray approach! Run progressive, data-driven offline and online marketing campaigns and welcome complete transparency and accountability in your processes.
Track, Measure, and Optimise
Marketing Campaigns for Enrolments
Optimise your campaigns in real-time by analysing their performance. Allocate your marketing resources smartly to drive more winning opportunities and achieve your enrolment targets seamlessly.
Source Classification
Auto-categorise leads/ enquiries into different sources with smart enquiry widgets.

Quality Lead Intake
Auto-verify quality leads/ enquiries dynamically.
Conversion Rate Optimisation
Optimise lead to enrolment trends based on origin, source, disposition, activity, etc.

KPI Driven Accountability
Drive accountability with publishers based on Cost Per Verified Lead or Cost Per Primary Verified Lead.
Top Channel & Publishers
Identify and optimise the performance of all your lead/ enquiry sources.
MEI
Know the Mutually Exclusive Impact of lead sources at every stage of your admission process.
Monitor Campaign Performance in Real Time
Keep a track of your campaign progress through real-time analytical insights. Identify the star performers and under performers among your lead generation sources, and reward or penalise them accordingly. Analyze, compare, and plan your marketing expenses using real-time campaign performance metrics instead of making assumption-based decisions.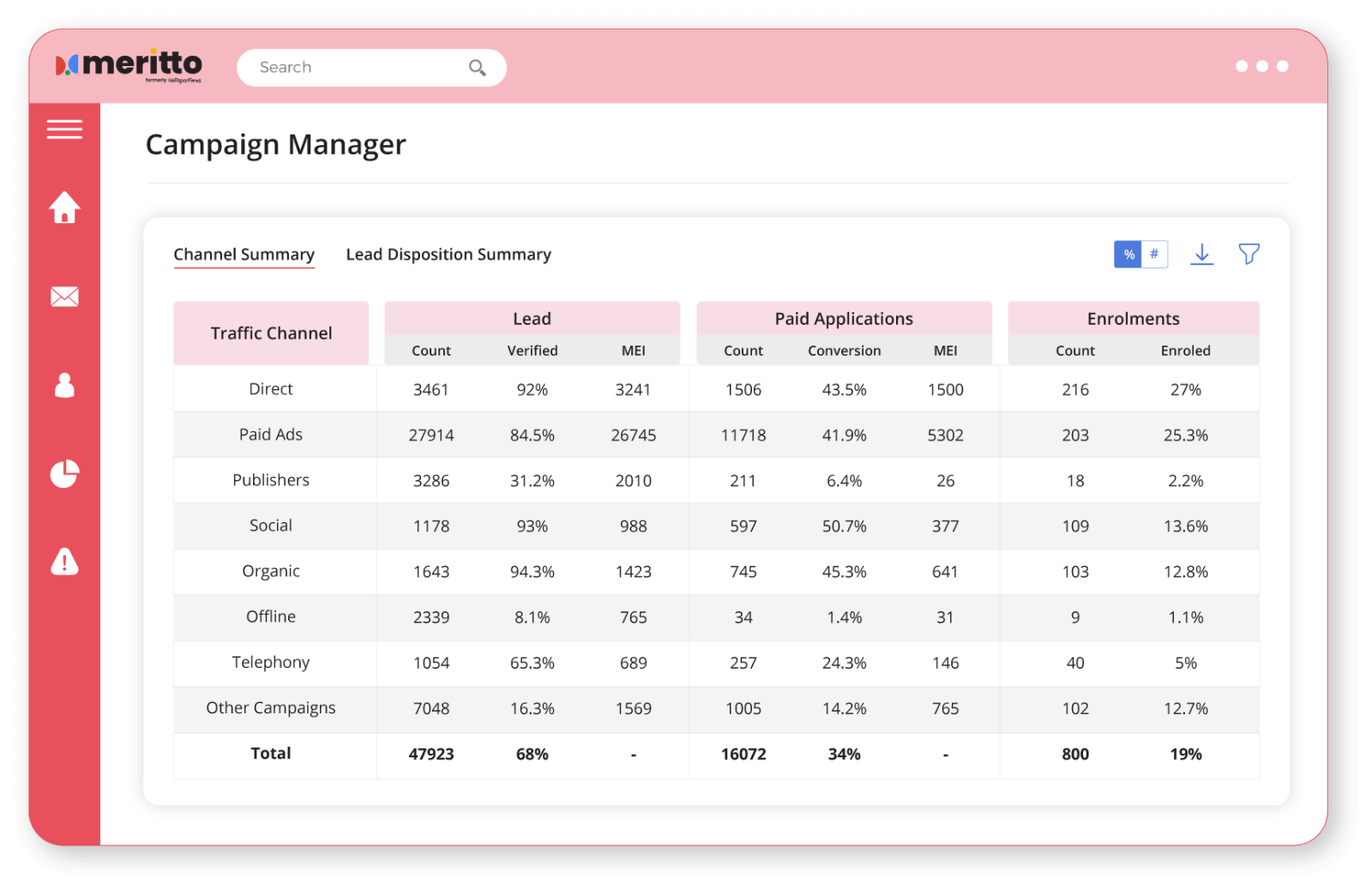 Meritto (formerly NoPaperForms) Campaign Manager at a glance
Optimise Campaigns with Real-time Performance Tracking
Get a bird's eye view of all your marketing campaigns across platforms and track their performance through real-time analytical insights. Identify the star-performing channels and campaigns, track the exact number of total and verified leads captured. Analyse, compare, and plan your marketing expenses using real-time campaign performance metrics instead of making assumption-based decisions. What's more? You can also track how many of the verified leads have completed their application and taken the enrolment.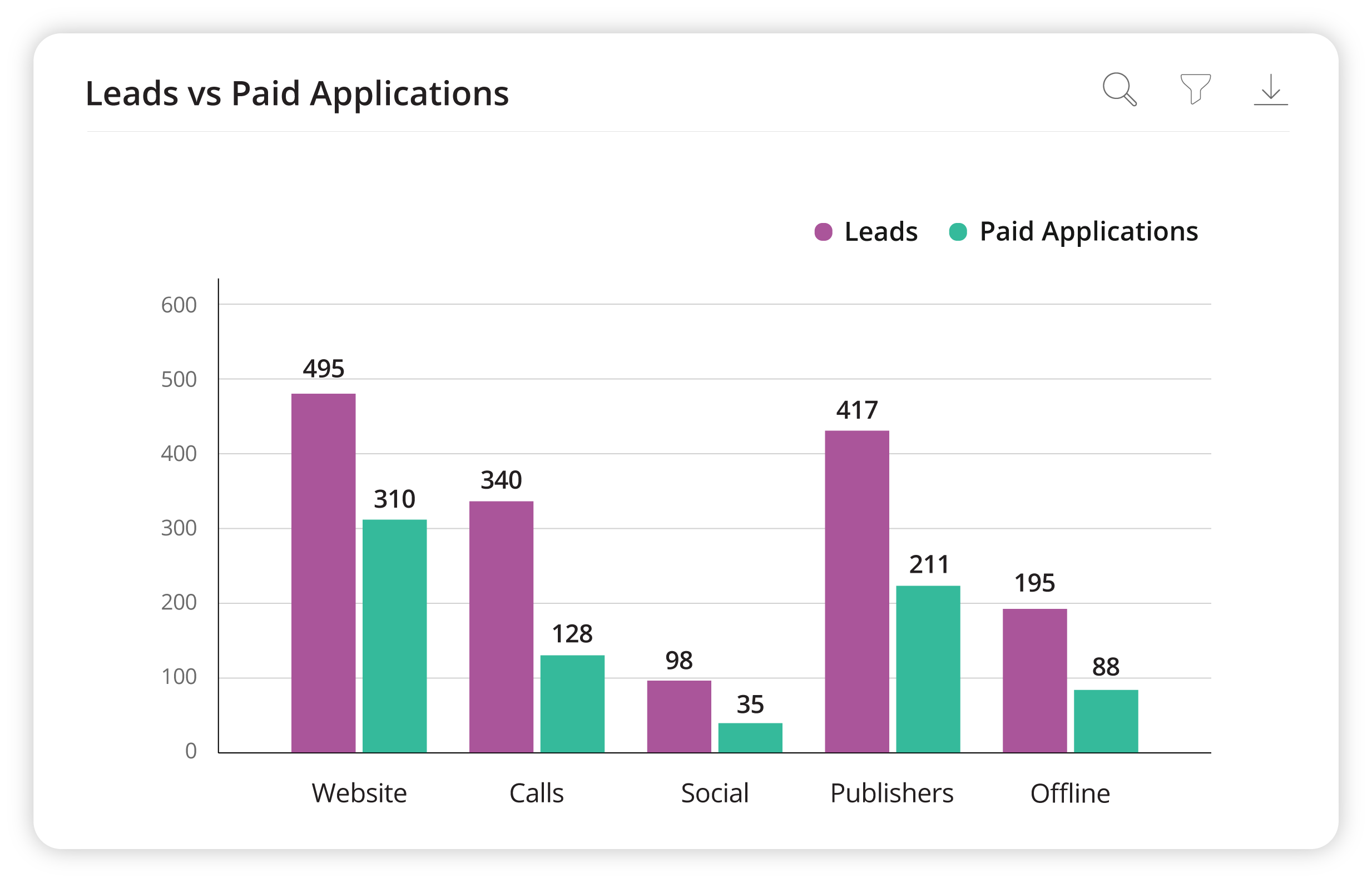 Eliminate Lead Duplication with Multilevel Source Attribution
The industry-first, non-editable feature of Meritto enables you to track sources of recurring leads at multiple levels without needing to store your lead multiple times. Eliminate lead duplication completely as the CRM captures instances of enquiries/ leads up to 3 sources- primary, secondary and tertiary source attribution. Accurate source attribution enables you to track the primary touch point of the lead/ enquiry, identify its channel, and optimise your campaigns. That's not all! Allocate leads/ enquiries dynamically to and within nurturing teams and enhance your conversions.
Ensure Quality Lead Flow with Mutually Exclusive Impact (MEI)
Mutually Exclusive Impact (MEI) enables you to identify the primary touch point of lead/ enquiry as the CRM categorises them into Primary, Secondary and Tertiary. This empowers you to track the star-performing channel capturing maximum leads/ enquiries as Primary and know how many of them have submitted an application form, made the requisite payment, and taken the enrolment. Get absolute transparency, accountability, and merit-based attribution of your publishers and measure their performance with unique MEI number and percentage.
Optimise Top Performing Source Channels
Get real-time access to Advanced Marketing Analytics to identify the performance of your traffic channels and quality lead-generating sources. Drill down with Property-wise Tracking for each lead source to know the performance of individual campaigns. Customise marketing/ remarketing campaigns to maximise engagement and grow your conversions.
Benchmark and Compare Performances of Publishers
Empower Publishers with a dedicated Publisher Panel to track the generated leads in real-time and increase the quality lead flow. The powerful dashboard allows them to track the Primary, Secondary, and Tertiary instances of all leads/ enquiries, ensuring lead data masking for utmost level of privacy for you and highest level transparency for them. They can also view their MEI number, percentage, and numerous other metrics to continually optimise their performance. Bring in accountability for their marketing efforts!

Read More about Publisher Panel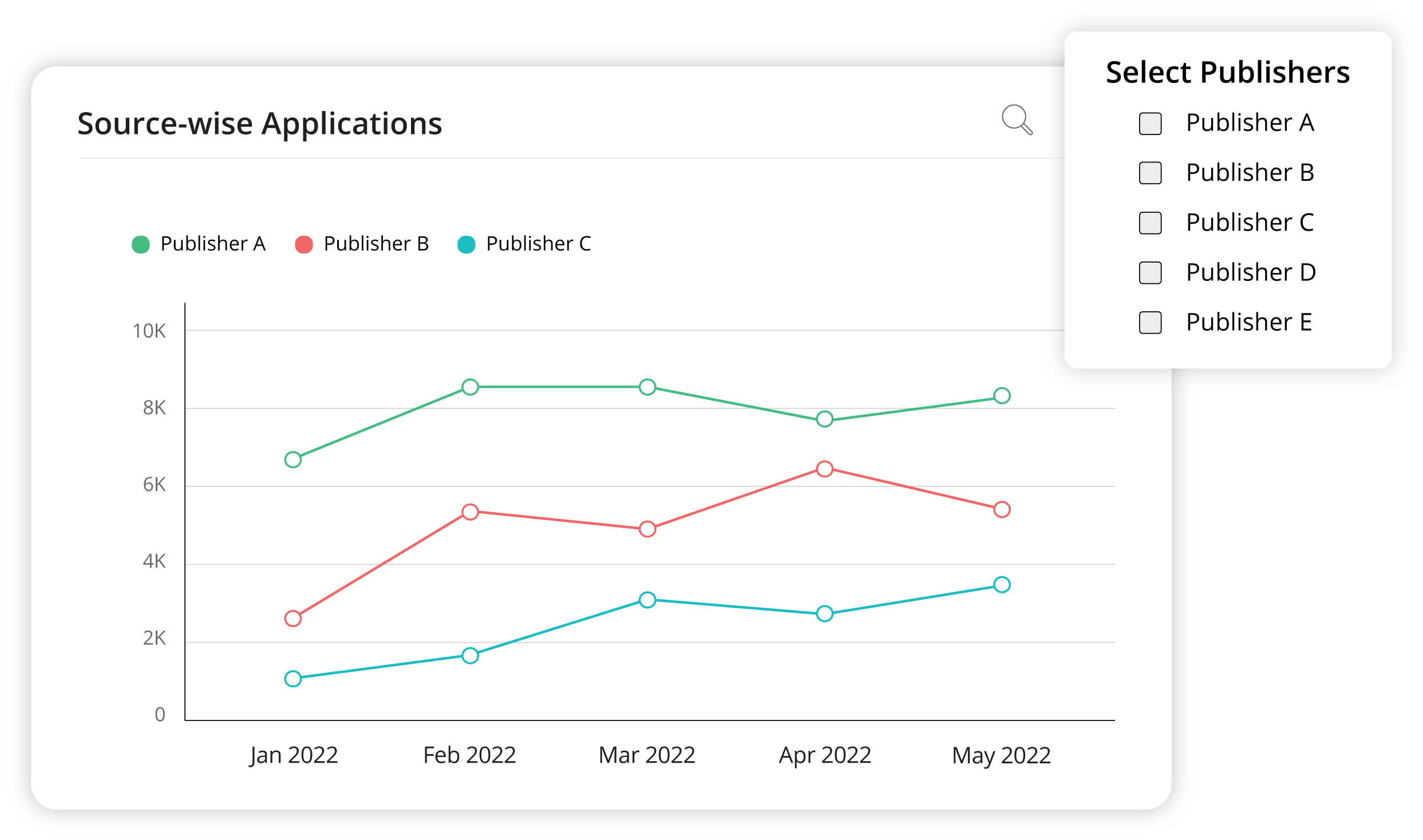 Auto Improve Quality of Leads from Publisher APIs
Customise Dynamic Lead Flow algorithm ensuring a minimum verification condition for the leads as a benchmark, improving the quality of leads you receive through API with Dynamic Lead Flow algorithm. Measure the performance of your publishers in real-time and set. Once done, sit back and witness the quality of your leads improve on a daily basis. Based on a runtime report, the platform dynamically rewards or penalises your publishers with the number of leads they can share, making it lighter for your pocket! Moreover, you can build unique conditional workflows for Dynamic Lead Verification based on course, class, city, and other parameters.