Meritto (formerly NoPaperForms) welcomes you to our blog dedicated to exploring the potential of Education chatbots in the education industry. Our objective is to equip you with comprehensive knowledge on leveraging chatbots to enhance the student and staff experience. By incorporating chatbots into your institution, you can benefit from their ability to offer quick and convenient assistance. As per a report by MarketsandMarkets, the global chatbot market in education is projected to grow at a remarkable CAGR of 33.9% from 2020 to 2025. These education chatbots can seamlessly integrate with websites, apps, and messaging platforms, enabling automated customer service, lead generation, and facilitating e-commerce transactions. With advanced technologies like Natural Language Processing (NLP) and Machine Learning, chatbots can understand and respond intelligently to user inputs. Additionally, some chatbots employ pre-written scripts or decision trees for effective communication. Stay tuned as we delve deeper into the incredible possibilities and practical applications of education chatbots. Together, let's unlock the potential of this innovative solution in the education industry.
How Institutes Leverage Education Chatbots and Increase Conversions?
Adapting to the advent of technology and using chatbots has worked wonders for educational institutes. Chatbots have given lead nurturing a new shape with their smartness and have significantly reduced their turnaround time. Here's how you can leverage the education chatbot and have better conversions-
Lead Nurturing: Chatbots can engage with potential students, gather information about their needs and preferences and then pass that information to the school's admissions team for follow-up.
Answering Frequently Asked Questions: Chatbots can provide instant answers to common questions about programs, admission requirements, course fees, and more.
Guiding Students through the Enrolment Process: Chatbots can assist students with filling out forms, submitting documents, and completing other enrolment tasks.
Personalised Recommendations: Chatbots in the education industry provide personalised recommendations for programmes, courses, and other resources based on the student's interests and background.
Availability: The 24/7 availability of the chatbots is one of the major advantages which can benefit students who have busy schedules or are in different time zones.
Multilingual Support: Many chatbots in marketing support multiple languages, making it easier for international students to communicate and receive information from the institution.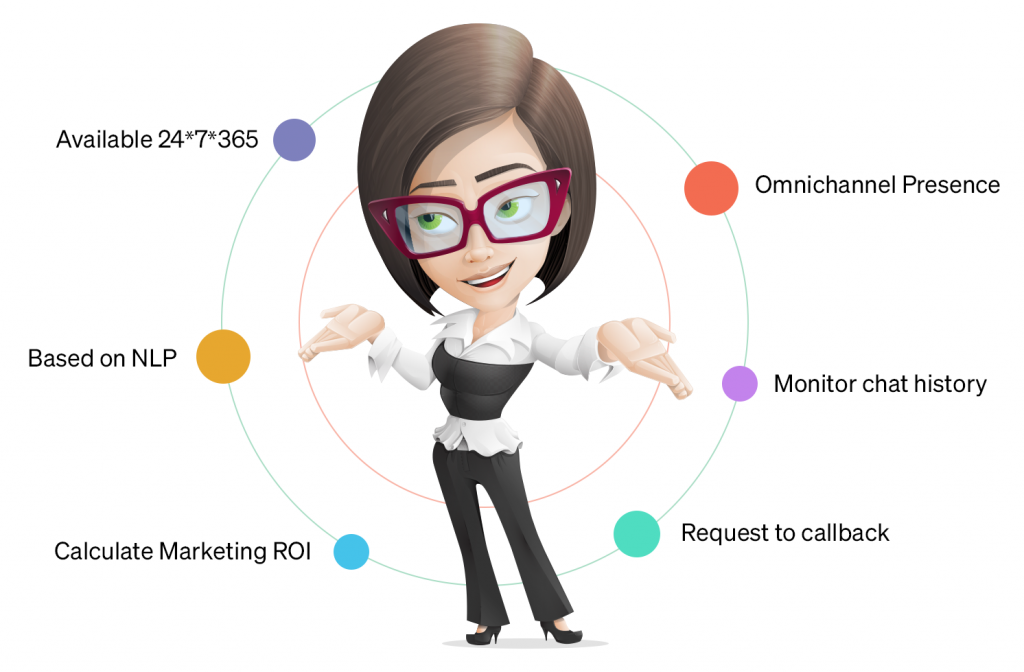 Meet Niaa- The Conversational Education Chatbot
Available 24*7*365, Niaa acts as a virtual support for your candidates and engages them based on their profile and stage in the enrolment journey. Available for Web, WhatsApp & Facebook; Niaa can be integrated seamlessly with just a single line of code. You can simply automate contextual engagement with prospects and streamline the enquiry to enrolment journey. Niaa not only nudges candidates with the power of behavioural intelligence but also learns institutional-specific questions, and delivers answers automatically. Being the first point of contact for prospects, Niaa reduces the turnaround time and enhances the student experience, bolstering their decision to join your institution.
How to Choose the Right Education Chatbot for your Institution?
Before you choose one for your institution, here are some major points to consider-
Customisation: The chatbot should be customisable to meet the specific needs of the institution, such as answering frequently asked questions about programs, tuition, and financial aid.
Integration: The chatbot should be able to integrate with other systems used by the institution like CRM.
User-friendly Interface: Chatbot for Education Industry with a user-friendly interface that is easy for both students and counsellors/ sales representatives to navigate.
Natural Language Processing (NLP): The chatbot should have advanced NLP capabilities to understand and respond to student queries in a natural way.
Scalability: It should be able to handle a large volume of student interactions and be able to scale up as the number of students grows.
Analytics and Reporting: It must be built with analytics and reporting features to track student engagement and measure effectiveness.
Training and Support: The chatbot vendor should provide training and support to ensure the chatbot is implemented and used effectively.
Cost-effective: It should be cost-effective and provide a good return on investment for the institution.
It's essential to evaluate different chatbot providers and their offerings and request demos or pilot tests before making a decision. It's also a good idea to consult with the IT department and other stakeholders within the institution to ensure the chosen chatbot will meet the needs of the institution. Ready to move your conversion on auto-pilot with Meritto's (formerly NoPaperForms) Conversational Education Chatbot Niaa? Schedule a demo today and learn more!