Higher Education CRM: One Platform to Scale your Admissions
Transform the way you Attract, Engage, and Enrol students with India's largest Enrolment Automation Platform for Higher Education.
| | |
| --- | --- |
| Enquiry to Enrolment Funnelling | Automate & Track Student Journey |
| 360˚ Communication Suite | Marketing ROI Optimisation |
| Advance Reports & Analytics Engine | Inbuilt Payment & Financing Platform |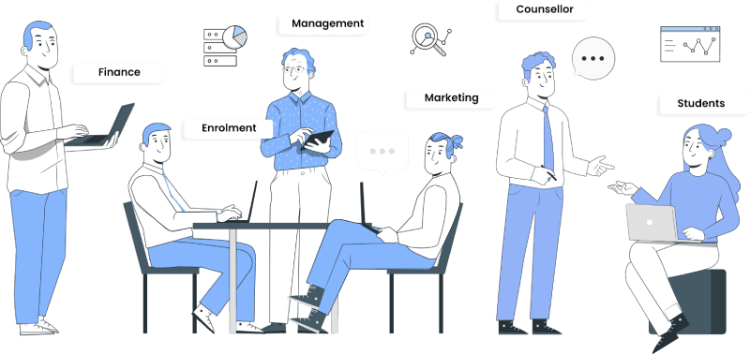 The lifeblood of Admission Management in India!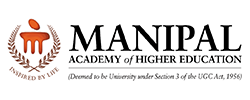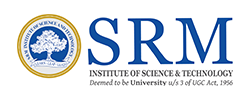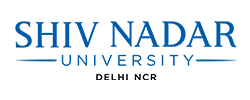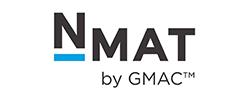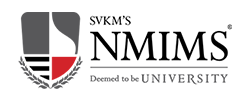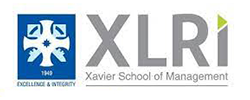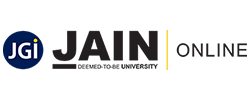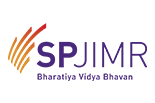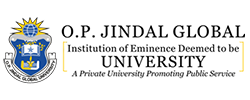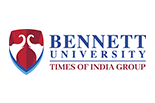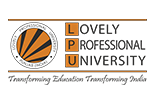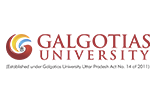 How are Leading Higher Education Institutions Revolutionising their
Admission Processes using Meritto (formerly NoPaperForms)?
There are multiple stakeholders involved throughout the admission journey, who use scattered solutions and work in their own silos. This leads to a systemic disconnect between the stakeholders, mismanagement and inefficiency of processes, assumption-based decision making, and poor conversions. All of this ultimately leads to a negative and broken candidate experience.

Admission is a unified process, and should be managed using a unified platform. Meritto helps you achieve exactly that. With a range of features that enable you to centralise all your enquiries across sources, run the application process on auto-pilot, create custom post application processes, and enrol faster with the pre-integrated unified payment stack. It brings in efficiency, takes your teams to one platform, and helps you scale your admissions!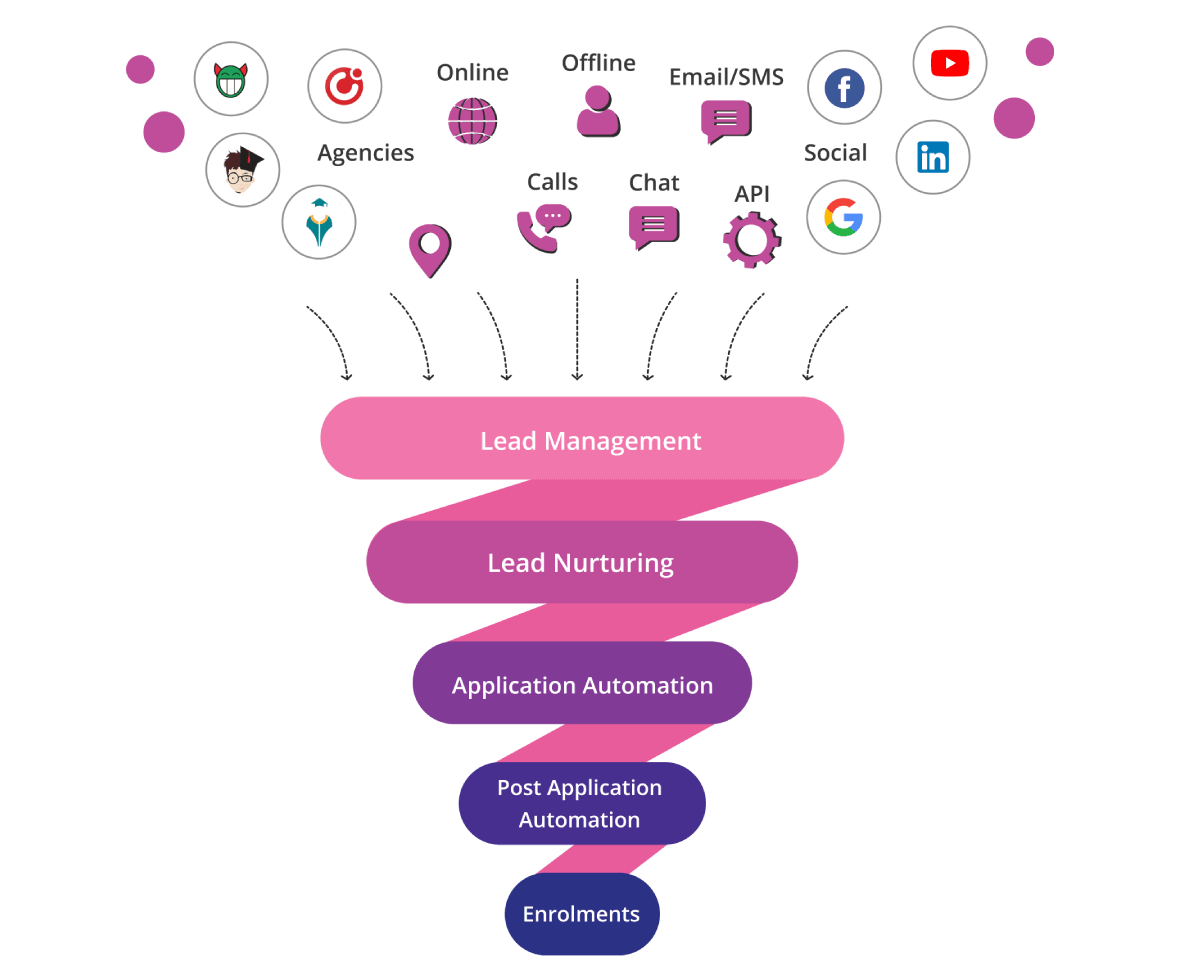 CRM for Higher Education » Lead Centralisation
Ensure Zero Lead Leakage
Centralise, manage, and distribute your incoming enquiries across different channels – online, offline, walk-ins, digital agencies, social media on a unified platform. Eliminate lead duplication completely through primary, secondary and tertiary source attribution and empower your teams to easily monitor the lead source performances, optimise lead nurturing workflows and enrol more students, without having to rely on traditional sales CRMs or third party point solutions.
No manual data exchanges
Real Time Source Tracking
Complete Visibility and Control
Quality Lead Flow Algorithms
Learn more about Lead Management System for Universities
CRM for Higher Education » Lead Allocation
Dynamically Allocate incoming leads to your team
Ensure no missed opportunities by automating lead distribution to counsellors/sales agents: either in a round robin manner or dynamically, based on your preferred custom logic. Automate your leads to be assigned based on location, course requirements, and preferred language. The inbuilt AI judges the intent of the lead and nudges your team to intervene, at the right time!
Real Time Dynamic Lead Allocation
Custom Business Logics based on signals/interest
Decreased Response Time
One View Lead Profile
Learn more about Lead Allocation and Nurturing
Admission Software for Higher Education » Communication
Ensure 360° engagement with Unified Communication Suite
With Meritto' Unified Communication Suite, you can communicate effectively across multiple channels to ensure personalised engagement with your students from enquiry to enrolment.
Email, SMS Templates
WhatsApp Business API
Remarketing Connectors
Niaa – AI Chatbot
Download Unified Communication Suite Insights
STUDENT ADMISSION PORTAL
One Unified Platform for Students
Empower your candidates to keep a track of their end-to-end journey with a highly configurable centralised dashboard. Improve student experience and increase retention at every step with a single view dashboard to apply, track, communicate, and purchase more courses.
Single Login for Multiple Courses
Advanced Query Management System
Real Time Application Status
Instant Notification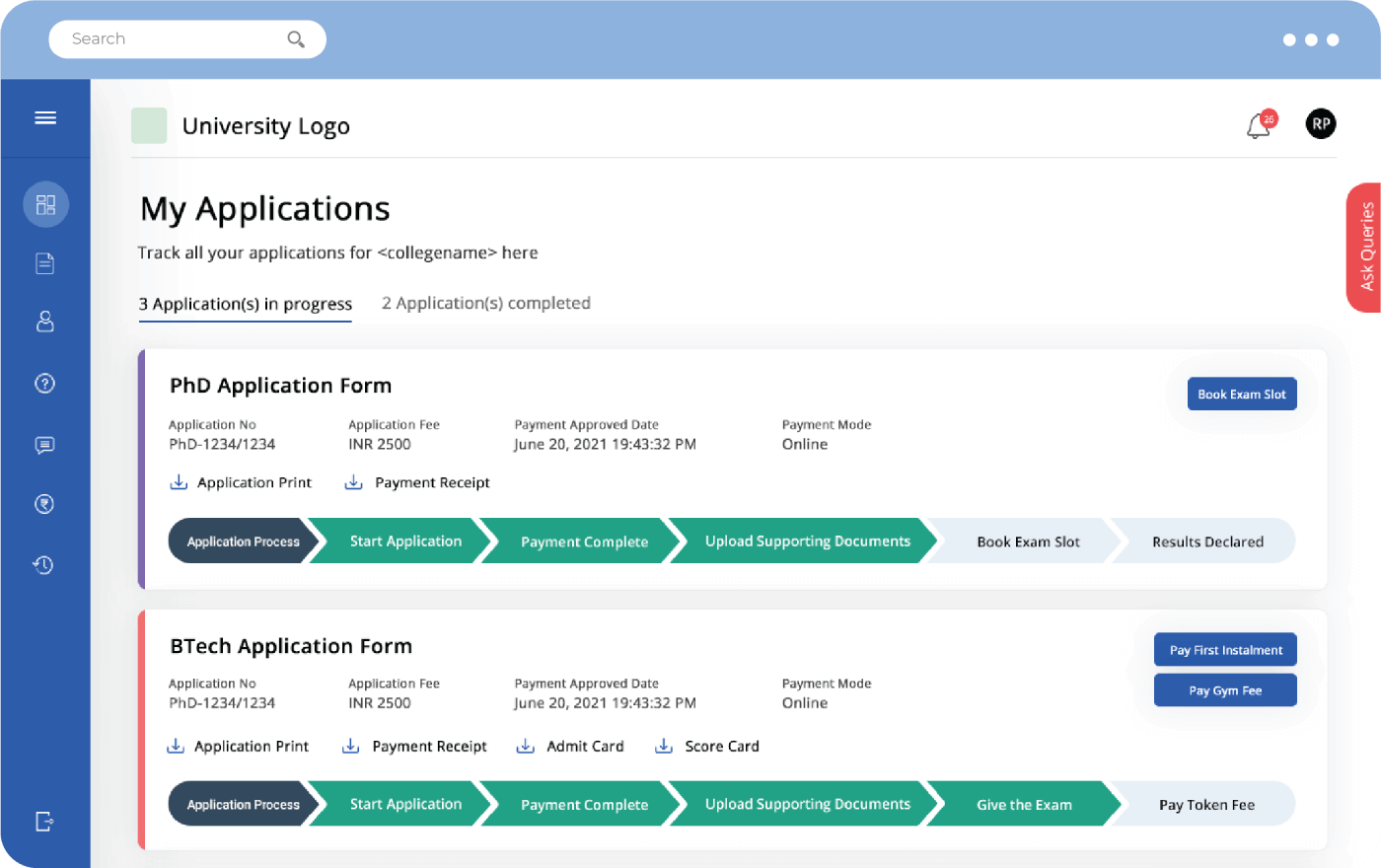 Admission Software for Higher Education » Application Automation
Provide a delightful form filling experience
Create advanced, feature-rich application forms within minutes to provide your prospective students with an interactive experience they will remember. From managing end-to-end applicant journeys to quick processing of payments and refunds, from instantly resolving queries to track aggregated progress of applicants, the Application Automation platform empowers you and your teams to manage your applications better than before!
Learn More about Application Automation
Admission Software for Higher Education » Post Application Automation
Conduct your Post Application Processes with ease!
From conducting GD-WAT-PI processes online to evaluating and shortlisting candidates, from automating short list and merit list generation process to integrating your exam vendors, from declaring online results to managing admission fee payments and refunds, this platform helps you optimize your team bandwidths, improve your institution's brand reputation and drive quality admissions on a unified platform. Enable/Disable workflows as per the requirements and watch it unfold on the Student Portal in real time.
Explore Virtual Post Application Platform
Run your Admissions on Auto Pilot with Powerful Automation Workflows
Optimise your enquiry to enrolment rate by analysing student's interests & tracking their decision-making process. Create powerful Marketing Automation workflows to nurture each student based on their current stage in the admission journey. Intelligent nudges help you automate daily tasks by automatically nudging the students to the next step, even while your team is on leave.
Drip Marketing Workflows
Hyper Personalised Communication
Fully Automated Process
In Depth Analytics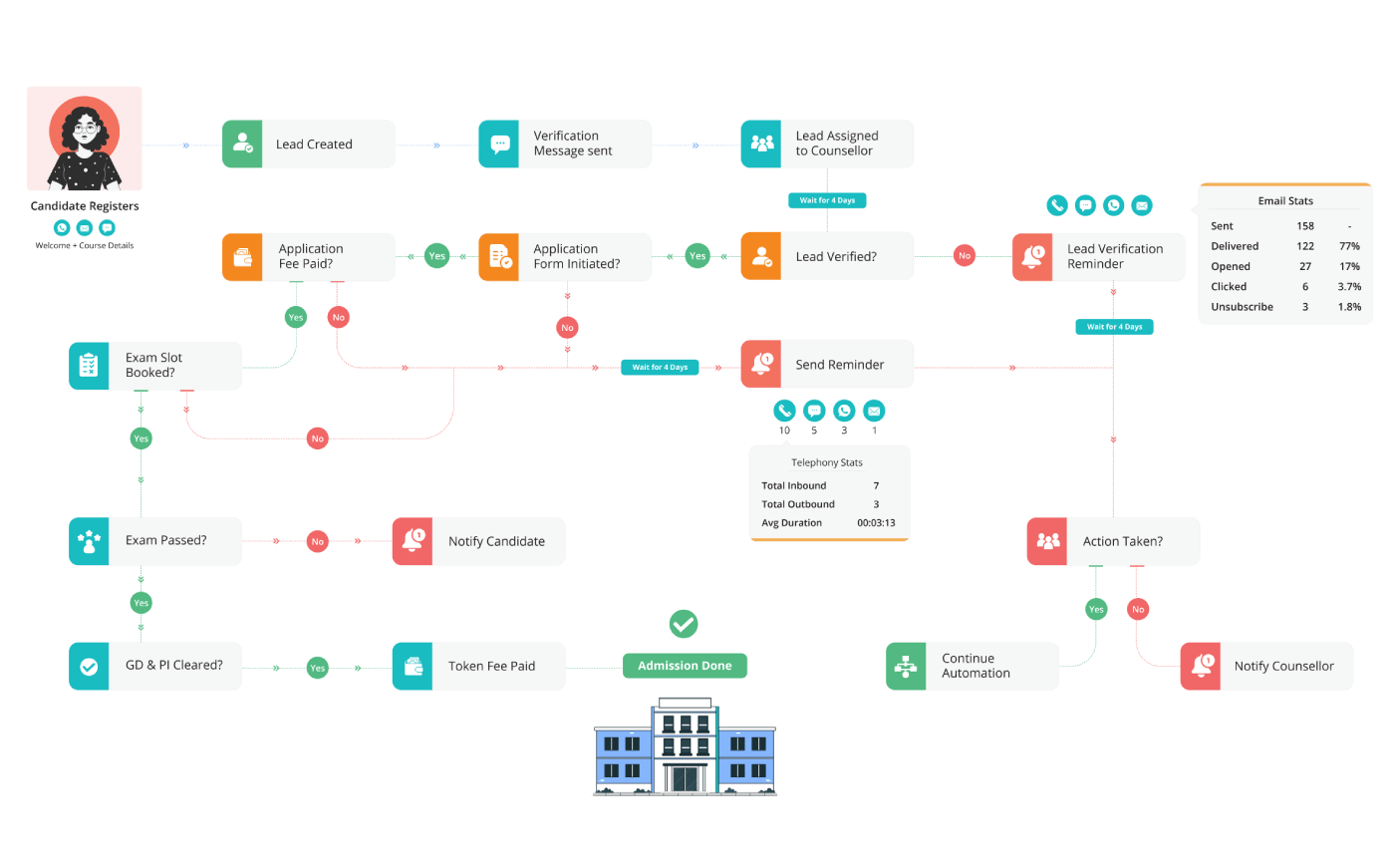 UNIFIED PAYMENT STACK
One Platform to Collect, Manage, & Track all your Fees
Create conditional payment workflows right from the inbuilt payment manager and collect any type of fee within seconds. Configure discounts, create simplified payment plans, for both new admissions and existing students.
Conditional Workflow Builder
Instant Financing (No Cost and Interest based EMIs)
Multiple Payment Modes
One View Reconciliation Dashboard
Automated Receipt/Invoicing
Finance Dashboard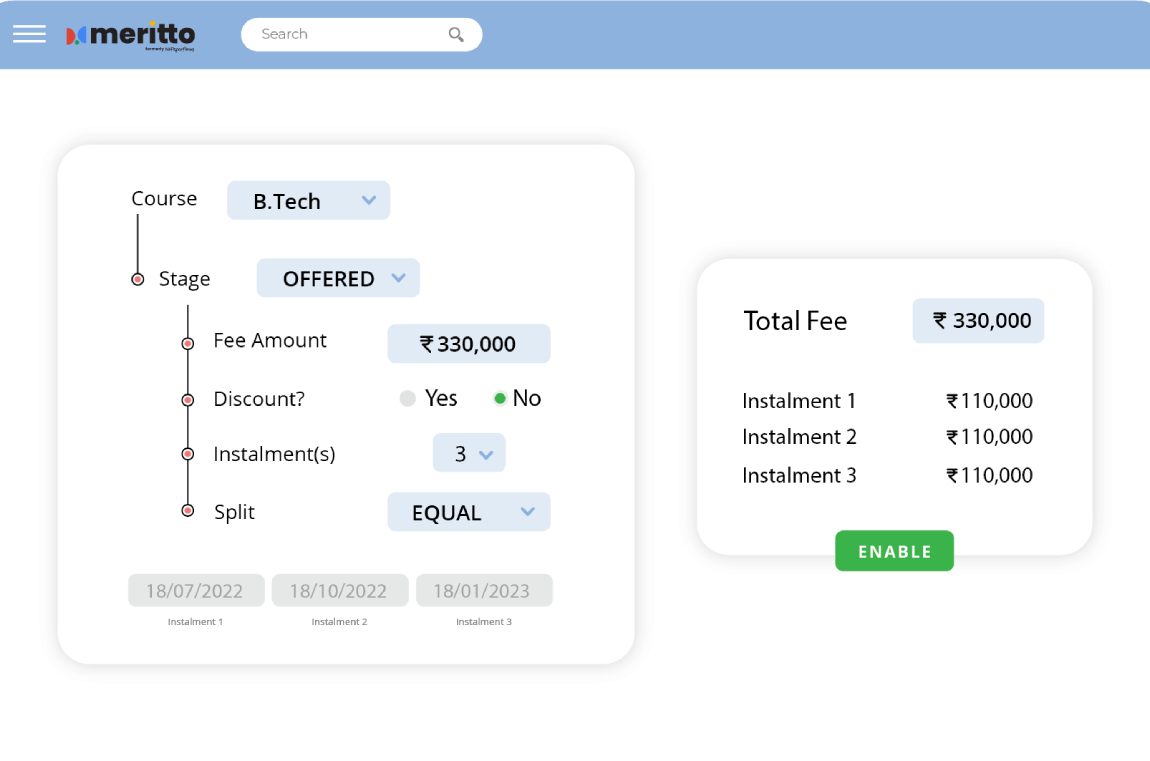 CRM for Higher Education » Payment Management
Payments, Simplified!
Meritto provides a Unified Payment Stack purposely built for higher educational institutions. No more toggling between multiple payment gateways, digital/offline windows for you or your students. Empower all your stakeholders with custom payment dashboards, reconcilliation reports, transaction summaries, all on a single platform.
Provide a frictionless experience to your prospects with a gamut of payment options enabled directly on the Student Portal.
CRM for Higher Education » Financing
Enrol More with easy monthly payment plans
Empower students to pay their fees instantly or later in easy monthly installments with collateral-free access to loans with instant online approval. The students get to pay via flexible payment plans, while you get the full fee upfront.
Learn More about Collexo
ROBUST REPORTING ENGINE
Get a Bird's Eye View of your Admissions Health
360° Visibility with insight-driven Dashboards. Stay on top of your performance with robust Reports & Analytics. Identify the best performing courses, the bottlenecks, and take strategic calls in real time.
Rea Time Health Scorecard
100+ Advanced Dashlets
Counsellor Productivity Reports
Drag-n-Drop Report Builder
Marketing ROI Dashboard
Enquiry to Enrolment Funnel Visibility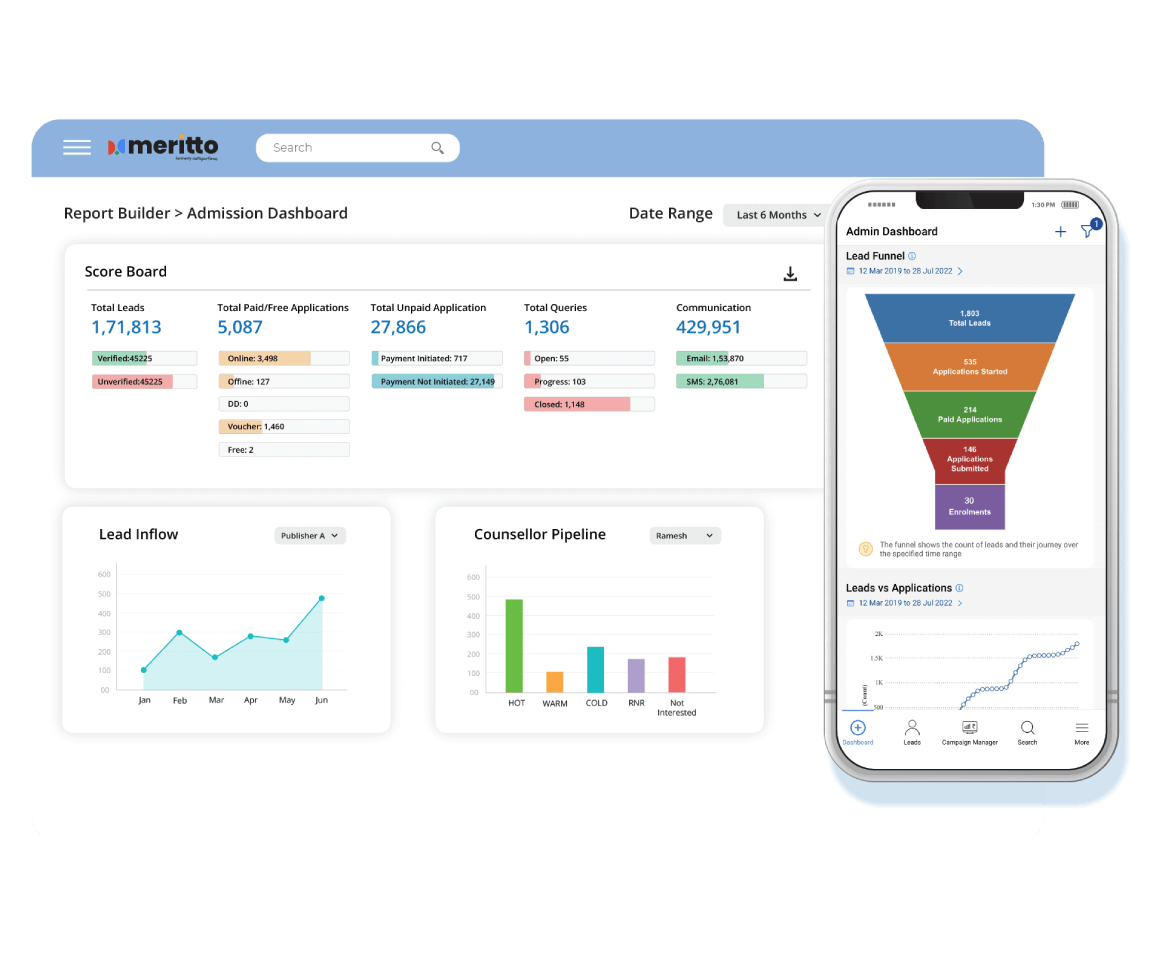 CRM for Higher Education » Report Builder
Create your own Reports
Meritto Report Builder allows you to create customised reports in just a click. Drag and Drop metrics, define multiple level dependencies, apply key filters, and visualise your data like never before.
Create Pivot style of reports like Program and Source Wise Performance Analysis, Course and Locality Wise Analysis, Source Wise Pipeline and more.
CRM for Higher Education » Growth Tracking
Comparitive Benchmarking
Benchmark your year on year performance with Real Time Benchmarking Dashboards. Track the aggregated progress – total leads received, total applications completed, total payments pending of all the courses. Get insights on what courses are performing the best and where you need the additional push.
Compare trends and numbers over time to enable enhanced strategic planning and improved efficient options to adapt and reflect on realities and needs.
CRM for Higher Education » Mobile App
Manage your Admissions, on the go!
Whether your counsellors are working from home, on the ground, at events or on campus, everything they need to do to contextually engage candidates is just a tap away.
From accessing and updating leads, making calls, adding voice notes or follow-ups to tracking visits and sending emails, SMS or WhatsApp in a single click — your counsellors can do all that and much more with the Meritto Mobile App.
Learn more about Admissions on the Go