At Meritto (formerly NoPaperForms), our objective is to assist educational institutes in navigating the ever-changing landscape of admissions. In this blog, we aim to shed light on the crucial aspects of effective marketing practices that can truly make a difference for institutes seeking to excel in the admission game. By delving into their journey and exploring the strategies they have employed, we hope to provide valuable insights and empower our readers with the knowledge needed to make informed decisions. So, let's delve deeper into where institutes have reached and how they have successfully arrived there. Read on to expand your understanding of this fascinating topic.
Why Do Institutes Need Marketing Anyway?
With the emergence of higher education institutes, India witnessed mushrooming of various other institutes. In order to stand out in the competitive industry, an institute must work on its brand identity. Marketing then became the need of the hour.
Evolutionary Journey towards a Revolutionary Practice
The theory of evolution has taught us how adapting to the world dynamics can help us survive. For an institute to sustain in the long run, marketing strategies required such an evolution.
What we see currently is a disruptive approach that is transforming the competitive scenario for institutes today. But how did we end up there? Scroll down to walk the journey.
Beginning with Traditional Marketing
Traditional marketing once made its impact to a great level. Here are some of the traditional approaches that are still being used by educational institutions today:
Features on magazines/newspapers
Billboards and posters
Broadcasting on television/radio
Telemarketing via calls/text messages
Many institutions completely depended on these media to increase their visibility.
Loopholes Discovered:
However, with changing times, this practice started becoming ineffective:
The practice unfolded itself as a 'spray and pray' approach – it was quite unfocused, reducing the chance to reach the target audience
The spendings involved were quite high with no promise of return
There was no way to track if the message is received by the intended audience
A more focused became necessary owing to the unpredictability of these practices.
Digital Marketing Takes Control
A groundbreaking admission and enrollment marketing technique was required to ensure sustainability. That's when Digital Marketing took over. Mentioned below are the ways through which this model attempted to bring about a change in the education industry:
Search Engine Optimization
Search Engine Marketing
Social Media Marketing
Content Marketing
Email Marketing
Pay-per-Click Advertising
Since everything was digitized through these techniques, reaching out to the target audience became easier. The campaigns were quite focused and a comparative rise in the ROI could also be observed.
Loopholes Discovered:
Without a doubt, digital marketing can be quite a useful approach for the institutes to stay stable in the market. Nevertheless, all will be gone to waste if it's not practiced optimally.
While attracting leads was possible, nurturing them in the real time became a task
An expected conversion still remained a question, as an effective tracking on a real-time basis posed a problem
Institutes were switching to and relying upon outsourced marketing services. The outsourced agencies worked as per their convenience and/or limited knowledge
Relying upon publishing agencies became difficult owing to high chances of data leakage
The email marketing practices increased the outreach but were not personalized and hence didn't fetch the effective results
Thriving through digital marketing strategies was not working out well because of these challenges. An advanced tool to gauge the marketing efforts made by an institute was required.
Rise of CRMs in Education Industry
Unless you have knowledge of what sources are giving the best leads and you engage with them in real time, it is very hard for you to drive conversions or reap benefits of your hard-spent marketing budgets. This is when the education Industry saw the rise of CRM tools.
The positive impact of having CRM software could be easily analyzed. The software easily replaced the traditional 'spray and pray' approach with 'capture and engage'. A CRM system played an important role in measuring the success of marketing strategies. Being a transparent system, it worked in different segments:
Helping the organization get the real-time knowledge of its marketing campaigns' success and learn where it needs to improve
Assisting in Campaign Management by providing users with a good understanding of leads and traffic where they're coming from
If you're still with us till this point, you know what's coming. Like every other software, CRMs had their own limitations. While it helped institutions in streamlining the Lead Management procedure and provided visibility up to an extent, it faltered when it came to identifying the entire admission funnel.
For institutes to scale better, a solution to streamline every segment, including CRM will work wonders.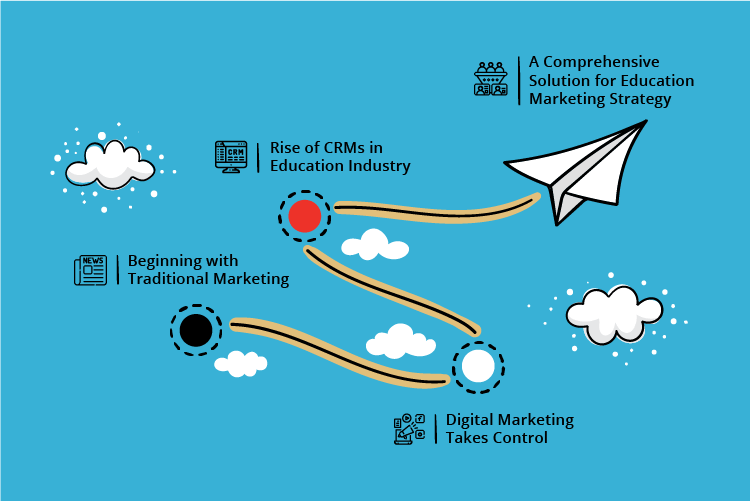 A Comprehensive Solution for Education Marketing Strategy
A comprehensive solution leads an institute to proactively analyze and engage with prospective students and map their lead-to-application journey resulting in good admission marketing ROI.
Many institutes in the competitive industry are now adopting a comprehensive enrolment solution in order to excel in the game. Such a solution will not only enable educational institutions to come up with effective strategies but also encourage them to convert more with those strategies.
A comprehensive solution lays out every aspect of an institute transparently and the CRM system is just a part of it. Therefore, tracking the success of your marketing campaigns is just one of the many benefits that you can reap. It allows you to work towards the success of your institute without compromising on anything.
Taking the institutes beyond Education CRM, we at Meritto (formerly NoPaperForms) have laid down a comprehensive platform that even lets them analyse the processes involved in Application as well as Post-Application phases. In other words, it brings all the stakeholders on one page.
We'd conclude by quoting the American author, motivational speaker, and salesman, Zig Ziglar's words –

"Success is not measured by what you do compared to what somebody else does. Success is measured by what you do compared to what you are capable of doing."
If you're looking to empower your institute's success. Schedule a Demo for CRM here: