If you're looking to answer this question and gain a deeper understanding of how a Sales CRM can benefit your institution, you've come to the right place. Meritto (formerly NoPaperForms) is here to help you navigate this topic and explore the advantages of implementing a Sales CRM in the educational sector. In this blog, we will shed light on the importance of Sales CRM for educational organizations and provide valuable insights into how it can streamline your sales processes, boost enrollment, and drive overall success. Let's dive in and discover the transformative potential of Sales CRM for your institution.
What is a Sales CRM?
A Sales CRM (Customer Relationship Management) is a type of software that helps businesses manage customer interactions and sales activities. A sales CRM typically includes features such as contact management, lead management, and sales automation, as well as tools for customer service, marketing, and analytics.
Sales CRM vs a Purpose-built CRM
While Sales CRM can be beneficial for educational organisations, a purpose-built CRM may be more effective in some cases. The reasons? We've put them below:
Tailored to specific needs: Educational organisations have unique needs and processes when it comes to managing student and customer relationships. A purpose-built CRM can fit the specific needs of the organisation, ensuring that all relevant information is captured and that the system is easy to use.
Integration with existing systems: A purpose-built CRM can be integrated with existing systems such as learning management systems and student information systems, providing a holistic view of the student and customer journey.
Advanced analytics: It can provide advanced analytics and reporting capabilities that can help the institution to identify trends and patterns in student behaviour, and make data-driven decisions.
Improved communication: A purpose-built can be designed to improve communication and collaboration between different departments, such as admissions, student services, and academic departments, to ensure that all teams have access to the same information and can work together to achieve the institution's goals.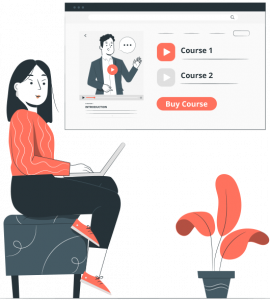 While most CRMs don't cater to the specific needs of every educational organisation, Meritto (formerly NoPaperForms) offers purpose-built solutions like a B2C CRM for EdTech, CRM for Coaching & Multi-Centre Training Institutes and CRM for Schools.
Choosing the right CRM for your educational organisation
Choosing the right CRM can be a challenging task, but there are a few key factors to consider that can help you make the best decision:
Features: Consider the specific features you need and make sure that the CRM you choose has those features. For example, if you need to track leads across multiple channels, look for a CRM with multi-channel lead capture capabilities.
Scalability: Look for a CRM that can grow with your institution. If you're a small institution, you may not need all the features but if you plan to expand your business in the future, choose CRM that can scale to meet your needs.
Integration: Make sure the CRM you choose can integrate with the other tools you use, such as your marketing automation software, email marketing software, and website analytics.
User-friendliness: The CRM should be easy to use and navigate, with a user-friendly interface. This will ensure that your team will be able to use the CRM effectively.
Support and Training: Consider the level of support and training offered by the vendor. Look for a CRM with a dedicated customer support team that can help you with setup and provide ongoing support as needed.
Customisation: Check if the CRM allows for customisation and if it can be tailored to the unique needs of your educational institution.
By considering these factors, you can choose a CRM that meets the specific needs of your institution and helps you effectively manage your leads and eventually scale your enrolment numbers.
If you're looking to read up more before you make a decision, this quick-read on B2B CRM Vs B2C CRM for EdTech Businesses can be of some help. So, do check it out.