Overview
Sales automation is a process that uses technology, such as an B2C EdTech CRM, to automate and streamline sales tasks such as lead generation, qualification, and follow-up. By automating these tasks, sales teams can focus on more high-value activities like converting prospective learners and building relationships with them.
Therefore, a B2C Ed-tech CRM is a platform that can be used to automate many different sales processes, such as tracking leads and opportunities, managing customer data, and analyzing sales performance. With the help of sales automation features like lead scoring, automated email campaigns, and pipeline management, sales reps can be more productive and efficient, and focus on closing deals and increasing revenue.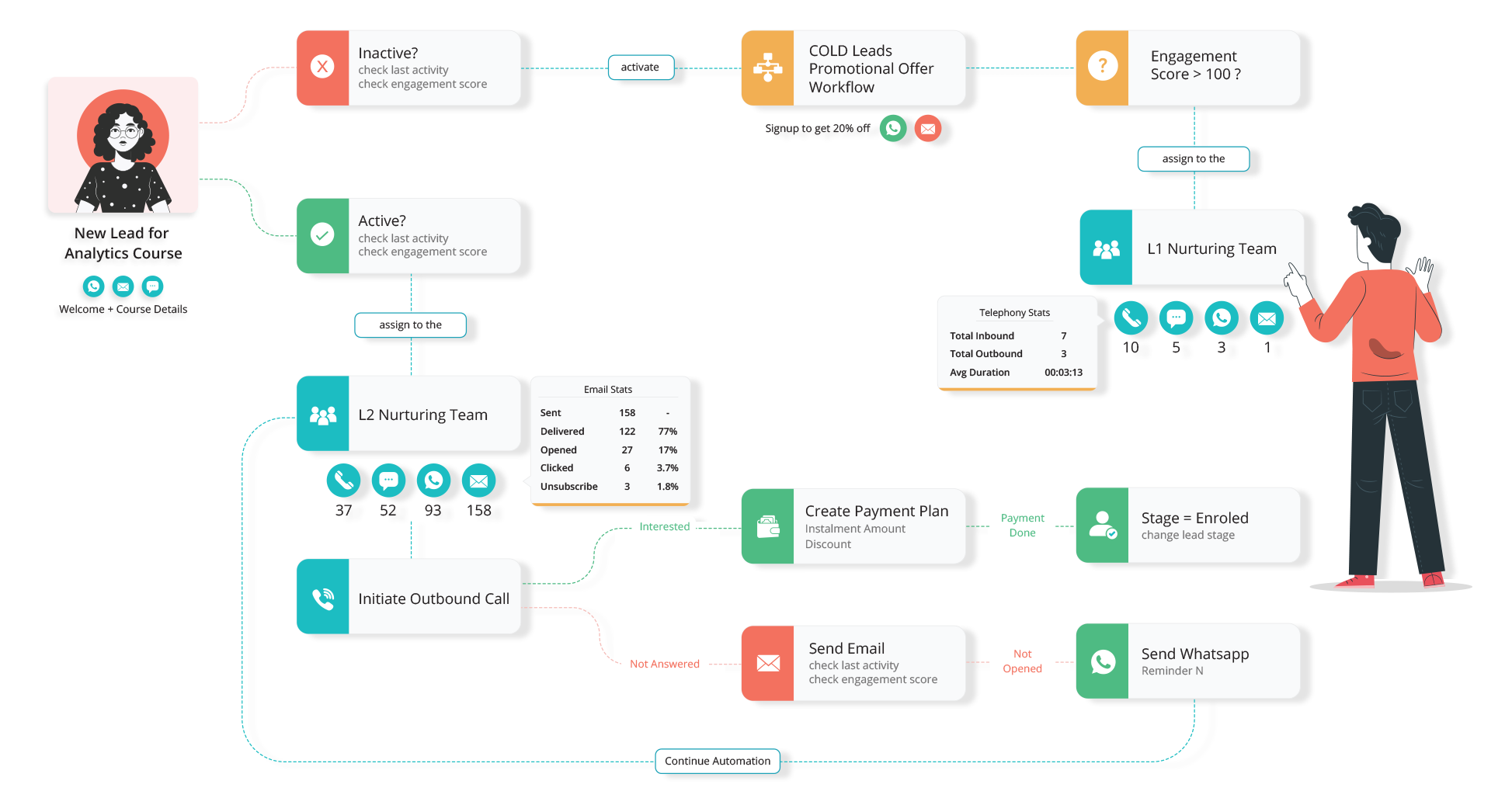 The need for Sales Automation
A lot of industries use Sales Automation and the Ed-tech industry is no different. Here are top reasons why:
Lead management: Sales automation software helps Ed-tech companies automate repetitive tasks such as lead tracking and communicating with prospective students, freeing up sales people to focus on more high-value activities such as closing deals.

Targeting: Sales automation software helps them identify the characteristics and behaviors of their most valuable leads, allowing them to create more targeted sales campaigns.

Forecasting: It provides detailed reporting and analytics on sales performance, so companies can track progress and make data-driven decisions, and also help in forecasting sales pipeline and revenue forecast.

Improved communication: Sales automation often allow empower sales teams to share information, assign tasks, and work together more effectively.

Better use of resources: Sales automation software helps Ed-tech companies allocate their sales representatives more effectively by focusing on the most promising leads, rather than wasting time and resources on leads that are unlikely to convert.

Improved lead nurturing: This helps sales reps to manage and nurture leads, by tracking their engagement and providing personalized communication based on their course or program interests.

Integration: Sales automation can be integrated with other tools such as learning management systems, analytics and assessment tools to provide a more holistic view of the customer journey, which in case, here are learners who are looking for an online course.
Implementing Sales Automation
Excited about the prospect of Sales Automation and what it can do? Well, we put together pointers for you to choose a purpose-built B2C CRM that can help you implement it:
Integration: Make sure the software integrates with other tools and systems you already use, such as your CRM, marketing automation software, and email marketing platform.

Usability: The software should be easy to use and navigate, with a user-friendly interface.

Customization: Look for a software that allows you to customize the workflow, lead scoring, and other features to suit your specific business needs.

Reporting and Analytics: The software should provide detailed reporting and analytics on your sales performance, so you can track progress and make data-driven decisions.

Support: The software should come with excellent customer support, in case you need help with setup, troubleshooting, or customization.

Functionality: The software should have all the features your sales teams needs, such as lead tracking, email tracking, and pipeline management, to help them be more efficient and effective.
At Meritto (formerly NoPaperForms), we recognize the immense benefits of sales automation for Ed-tech companies. Sales automation offers a multitude of advantages, ranging from streamlining the sales and enrollment process to enhancing communication with potential learners. Additionally, it significantly improves the efficiency and productivity of sales teams. If you're ready to embark on this transformative journey, our B2C Ed-Tech CRM solution might be the perfect starting point. With our CRM, you can leverage advanced automation features tailored specifically for the Ed-tech industry, allowing you to effectively manage your sales and enrollment activities. Experience the power of sales automation with Meritto's B2C Ed-Tech CRM and take your Ed-tech company to new heights of success.