A lead score serves as a valuable tool in the education industry, providing a numerical value that reflects a potential student's readiness to pursue a course or program. Also known as a "lead," this score is determined by considering various factors, including demographics, behavior, and engagement with an educational organization's marketing materials. At Meritto (formerly NoPaperForms), we understand the importance of lead scoring in effectively prioritizing and nurturing leads. In this blog, we will delve into the significance of lead scoring and explore how it can help educational organizations identify and focus on high-potential leads, leading to improved conversions and enrollment rates. Stay with us to discover the power of lead scoring and how Meritto can assist you in maximizing your marketing efforts.
The higher the score, the more likely the lead is to convert. Lead scoring is a key feature of Lead Nurturing in an Education CRM for Admission Marketing Teams. It enables them to prioritize and focus their efforts on the most promising leads, and to determine when a lead is ready to be passed along to the sales team for further follow-up.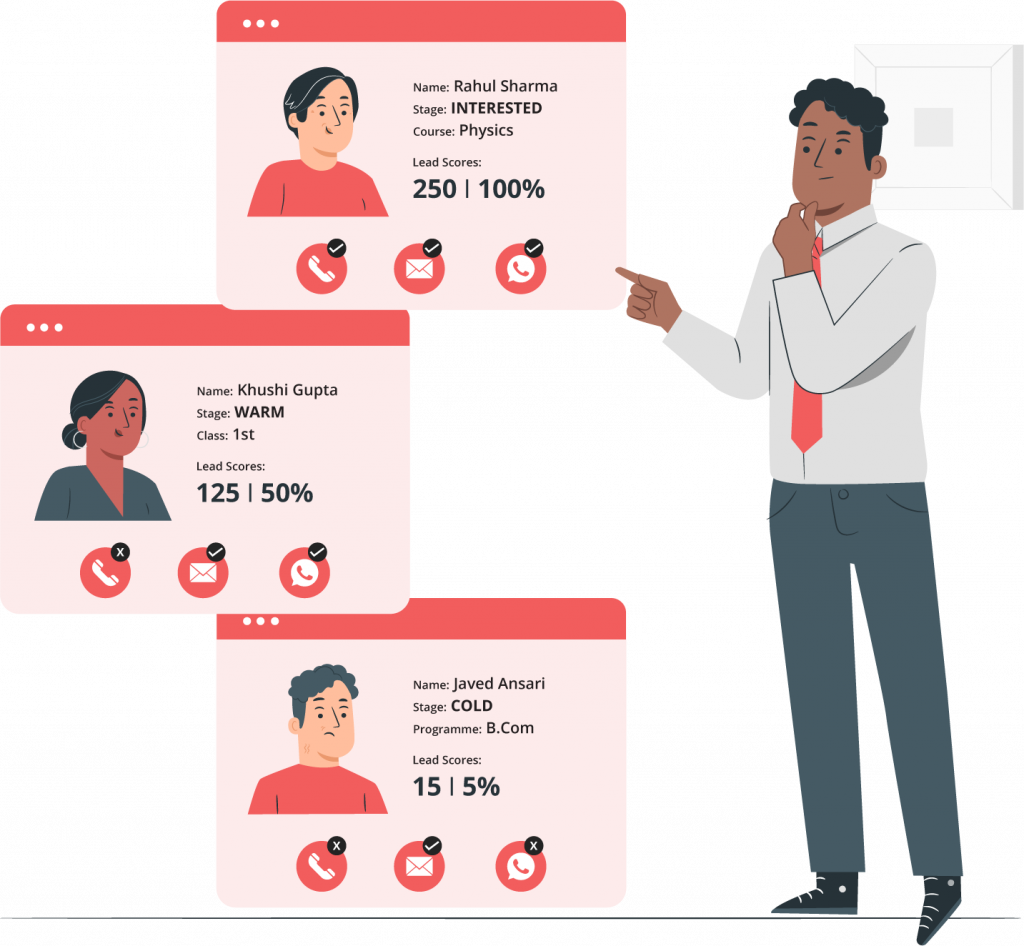 Setting up Lead Scoring
Lead Scoring typically works by assigning a numerical value to leads based on a set of predefined criteria and here's how it is done exactly:
Define the criteria: The first step in lead scoring is to define the criteria that will be used to assign a score to each lead. This typically includes demographic information, such as job title or industry, as well as behavioral data, such as website visits or engagement with email campaigns.

Assign a value to each criterion: Next, a value is assigned to each criterion based on its perceived importance. For example, a lead's engagement might be assigned a higher value in a educational organization's CRM.

Score the leads: Once the criteria and values have been defined, leads can be scored by adding up the values of each criterion that they meet.

Prioritize the leads: Leads can then be prioritized based on their score, with the highest-scoring leads considered the most promising.

Regularly review and adjust: Lead scoring is not a one-time process, it should be regularly reviewed and adjusted based on the changing business needs, and the performance of the leads on the scoring system.

Automation: Lead scoring can be automated using marketing automation software or CRM system, which will help to track leads behavior, and score them automatically.
While this is how lead scoring works in most CRMs, Meritto's purpose-built Education CRM for educational organizations goes a step further and allows you to keep a track of the Lead Strength, an industry-first feature, that shares the relative intent of the prospect compared to the pool of enquiries so you know whom to reach out first.
Leveraging Lead Scores to Enrol More
Now that you know what a lead score is and how it is configured, here's how it can benefit educational organisations:
Prioritizing enrolment efforts: Lead scoring can help educational institutions prioritize which prospective students to follow up with first, based on their likelihood of enrolling.

Improving targeting: Lead scoring can help institutions identify the characteristics and behaviors of the students most likely to enroll, allowing them to create more targeted recruitment campaigns.

Measuring lead quality: Lead scoring can also be used to measure the quality of leads generated by different recruitment campaigns or channels, helping institutions optimize their lead generation efforts.

Forecasting Enrollments: Lead scoring can be used for forecasting enrollment for the upcoming semester or year.

Identifying at-risk students: Lead scoring can be used to identify students who are at risk of dropping out, allowing institutions to intervene and provide support.

Better allocation of resources: Lead scoring can help educational institutions allocate resources more effectively by focusing on the most promising leads, rather than wasting time and resources on leads that are unlikely to convert.
So overall, a lead score can help educational organizations prioritize and identify which of their prospective students are most likely to convert and enroll. However, lead scoring or nurturing alone wouldn't help make an impact if it's not used in sync with a Campaign Management and Marketing Automation tool that Meritto's Education CRM provides altogether.