Welcome to the insightful blog by Meritto (formerly NoPaperForms), where we explore the vast and rapidly expanding field of education technology, also known as EdTech. The field of education technology, or EdTech, is enormous and expanding quickly. In 2020, the market for EdTech was estimated to be worth $89.49 billion, and Marketing Automation has played a vital role in the growth of such businesses.
The COVID pandemic, for example, propelled a market that was already hot for integrating technology into the classroom. The fact that educational institutions are lowering entry barriers is advantageous to EdTech companies, but it also means that there will be more rivalry as a result.
In this blog, we will delve into the pivotal role of Marketing Automation in EdTech. By leveraging automated marketing strategies, EdTech businesses can effectively navigate the landscape, engage their target audience, and gain a competitive edge. Join us as we explore innovative approaches, share practical insights, and empower you with the knowledge to thrive in the evolving world of EdTech. Let's unlock the full potential of Marketing Automation and pave the way for success in the EdTech industry.
What is Marketing Automation?
Marketing Automation refers to the use of software and technology to automate and streamline marketing tasks and workflows. The goal of marketing automation is to help businesses improve the efficiency and effectiveness of their marketing efforts, by automating repetitive tasks and providing insights that can help them make data-driven decisions.
It is an important tool for businesses because it can help increase efficiency, improve targeting, and drive better results from marketing efforts.
Reasons why Marketing Automation is integral
Increased efficiency: Marketing automation can automate repetitive tasks such as data entry, lead tracking, and email follow-up, freeing up enrolment marketers to focus on more high-value activities such as creating and optimizing campaigns.
Improved targeting: It can help EdTech companies identify the characteristics and behaviors of their most valuable leads, allowing them to create more targeted marketing campaigns.
Measuring performance: Marketing automation provides detailed reporting and analytics on marketing performance, so one can track progress and make data-driven decisions.
Personalisation: Marketing automation can help personalise communications with customers based on their behaviour, course interests and needs.

Here's a visual representation of how Meritto's (formerly NoPaperForms) allows sales reps and academic counselors to personalise their communications: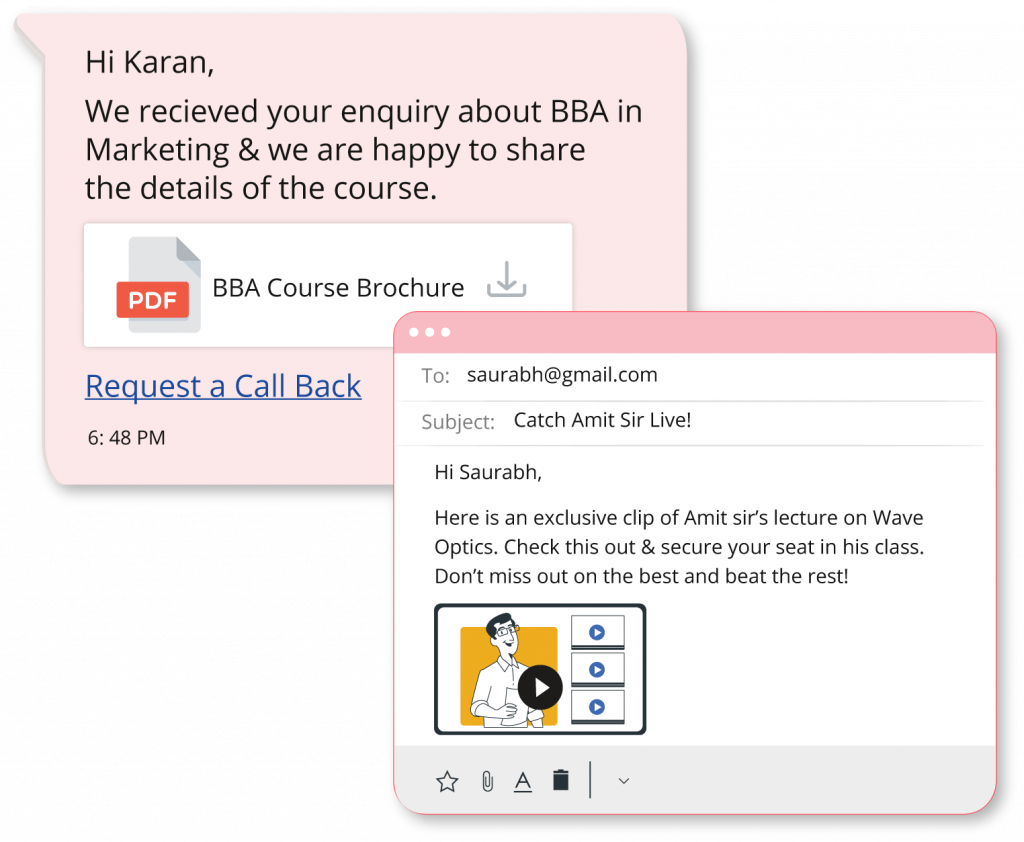 Drip Marketing Workflows: You can automate engaging interactions with your prospective customers by sending out a constant stream of marketing emails, SMSes, and WhatsApp messages.
Using a simple drip marketing workflow builder, customise your communication along the enquiry-to-enrolment journey based on the stage and activity of a prospect. Know more about drip marketing workflows
Nurture Whatsapp Business API: WhatsApp Business API offers prospective learners and students a completely immersive experience that increases brand recall more than any other channel. Rich media messaging, broadcast personalisation, and an open rate of over 98% are just a few of its features which help you take your communications one step further.
Know more about WhatsApp Business API here.
Better ROI: By automating repetitive tasks and targeting the most promising leads, marketing automation can help achieve a better return on investment (ROI) from marketing efforts.
Scalability: Marketing automation software can handle large volumes of leads and learners, and can scale as the business grows.
Some examples of tasks that can be automated with a Marketing Automation Software include:
Email marketing: automatically sending personalised emails to prospective learners based on their behaviour or actions
Lead generation: automatically generating leads from website visitors
Lead scoring: automatically assigning scores to leads based on their behaviour or actions
Lead nurturing: automatically sending targeted messages to leads based on their behaviour or actions
Social media management: automatically scheduling and publishing posts to social media channels
Reporting and analytics: automatically generating reports and analyzing data to identify trends and areas for improvement
Integrate Marketing Automation into a CRM
You can also integrate marketing automation with CRM and Sales automation software, to provide a complete view of the customer journey and to effectively align the sales and marketing efforts. Most industries could benefit from Marketing automation and Ed-tech companies are no different. Here's what it could for you:
Improved lead generation: Ed-tech companies generate more leads by automating tasks such as lead generation, lead scoring, and lead nurturing. It can increase the chances of converting those leads into paying customers.

Increased efficiency: By automating tasks such as data entry and report generation, marketing automation software can help ed-tech companies allocate resources more efficiently and focus on more important aspects of the enrollment process.

Improved forecasting: By providing ed-tech companies with tools for tracking the progress of leads through the enrolment pipeline, marketing automation software can help them make data-driven decisions about how to allocate resources and improve their lead conversion rates.

Better reporting: Marketing automation can provide your business with detailed reports on the enrolment process and help them identify areas for improvement, which can help them make data-driven decisions to increase enrolment numbers.

Personalised communication: By using marketing automation software, ed-tech companies can deliver personalised communication to leads and students based on their behaviour or actions, which can improve the chances of converting them into paying students.
Final Word
As more people in the workforce want to upskill themselves, there has been an increase in the promotion of skill development; consequently, digitalisation will play a crucial role in delivering flexibility in the education space by not limiting users to any certain geographical area.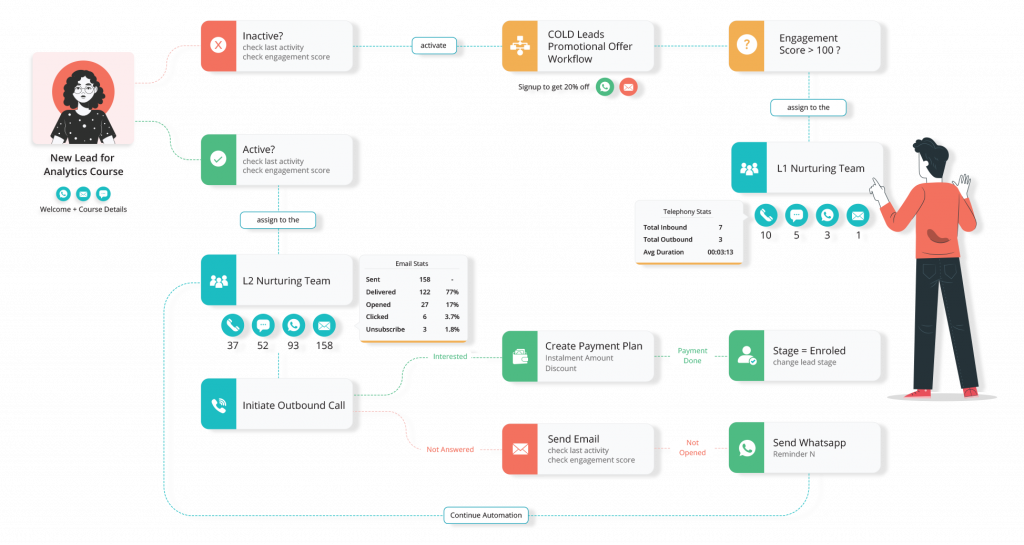 There a lot of EdTech companies that rely on Meritto's B2C EdTech CRM, which is one of the top sales and marketing tools to help manage and scale enrolments. It helps Ed-Tech companies create Powerful Automation Flows & run your conversions on auto-pilot!