Meritto (formerly NoPaperForms) understands the challenges you face with manual data entry and the limitations it places on your staff's productivity. Your staff, though, might still be entering tones of data onto Excel sheets. A mind-numbing, never-ending activity that keeps them from honing their ability in areas that actually count. That's why we've created this blog to help you explore the power of Workflow Automation and how it can revolutionize your processes. Our aim is to provide you with valuable insights and practical guidance on implementing automation solutions that are easy to adopt, cost-effective, and time-saving. Keep reading to discover how you can free up your team's time and unlock their true potential.
What is Workflow Automation
Workflow automation is a powerful tool that can help educational organisations to streamline their operations, improve efficiency, and achieve better results. By automating repetitive tasks, workflow automation can free up staff to focus on more high-value activities such as counselling and enrolment.
One of the most significant applications of workflow automation in the education industry is in the enrolment process. By automating repetitive tasks such as data entry, lead tracking, and communication with prospective students, workflow automation can help institutions to manage leads more effectively, and increase the chances of converting them.
While most CRMs in the market allow you to automate workflows to some or the other extent, Meritto' (formerly NoPaperForms) purpose-built Education CRM empowers educational organisations to create workflow automation suited to their admission, marketing, and counselling or sales teams.

Benefits of Workflow Automation in the Education Industry
Increased efficiency: By automating repetitive tasks such as data entry, lead tracking, and communication with students, workflow automation can help educational institutions to manage their operations more effectively and increase efficiency.
Improved targeting: Workflow automation can help organisation identify the characteristics and behaviours of their most valuable leads and students, allowing them to create more targeted recruitment campaigns and improve student engagement.



Measuring performance: Provides detailed reporting and analytics on student engagement, performance, and recruitment performance, so institutions can track progress and make data-driven decisions.
Personalisation: Allows organisation to personalise their communication and support with students, based on their behavior, interests, and needs.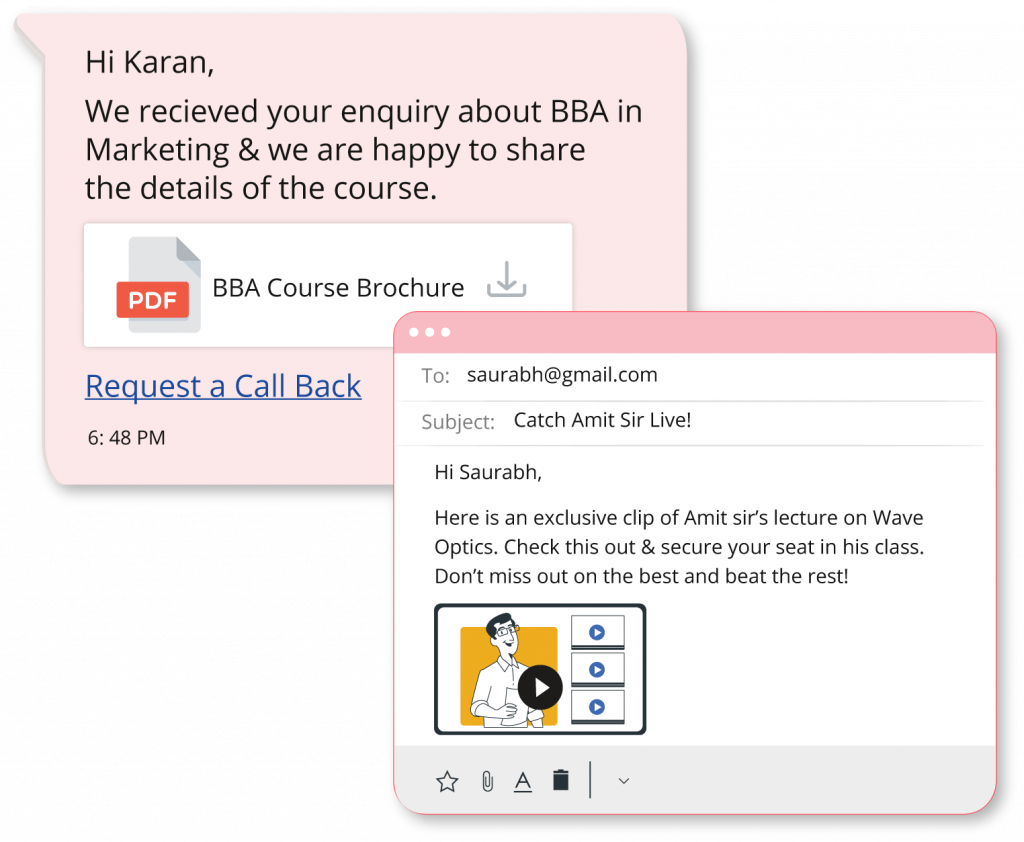 Lead nurturing: Enables you to manage and nurture leads, by tracking their engagement with the institution, and providing personalised communication based on their interests and needs.
Improved collaboration: Workflow automation often includes built-in communication and collaboration tools, allowing staff and faculty to share information, assign tasks, and work together more effectivel
Identifying at-risk students: It can be used to identify students who are at risk of dropping out, allowing institutions to intervene and provide support.
Streamlining financial aid process: By automating the collection of financial aid applications, workflow automation can help institutions to process applications more quickly and accurately, and ensure that students receive the financial assistance they need.
Scalability: You can handle large volume of leads and students, and can scale as the institution grows.
Integration: Allows you to integrated with other educational tools such as Learning management systems, analytics and assessment tools to provide a more holistic view of the student journey.
What can you achieve with workflow automation?
To expedite work for all of your departments, automation can be developed and set off from a variety of touchpoints. Workflow automation works best when workflows are totally customised or made specifically for your company.
Ensure a smooth and successful workflow automation
Starting workflow automation in the education industry can be a complex process, but by following these steps, you can ensure a smooth implementation:
Identify the processes that need automation: The first step in implementing workflow automation is to identify the processes that would benefit the most from automation. These could include recruitment, student data management, communication and collaboration, financial aid process, and more.
Assess your current infrastructure: Assess your current technology infrastructure to ensure that it can support the implementation of workflow automation. This includes assessing your current hardware and software, and determining if any upgrades or changes are necessary.
Choose a workflow automation software: Choose a workflow automation software that is specific to the education industry and that can integrate with your current systems. Research different software options, and choose one that fits your needs and budget.
Train your staff: Once you have chosen a workflow automation software, train your staff on how to use it. Make sure that everyone who will be using the software understands how to navigate it and how to set up automations.
Set up automations: Set up the automations for the processes that you have identified. This may include automating data entry, lead tracking, and communication with students.
Test and evaluate: Test the automations to ensure that they are working correctly and that they are producing the desired results. Regularly evaluate the results and make adjustments as needed.
Scale and expand: Once you have implemented workflow automation for one or two processes, you can start scaling and expanding it to other processes, as well as to other areas of your institution.
Continuously improve: Continuously review and improve your automation process, look for new ways to automate repetitive tasks, and adapt to new technologies as they become available.
A CRM or a separate piece of software can both contain workflow automation tools. Both solutions produce the desired outcomes, but a CRM is just more practical because it gives you access to all the information and updates on a single, integrated platform.
Over 1000 educational organizations have used Meritto's Education CRM to automate their workflows for more efficient business operations and better results. Organizations can manage typical team operations like lead distribution, prospect nurturing, and team approvals Meritto features purpose-built for education has paved the way for them.
Switch to Meritto (formerly NoPaperForms) if you're looking for efficient ways to reduce manual effort and automate business procedures!