A CRM (Customer Relationship Management) system can help a training institute manage and organise information about its enroled as well as prospective students, including contact information, class schedules, payment history, progress reports, and much more. This can help the centre better understand the needs of its prospects and more effectively market its services. Additionally, a CRM can automate many administrative tasks, such as lead centralisation, nurturing, communicating with prospects, sending out reminders and follow-up messages, which can save time and increase efficiency. Overall, using CRM training institutes improves customer service and increases revenue.
What are the Features of CRM for Training Institute?
Owing to its ease of use and productivity enhancement, majority of leaders in training institutes/ coaching centres are now switching to CRM. To enable one with the above-mentioned features and ease, a CRM for training institutes must include the following features:

Lead Management: This feature allows the centre to track and organise leads, and to follow up with potential students. Know more about Lead Management
Enrolment Management: With this feature, the enrolment/ sales heads can manage student enrolments, including tracking payments and class schedules.
Course Management: One of the most essential aspects of a CRM for training institutes is course management which allows the sales representatives to create and manage its course offerings and upselling opportunities.
Student Management: This feature allows you to track student progress, manage student records, share important updates, and communicate with students. Know more about student management
Marketing Automation: CRMs built with marketing automation tools allow you to automate the marketing efforts, such as email campaigns and social media marketing; and run your enrolments on auto-pilot. Know more about Marketing Automation
Reporting and Analytics: This feature allows the centre to track important metrics such as enrolment numbers, student engagement, and revenue; helping you make data-driven decisions. Know more about Reports & Analytics
Mobile Access: Having the ability to do all this through a mobile app makes day-to-day takes super efficient for the teams. Know more about Mobile CRM
Integrations: This feature allows the centre to integrate with other software such as email, social media, and payment gateways. Know more about Integration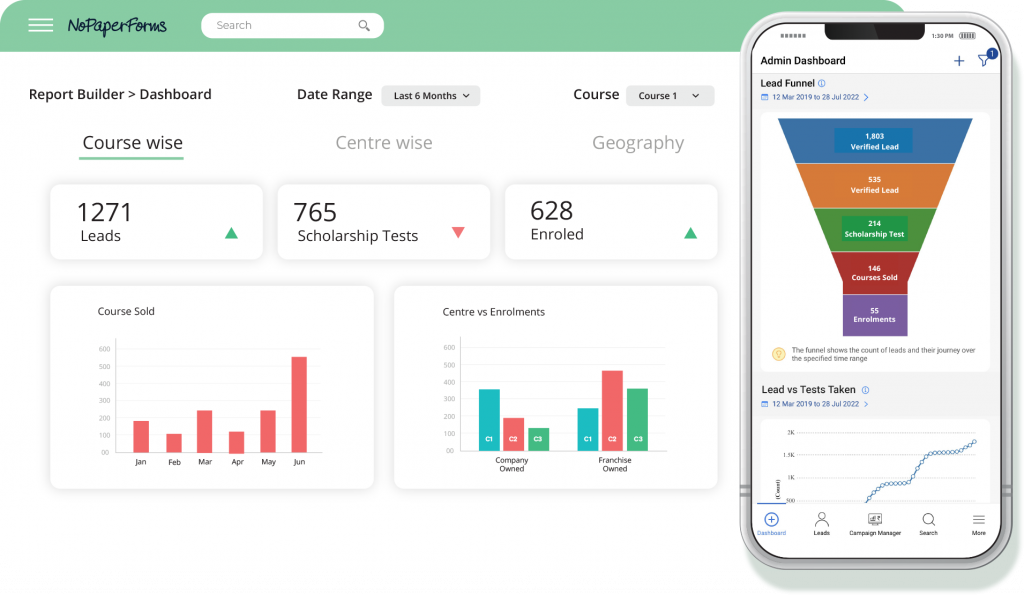 How to Choose the Right CRM?
The decision makers of educational organisations generally go for generic sales B2B CRMs because of their vast availability in the market. Instead, while selecting the right CRM for training institutes, one should explore options that are purpose-built for them B2C training institute CRM. Here are several factors to consider while choosing a CRM:

Scalability: Choose a CRM that can grow with your centre as your student base expands.
Customisation: Ensure that CRM can be customised to fit the unique needs of your centre, such as tracking specific data points or integrating with other systems.
Ease of Use: A user-friendly and easy-to-navigate CRM will ease the process for you and your staff can quickly and efficiently manage leads, enrollments/ conversions, and class schedules.
Reporting and Analytics: Look for a CRM that offers robust reporting and analytics capabilities, so that you can track key metrics such as enrollment numbers, student engagement, team/ individual performance, marketing campaigns and revenue.
Mobile Access: Look for a CRM that offers mobile access so that your staff can manage leads and students from anywhere.
Integration: Check if the CRM can be integrated with other software such as email, social media, and payment gateways.
Automation: Look for a CRM for training institutes that offer automation features such as sending automated reminders, marketing automation, creating invoices, tracking payments, etc.
Support and Training: Opt for a CRM that offers comprehensive support and training to ensure that your staff can make the most of the software.
Cost: Compare pricing and features of different CRM options to find the one that fits within your budget.
Attract, Engage, & Enrol more with Meritto's (formerly NoPaperForms) Training Institutes CRM
With an industry-first and purpose-built B2C CRM for training institutes, you get to unlock the potential of your group of training institutions/ coaching centres with deep visibility around the workings of each branch. Simply, unify all your teams across multiple centres to centralize data, nurture students for conversion, upsell, and retention with simple and intuitive easy-to-use tools. Built to support 360-degree communication and nurturing, the Meritto's CRM ensure low drop-off rates, improved student retention, and high conversion rates by providing an exceptional experience that amplifies your brand.