Lead Conversion in the education industry refers to the process of turning prospective students into enroled students. Here are a few strategies that can be used to convert leads in the education industry to convert leads quickly:
Personalised communication: Use the information collected during the lead tracking process to personalise communications with prospective students. This can include sending them information about programs and resources that align with their interests and goals.
Follow-up and follow-through: Follow up with prospective students regularly to answer their questions and address any concerns they may have. Make sure to follow through on any promises or commitments made during the enrollment process.
Provide clear next steps: Clearly communicate the next steps in the enrollment process to prospective students, and provide them with the information and resources they need to take those steps.
Offer incentives: Offer incentives such as scholarships, grants or discounts to prospective students to encourage them to enroll.
Provide a positive student experience: Use the data and feedback from enrolled students to improve the overall student experience, this will help to create positive word-of-mouth and encourage prospective students to enrol.
Leverage technology: Utilise technology such as virtual tours, webinars and online applications to make the enrollment process more convenient and accessible for prospective students.
Seek feedback: Ask for feedback from prospective students throughout the enrollment process and use that feedback to improve the process and make it more effective.
The role of a CRM in converting leads
Meritto (formerly NoPaperForms) understands the importance of CRM software for educational organizations seeking to accelerate lead conversion. In this blog, our objective is to provide valuable insights and guidance on leveraging CRM to its fullest potential. By using a CRM software, you gain the ability to effectively manage and organize leads, track their progression through the enrollment funnel, and nurture them until they are ready to pursue a course or program.
Join us as we explore the transformative power of CRM in identifying the most promising leads and prioritizing them for timely follow-up, ultimately leading to significant scaling of lead conversion rates. Additionally, we will delve into how CRM enables the automation of repetitive tasks and streamlines the sales process as follows:
Qualify leads:
One of the keys to converting leads quickly is to qualify them. Not all leads are created equal, so it's essential to determine which leads are most likely to convert. This can be done by using lead scoring, which assigns a score to each lead based on their engagement level and readiness to buy. This can help you prioritize your efforts and focus on the leads that are most likely to convert.

Use a multi-channel approach:
Another key to converting leads quickly is to use a multi-channel approach. This means using a variety of channels to reach out to leads, such as email, phone, and social media. This can help increase your chances of reaching leads and engaging with them.



Nurture leads:
lead nurturing is an important step in the process of converting them quickly. This means keeping in touch with leads and providing them with valuable information and resources. This can help build trust with leads and make them more likely to convert.

Be responsive:
Responding to leads in a timely manner is crucial for converting them quickly. This means answering questions and addressing concerns in a timely manner. It also means following up with leads promptly and keeping them informed of your progress.

Optimize for SEO:
Optimizing your website and content for search engines can help increase visibility and drive more traffic to your site. Use keywords relevant to your institution or course in your website and blog content, meta tags, and image alt tags.

Make sure your website is mobile-friendly and has a fast loading speed. This can help improve your search engine rankings and bring more traffic to your site.

Use Targeted Marketing Campaigns:
Using targeted marketing campaigns, you can increase the chances of converting leads quickly. This means segmenting your audience and creating targeted campaigns that speak directly to their needs and interests. This can help increase engagement and make leads more likely to convert.
For example, Meritto's (formerly NoPaperForms) Education CRM Software allows counsellors and sales reps to automate engaging experiences for their potential prospects with a steady stream of marketing emails, SMSes, and WhatsApp messages. It's where you could target your communication throughout the enquiry-to-enrolment journey based on the stage and activity of a prospect with an intuitive drip marketing workflow builder.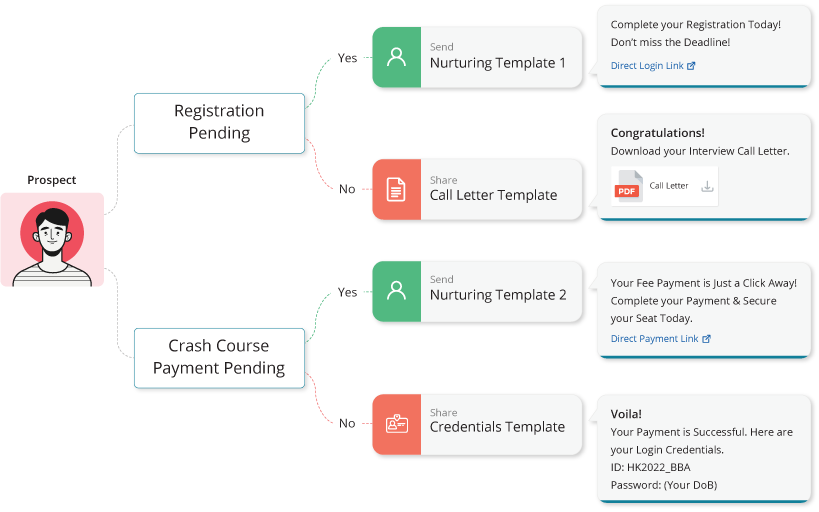 Remember that converting leads into enroled students is a continuous process that requires adaptability, persistence and the ability to listen and respond to the needs of prospective students.
However, it requires a combination of different strategies which a CRM software can help you do as you manage and organize leads, track their progress through the enrolment funnel, and nurture them until they are ready to convert.