Getting leads into your funnel is indeed a significant challenge, but effectively managing and tracking those leads is equally crucial. Lead tracking allows your educational organization to monitor and analyze the progress of leads as they move through your sales funnel. Without proper lead tracking, you risk losing valuable opportunities and may struggle to understand the effectiveness of your marketing and sales efforts.
In this blog post, Meritto (formerly NoPaperForms) will delve into the importance of lead tracking for educational organizations. We will explore how implementing a robust lead tracking system can help you make informed decisions, identify bottlenecks in your sales process, and optimize your conversion rates. By rethinking your strategy and incorporating lead tracking practices, you can ensure that no lead falls through the cracks, and you maximize your chances of converting leads into enrolled students. Join us as we dive into the world of lead tracking and discover how it can revolutionize your educational organization's success.
Understanding Lead Tracking
Lead tracking, an important feature of a Lead Management system, is the process of monitoring and managing the progress of potential customers, also known as leads, through the sales funnel. This can include capturing lead information, recording interactions and communications, and updating lead statuses to indicate where they are in the sales process. The goal of lead tracking is to identify qualified leads and move them closer to becoming paying customers.
In the context of the education industry, lead tracking refers to the process of monitoring and managing the progress of prospective students through the enrollment funnel. This can include capturing information about prospective students, such as their contact information and academic background, recording interactions and communications with them, and updating their status to indicate where they are in the enrollment process. The goal of lead tracking in education is to identify qualified prospective students and move them closer to enrolling in a program.
How does a Lead Tracker work?
In a Education CRM software, lead tracking allows educational organisations to track the progress of leads from initial contact to conversion, and to identify which marketing and sales tactics are most effective in getting the same.
A CRM system typically includes the following steps for lead tracking:
Lead Capture: Leads are captured through various sources such as website forms, social media, or trade shows. This information is then entered into the CRM system.

Lead Scoring: The CRM system assigns a score to each lead based on factors such as their interest level, demographics, and behavior. This helps sales reps and counselors prioritise which leads to contact first.

Lead Nurturing: The CRM system allows you to automate emails, SMS, or other communications to leads based on their score and behaviour. This helps keep leads engaged and interested in the product or service. Know more about Lead Nurturing here ->

Lead Conversion: When a lead is ready to mature, a CRM system can help counselors and sales rep convert it into a paying learner or student. One can also use the CRM to track the lead's behaviour and interactions with the educational organisation, which can be used to inform future enrolment strategies.

Reports and Analytics: A CRM system also provides valuable insights into the performance of different marketing and sales tactics, which can be used to optimise lead generation and conversion. Know more about Reports & Analytics->
Value of CRM for Lead Tracking
Lead tracking in a CRM is an essential tool for educational organisations of all kinds and sizes. It allows them to streamline their sales process, improve their lead-to-enrolment conversion rate, and gain valuable insights into their sales and counselor performance.
Moreover, lead tracking can also be used to create targeted marketing campaigns and personalise nurturing efforts. By segmenting leads, educational organisations can ensure that they are communicating with the right prospective students at the right time, which can help them enrol more.
While most CRMs have limited features around Lead Tracking, Meritto' (formerly NoPaperForms) Lead Management Software goes a step beyond with an industry-first, non-editable source attribution that brings complete transparency and accountability to your admission process.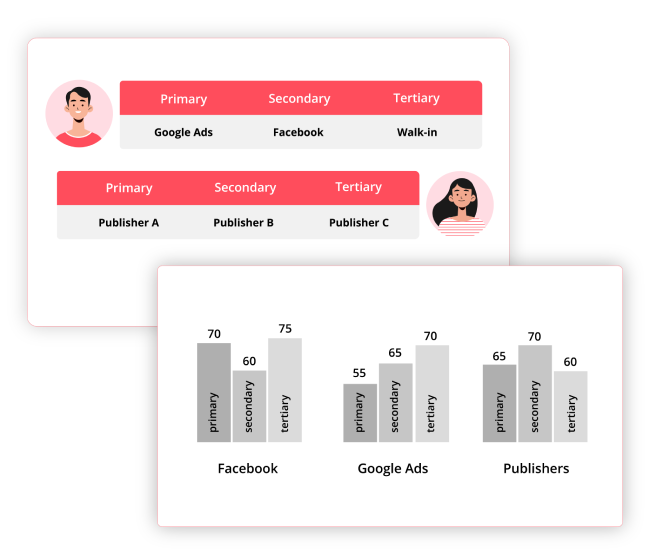 It enables you to track multiple source levels without uploading the lead/ enquiry multiple times. This eliminates lead duplicity completely while attributing dynamically as per Primary, Secondary, and Tertiary sources of your leads/ enquiries. The right source attribution helps you identify your top performing channels and optimise your marketing ROI.
Track your Leads with Meritto's (formerly NoPaperForms) Education CRM
If your educational organization, whether an Ed-Tech, School or Higher-ed, isn't currently tracking leads, you should at the very least think about the benefits it could provide you and your teams. Since the tracking process is automated and gives them more time to sell and convert, your sales and counselling teams will have the time to convert faster and better. And Meritto's CRM software for educational organizations does exactly that, so why wait?