At Meritto (formerly NoPaperForms), we understand the importance of effective lead management for businesses. Lead Management Software, commonly known as LMS, is a powerful tool that enables businesses to centralize, track, and manage their potential customers, also known as leads. By utilizing LMS, businesses can consolidate lead information, including contact details and interests, in a centralized platform.
This allows teams to access a single source of truth for all lead information, streamline communication and collaboration across departments, and make data-driven decisions about how to best engage with leads. Additionally, it can automate tasks such as email campaigns, so that sales and marketing teams can focus on more high-value activities. Currently, Lead Management Software is used by a wide range of businesses, organizations, and people including:
Sales teams in companies of all sizes and industries use the software to track and manage leads as they move through the conversion funnel
Marketing teams use the software to track the effectiveness of their campaigns and identify which leads are most likely to convert into customers
Small business owners and entrepreneurs, who use the software to manage and track leads for their own businesses
LMS for Educational Organisations
Lead management software plays a crucial role in educational organisations as it streamlines the very first step of the entire enrolment journey with the help of lead centralisation. Educational organisations often receive tonnes of leads/ enquires and thus, have a pool of it to work on.
Here's how LMS empower them:
Tracking and Organizing Leads: LMS allows educational institutions to track and organise leads, including student and parent contact information, communication history, and lead status. This helps institutions to keep track of leads and prioritize their follow-up efforts.
While most LMS offer this solution, Meritto's (formerly NoPaperForms) Lead Management feature goes a step beyond by empowering educational organisations to nail every opportunity and eliminate the industry-wide problem of lead leakage and duplicity.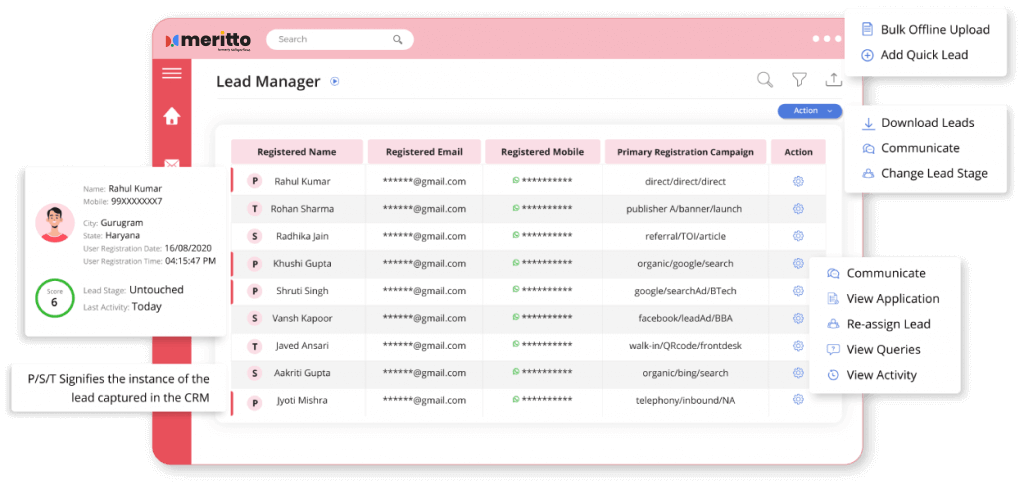 Segmentation and Personalisation: It is crucial to segment leads based on different criteria, such as demographics or interests for effective management and nurturing. This allows institutions to personalise their communication and marketing efforts, which can increase engagement and conversion rates.
Automation: Lead management software can automate certain tasks such as email campaigns, event invitations, and reminders, which enhances productivity at the individual as well as team level.

Analytics and Reporting: One of the most essential features of LMS, allows the admission heads/ sales heads to understand which marketing campaigns are working best, and make data-driven decisions to improve their lead generation.

Improved Communication: Communicating with prospects/ candidates is crucial to educational institutions. It enables them to communicate effectively with leads and track the communication history, improving the nurturing process.
Choosing the right LMS
Owing to the vast availability of the LMS in the market, it is essential to wisely choose the one which is exclusively built for educational institutions/ or organisations. Hence, choosing a lead management software can be a complex process, but by following these steps, you can ensure that you choose a software that meets your needs:
Research: To begin with how to find the best LMS, research different lead management software options, and compare their features and pricing. Pay attention to the software that is specific to the education industry.
Assess your Needs: Next step in choosing an LMS is to assess your institution's needs. This includes identifying the unique processes involved in the admission/ enrolment/ conversion journey of your educational organisation. And making sure that LMS addresses them.
Integration Capabilities: LMS' capabilities to integrate with other tools like CRM, email marketing tools, works like icing on the cake! This will ensure that the data can be shared and used effectively across the institution.
Check for Scalability: An LMS should have a feature set to handle the fluctuating volume of leads that you receive in the future to scale as your institution growth.
Evaluate Ease of Use: Make sure that the software is user-friendly and easy to use for all members of the team, and that it includes support from the provider.
Consider the Level of Reporting and Analytics: Technologically advanced LMS now provide detailed reporting and analytics to track progress and make data-driven decisions.
Check for Security Features: Make sure that the software includes security features such as data encryption and user access controls to protect sensitive data.
The above-mentioned generic features can be found in a variety of Lead Management Systems in the market but it is important you choose a purpose-built solution like Meritto's (formerly NoPaperForms) Education CRM which comes with an in-built LMS that empowers you to manage your leads and scale your enrolments!