Many educational organisations have a direct sales force or numerous employees dispersed throughout various offices in different regions of the nation or the globe. How do we organise this sizable workforce that is on the ground working? How can you reconcile the outcomes with the investment, or, even better, strive to alter current field plans? That's exactly where Field Force Management Software comes into the picture!
Keeping track of their activities, travel, meetings, and other details assists you in managing your complete field sales force. It makes your field sales team an effective unit and keeps you updated on their activity.
Field Force Management Software is a cloud-based solution that helps businesses manage their on-ground workforce. The software provides real-time visibility into the activities and productivity of field workers, making it easier for managers to plan, execute, and monitor field operations.
Need for Field Force Management Software
As organisations grow and expand their operations, managing a large field workforce can become a complex and time-consuming task. Field workers are often spread out over a large geographic area, making it difficult to track their activities and productivity. Field force management software is the straight answer to these problems, providing businesses with a centralised platform to manage their on-workforce and streamline operations.
Quick Read: Do educational institutions need Field Force Automation?
Important Features to keep in mind
Real-Time Visibility: Providing real-time visibility into the productivity of field workers, makes it easier for managers to execute field operations.
Scheduling and Dispatch: The software allows you to schedule and dispatch field workers to specific job sites or customer locations
Task Management: You can track the team's progress in real-time, and monitor performance from a single dashboard.
Mobile App: The solutions come with a mobile app for field workers, allowing the field workforce to access receive updates, and communicate.
Reporting and Analytics:

The software provides reporting and analytics capabilities, allowing managers to track key performance metrics, analyze trends, and make data-driven decisions to improve on-ground operations

.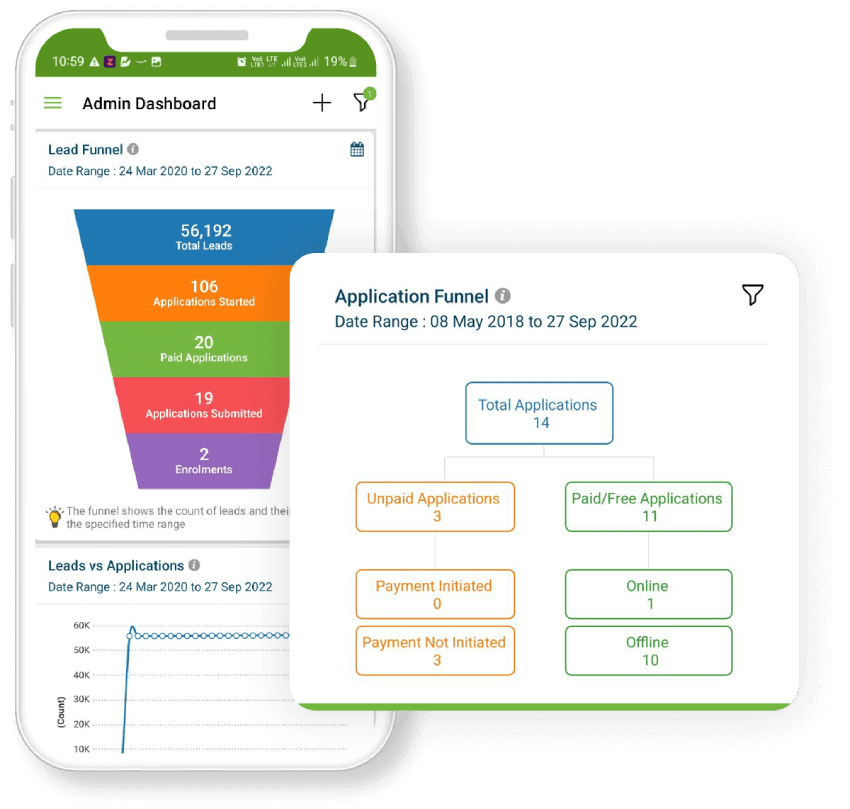 Benefits of Using Field Force Management Software
Using field force management software comes with its own set of benefits for all educational organizations. Not only does it help the teams to have a better connection being on a unified platform, it also equips them with greater visibility and transparency. Here are some of the major benefits of using FMS-
Mobility: From food delivery to shopping, everything has now come to our fingertips, and so is Field Force Management. Considered one of the most important benefits of FFMS, mobility helps one go beyond the 4-hour walls and receive real-time updates. Using FFMS, the on-field employees can update their status online, complete their tasks through mobile/ web and share updates. Similarly, the team heads can get all the latest updates without being physically present at the site.
Real-time Updates: One of the biggest challenges that come along while managing the field force is the delay in updates. Sales reps usually come back to the organization and then, share the overall updates on the leads acquired and deals closed. But with a Field Force Management Software, receiving real-time updates on factors like allocated tasks, check-in and check-out, and performance reports, etc., and stay updated with all the latest happenings.
Enhanced Flexibility and Efficiency: As you are connected with your on-ground team over mobile, it offers you tonnes of flexibility. With ease, you can simply resolve their queries, help them get started with a task, track their progress and position, allocate the tasks to-and-within teams, etc. This makes the team much more efficient and empowers them to get started with their daily tasks in just a matter of minutes.
Increased Productivity: As the FFMS brings in visibility and transparency, makes task allocation and updation easy, allows team leads to have 360-degree visibility of the teams, etc. productivity gets enhanced on individual as well as team level.
Bottomline
Field Force Management Software is an essential tool for businesses looking to streamline team operations and improve their productivity. From reducing admin costs, increasing production, to automating data integration through cloud servers, the software aids you in optimizing task allocation. The software provides control over production and sales through automated data collection, leading to a leaner and smarter company. 
If are you looking for such Software to solve your on-ground team issues, switch to Meritto (formerly NoPaperForms) today!