Overview
Sales process design in the education industry refers to the process of creating and implementing a sales strategy that is tailored to the unique needs and goals of educational institutions. This can include identifying key stages in the student journey, developing and implementing lead generation and qualification strategies, creating and implementing automated workflows, and analyzing sales performance data to optimize the entire enrolment process.
Creating a Sales Process Design
Some specific steps that may be involved in sales process design in the education industry include:
Defining the target audience: Identifying the type of students that the institution wants to attract, and understanding their needs, goals, and pain points.
Identifying key stages in the student journey: Understanding the steps that a student goes through from initial inquiry to enrollment, and creating a sales process that aligns with these stages.

While most CRMs allow you to do that, Meritto's (formerly NoPaperForms) Education CRM empowers users to get an in-depth summary of a lead or an inquiry at a glance. From their complete details including their profile, engagement score and strength, stage and disposition, to their activity timeline, communication/call logs, notes, and follow-ups, you get all the information you need to have a contextual follow-up discussion and nurture your leads efficiently to conversions.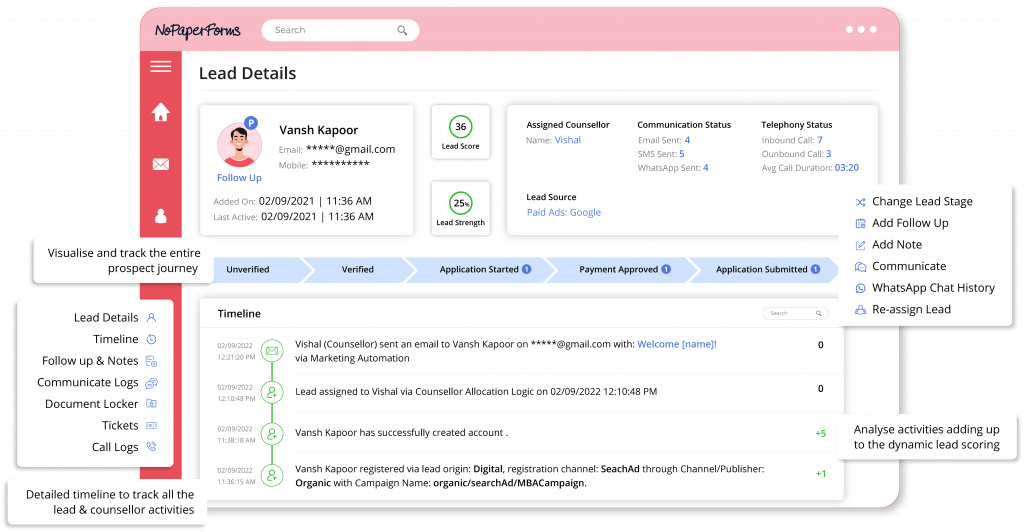 Developing lead generation strategies: Identifying the most effective ways to generate leads, such as through online advertising, social media, or events, and creating a strategy to generate leads.
Qualifying leads: Developing a process to qualify leads based on their level of interest and likelihood of converting into paying students.
Implementing automated sales workflows: Creating and implementing automated sales workflows that streamline and optimize the sales process, such as automated email campaigns and lead scoring.
Analyzing sales performance data: Using data analysis tools to track key performance indicators such as conversion rates and pipeline, and using this information to optimize the sales process and improve results.
Role of a Education CRM in Sales Process Design
A CRM (customer relationship management) system can help create a sales process design in the education industry in several ways:
Lead Management: A CRM system can help to manage leads by tracking and organizing potential student information in one central location. This makes it easier to prioritize and follow up with leads, and increases the chances of converting leads into paying students.
Marketing Automation: A CRM system can automate many of the repetitive tasks that are associated with lead management and sales, such as sending follow-up emails and scheduling appointments. This frees up time for sales reps to focus on more high-value activities like building relationships with potential students and closing deals.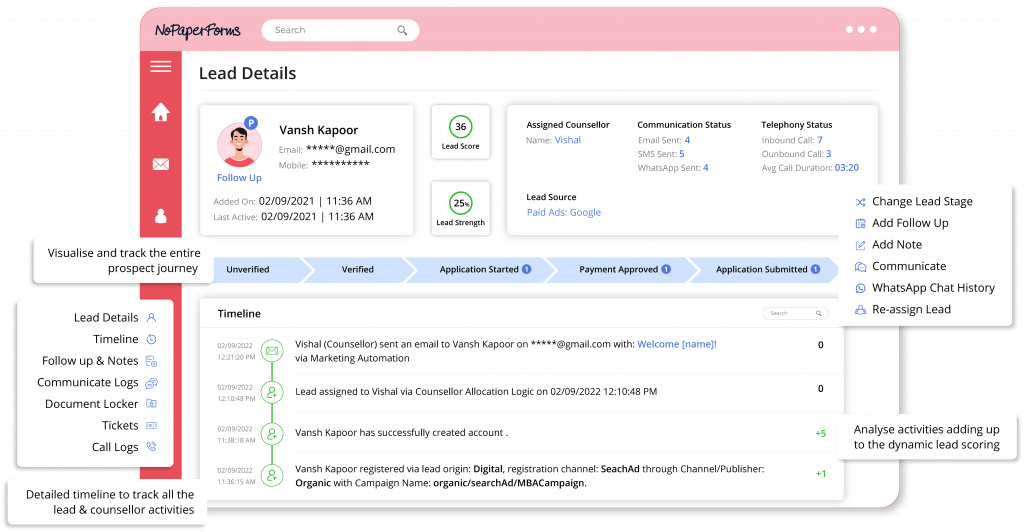 For example, Meritto' Automation feature allows users to segment leads/inquiries and automate personalized engagement on multiple channels like Email, SMS, or WhatsApp to increase engagement. You can automate targeted communication based on the stage of an applicant, their profile, disposition, activity, and numerous other parameters and boost your conversions.
Data Analysis: A CRM system can track and analyze key performance indicators such as conversion rates, pipeline, and revenue. This information can be used to optimize sales and marketing efforts and make data-driven decisions.
Collaboration: A CRM system allows different teams to collaborate and share information seamlessly. This ensures that all teams have access to the same information and can work together to achieve the institution's sales targets.
Customization: A CRM system can be customized to fit the specific needs of the educational institution, ensuring that all relevant information is captured and that the system is easy to use.
A well-designed sales process in the education industry can help institutions to reach and convert potential students, improve the efficiency of their sales process, and achieve their enrollment goals.
However, it is a purpose-built CRM for the education industry that can help realize these goals and Meritto (formerly NoPaperForms) offers exactly that. Whether you're a School, Higher-ed, coaching or training institution, or an Ed-tech company, there's a lot for you to leverage and scale your enrolments.