Why is Lead Nurturing important for
Educational Organisations?
Typically, educational organisations receive leads/ enquiries from multiple sources for every course/class/program. Due to limited resources, their nurturing efforts are mostly limited to bulk emails, SMSes, and one-on-one calls. This results in poor and delayed engagement for many prospects, impacting lead acquisition costs, marketing ROIs, brand reputation, and ultimately, enrolments.
Meritto (formerly NoPaperForms) purpose built Education CRM enables you to assign the right prospect to the right admissions counsellors/sales representatives based on signals and their interest area – either in a round robin manner or dynamically, based on your preferred custom logic. This can be done manually or completely automated at both, branch level and group level. Intelligent nudges built into the platform decrease your response time and ensure that your team intervenes, at the right time. In brief, it optimises all your nurturing efforts to maximise engagement that ultimately improves your conversions, faster!
Deliver right content at the right time through the right channel
Engage your prospects across multiple touchpoints that lead to faster and increased conversions.
Calls
Call leads directly through the web or via app, with a single click.
Emails
Create and send personalised emails quickly with an advanced drag-and-drop email builder.
WhatsApp Business API
Engage deeply with rich media messaging through your verified WhatsApp account.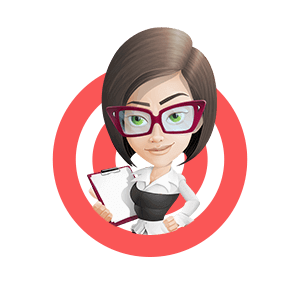 Niaa - The Education Chatbot
Nurture prospects 24*7*365 with an AI-based conversational chatbot on Web and WhatsApp.
SMS
Broadcast personalised, multilingual text messages to your leads.

Remarketing Connectors
Retarget your candidates with relevant ads to convert faster.
Access One View Lead Profile
Get a quick summary of a lead or an enquiry at a glance. From their complete details including their profile, engagement score and strength, stage and disposition, to their activity timeline, communication/call logs, notes and follow-ups, get all the information you need to have a contextual follow-up discussion and nurture your leads efficiently to conversions.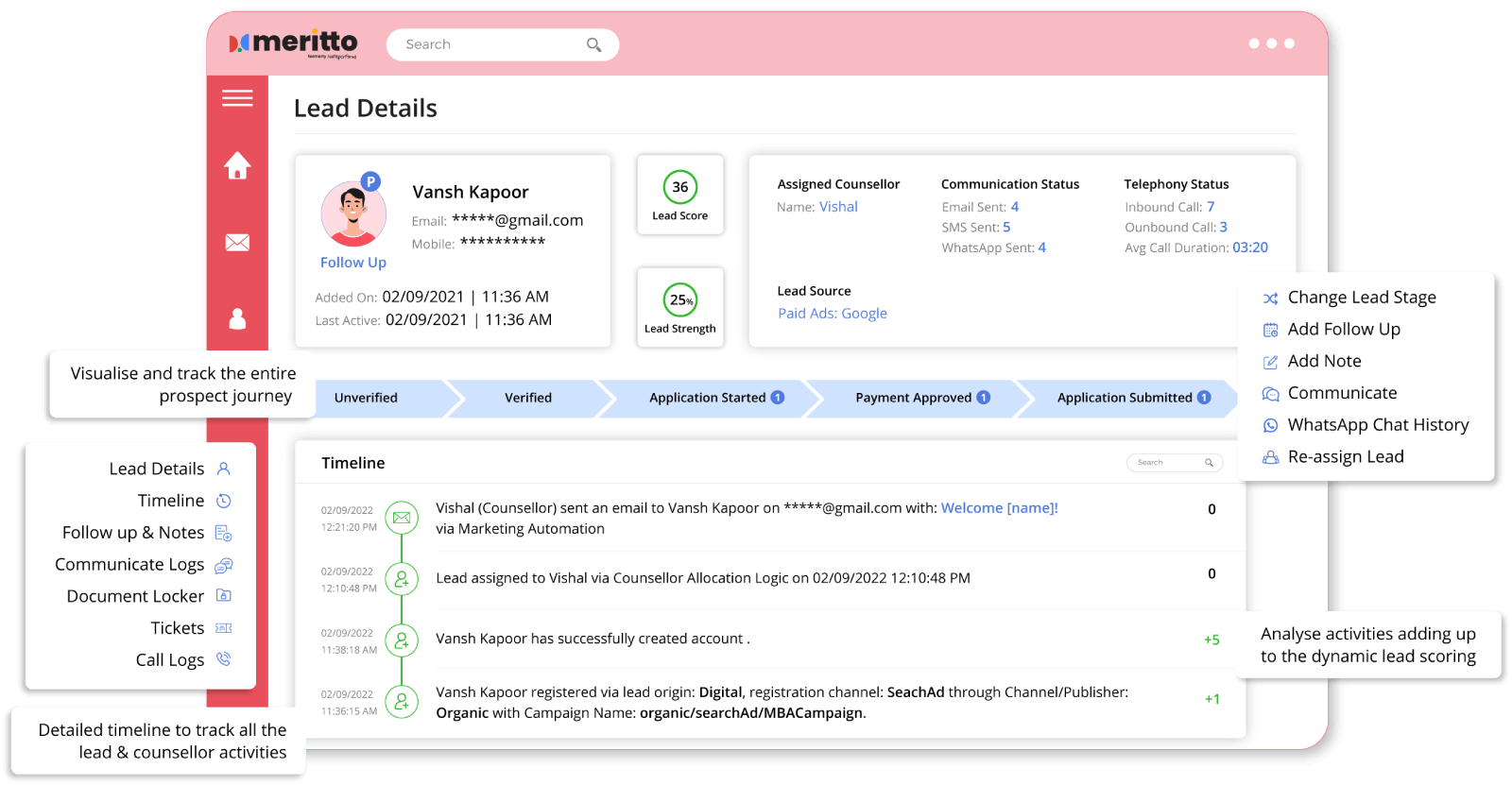 Never miss out on a lead through Dynamic Lead Allocation
Ensure no missed opportunities by allocating the right lead to the right counsellors/sales agents based on signals and their interest areas - either in a round robin manner or dynamically, based on your preferred custom logic. This quickens conversions by improving contextual engagement and decreasing response times. The built-in system allows you to curate lead/ enquiry allocation workflows based on conditions like course-wise, class-wise, branch-wise, programme wise, source-wise as well as stage-wise to ensure low drop-offs.
Prioritise engagement through Lead Score and Lead Strength
Customise lead scoring parameters as per your preference to quantify their intent to join your organisation. Besides Lead Score, the One View Lead Profile of Meritto' CRM also empowers you with Lead Strength, an industry-first feature that shares the relative intent of the prospect compared to the pool of enquiries so you know whom to reach out first.
Amplify your nurturing efforts with Marketing Automation
Segment leads/ enquiries and automate personalised communication on multiple channels like Email, SMS or WhatsApp to increase your engagement. You can automate targeted communication based on the stage of an applicant, their profile, disposition, activity, and numerous other parameters and boost your conversions. Customise the workflow to automatically re-assign the leads/enquiries to and within the local nurturing team across centres or branches, for further nurturing, ensuring low drop-offs. Experience the beauty of marketing automation in real-time as you sit back and watch your enrolments scale, quicker than ever before!
Read More about Marketing Automation
Nurture prospects 24*7*365 with Niaa, an AI-based Conversational Chatbot
Automate contextual engagement with a prospect from enquiry to enrolment with Niaa, the conversational AI-based chatbot. Available 24*7*365, Niaa acts as a virtual support for your candidates and engages them based on their profile and stage in the enrolment journey. Available on Web and WhatsApp, Niaa also calculates your ROI on a real-time basis.

Read More about Niaa - The Education Chatbot
Nurture your leads on the go with Meritto (formerly NoPaperForms) Mobile App
Whether your admission counsellors/sales representatives are working from home, on the ground, at education fairs or events or on campus, everything they need to do to contextually engage candidates is just a tap away. From accessing and updating leads, making calls, adding voice notes or follow-ups to tracking visits and sending emails, SMS or WhatsApp in a single click — your counsellors can do all that and much more with the Meritto Mobile App. What's more, automate your field team's daily tasks – plan their day, show them leads in their vicinity, automate check-ins and more.

Read More about Meritto Mobile App
Engage Seamlessly through Strategic Remarketing Connectors
Run remarketing campaigns to nurture and convert leads via targeted ads. Automate recurring audience push to your Google and Facebook accounts and forget needing to sync your data ever again. Show targeted ads to your leads/enquiries based on their stage in their enrolment journey.

Read More about Admission Remarketing Campaigns
Craft appealing emails in seconds with Advanced Template Creator
Change your email game in seconds by quickly creating emails with a dynamic drag-and-drop template creator. Get access to a comprehensive image gallery comprising 100+ free, mobile-responsive images to enhance engagement. Personalise your emails based on course, class, branch, city, and programme, as per the prospects' stage in the enrolment journey. With a click of a button, send bulk emails to multiple profile details with tokens and share unique direct login links for prospects to take quick action towards their enrolment in your organisation.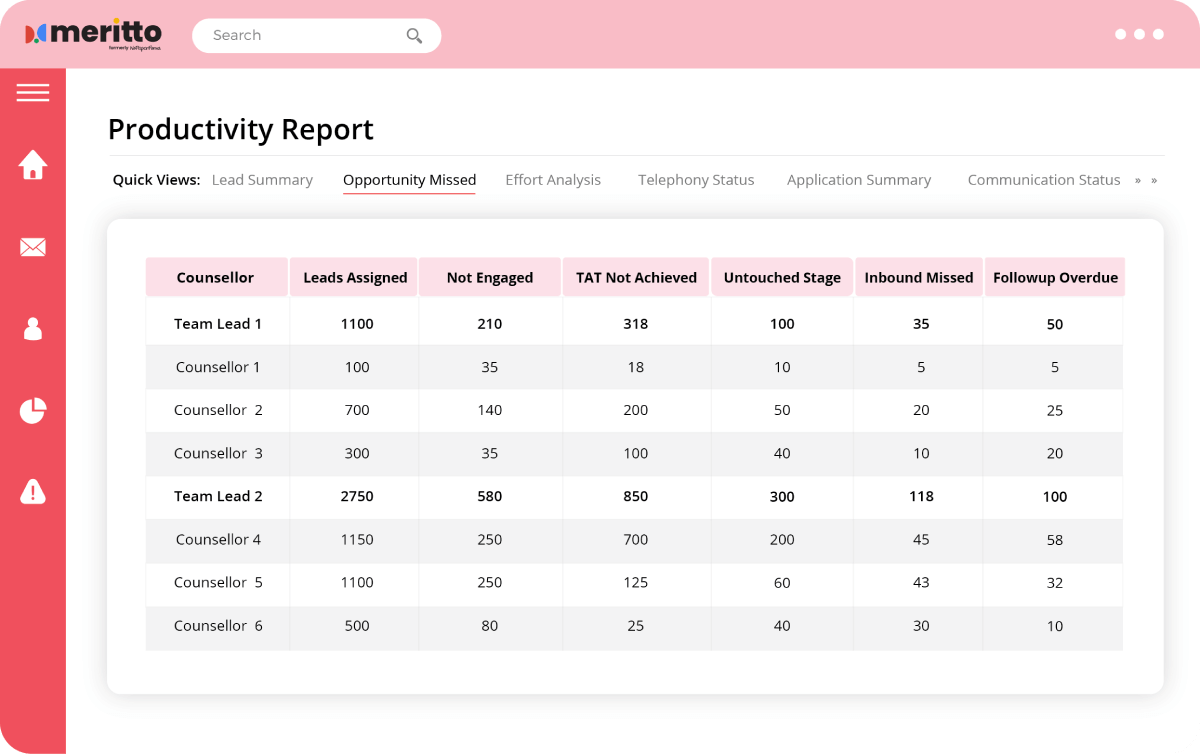 Enhance Productivity with Counsellor Dashboard
Scale accountability to greater levels with the at-a-glance preview feature of the Counsellor and Sales Productivity Dashboard. Monitor and improve the performance of your agents based on real-time analytics with an in-depth Counsellor Productivity Report. Access follow-ups in a quick, easy-to-scan format to ensure timely nurturing of lead. Optimise all your lead nurturing efforts based on quick overview and drill-down analyses to convert more.